In Memoriam: Alfredo Salazar, Jr., 81
Former General Manager of Chase Puerto Rico, Brazil and Argentina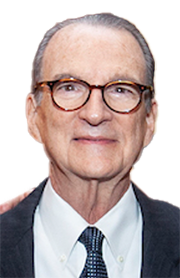 Alfredo Salazar, Jr., who served as General Manager of Chase Manhattan Puerto Rico as part of an illustrious career on his native island, as well as country manager of Chase Brazil and Argentina, died in Puerto Rico on November 11, 2023. A longtime member of the CAA, he was 81 years old.
Salazar worked at Chase from 1977 to 1989. The photo at left was taken when he attended the CAA Latin America Reunion in October 2019.
William Miranda Torres, Mayor of the Autonomous Municipality of Caguas, posted the following on Facebook:
"We have lost a great Puerto Rican, Don Alfredo Salazar. Don Alfredo, an illustrious son of this land, has left a very important legacy in the field of economics and banking. His work at renowned institutions such as the Popular Bank of Puerto Rico, Chase Manhattan Bank and the Bank of Ponce, not only transformed the banking landscape, but also played a crucial role in Puerto Rico's economic development.
"His leadership at the Governmental Bank of Fomento [Development] for Puerto Rico and his role as financial advisor to ex-Governor Aníbal Acevedo Vilá are clear examples of his dedication and commitment to the progress of our island. In addition, his foray into the real estate sector, with landmark projects like Palmas del Mar, demonstrates his vision to drive sustainable growth in different sectors.
"Don Alfredo's public career, including his candidacy for Resident Commissioner in the United States Congress, reflects his conviction that politics is an essential tool for Puerto Rico's social and economic advancement.
"Today, Puerto Rico loses a visionary, a leader, and above all, a great human being. His legacy in the financial field and his tireless effort for our island's economic well-being will endure through time. To his family and loved ones, we extend our deepest condolences, ensuring that the memory and teachings of Don Alfredo Salazar will continue to live in us and in future generations of Puerto Ricans."
From Peter Hughes: Alfredo was my boss in Chase Brazil for about eight years during the 1980s. He was country chief and president of Banco Chase Manhattan, during which time I reported to him in three different roles: first as head of audit when he relocated from Argentina to Brazil, then country head of operations and finally head of finance. They were challenging times. Inflation was running at 1,000% pa, corruption was rife, the bank's operating systems were a fragile legacy of the Banco Lar Brasileiro days and business strategies appeared to be in a constant state of experimentation. Chase's local operations in Brazil were substantial. From memory I believe we had approximately 2,500 employees and more than 40 branches, our northernmost in Manaus and southernmost in Porto Alegre, a distance of almost 3,000 miles between them.
Alfredo was always demanding and, often, unreasonably so. But that was the way he operated and got results. He was also hugely resilient in the face of the relentless pressures that came with directing a complex institution in a dysfunctional economic and banking environment while meeting the high expectations of our majority shareholder. These were qualities that I came to admire in him over the years.
Outside of work we spent a good deal of time together, primarily on Rio's magnificent golf courses. My last contact with Alfredo was after I had left Brazil and returned to Germany. He called me to say he was leaving Chase. He had made a list of colleagues he wanted to say goodbye to and I felt greatly privileged to have my name on that list.
From Manuel Peña-Morros: Alfredo Salazar was extraordinary, sensitive, friendly and family-oriented. He was one of a kind, an excellent banker who served his motherland, Puerto Rico, with professionalism, dedication and honesty.
He consistently exhibited a heartfelt compassion for others, especially those less fortunate. He was respected by his peers and appreciated by his colleagues.
I had the opportunity to know Alfredo as a senior member of our Western Hemisphere Area and we all enjoyed his presence and joyful personality.