UK Holiday Lunch at the RAF Club
Friday, 15 December 2023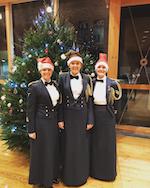 UK (AND VISITING) ALUMNI: The UK Alumni Holiday Lunch will be held on Friday, 15 December 2023, from 12:30 to 16:30.
Richard Ingham has kindly offered again to host an Alumni Holiday Lunch at the RAF Club, 128 Piccadilly, London.
Lunch will be held in the Presidents Room, with pre-lunch champagne in the adjoining 601 Squadron Room. Dress code: Jacket & Tie, with equivalent formality for women.
The cost is £60 (food and wine) for dues-paying CAA members and £90 for non-members. Given the subsidy it is worthwhile becoming a dues-paying member! RSVPs would be appreciated by noon (GMT), Friday, December 1, 2023. To reserve and/or for more information, please contact Richard Ingham.
Anyone wanting to continue festivities after the lunch, as a few alumni did last year, would be welcome to adjourn to the pub that is part of the Club.
Please feel free to share this invitation with other ex-Chase colleagues you know.