Donate Materials to Chase Archives
A Chance to Give Back to Chase–and Clean Out the Attic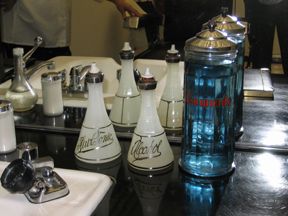 You have a friend at Chase Manhattan. Ad campaigns such as that one are alive and well not only in the memories of our CAA members, but also on floor 1B of Chase Manhattan Plaza where the Chase Archives, officially the JPMorgan Chase Archives, are housed.

A visit there transports you back in time. The Burr-Hamilton dueling pistols are there across from an amber colored wood credenza with a marble top that you would swear was in your office. Cross-sections of old wooden water pipes remind you that we were once known as The Manhattan Water Company. Posters announce Chase's new product: Letters of Credit. There are photos of executives you knew well, talking on wired phones with rotary dials, smoking cigarettes in the office! Piggy banks with the "donut" logo fill the corner of a display case. Everywhere you look there is memory in the making.

The guardians of this treasure trove are archivists who know the value of these items ?in both monetary and emotional terms. The past of a 200-year old institution -- our past -- is entrusted into their very capable hands.

On behalf of the Chase Alumni Association, one of our Board members, Kathy MaGaw, recently visited the Archives to scan some old photos for our web site. She was allowed to do so only after she had donned white gloves and put away her pen; only pencils are permitted near the photos. The fruits of her efforts are available for your viewing in the Photo Album section aptly named The Way We Were.

Before leaving for the day, Kathy spoke with the archivists and came to learn that the collection is far from complete. Chunks of history are missing, and partly because quite a few people left the bank in relatively short periods of time (after mergers), and with them went quite a bit of history.

Admit it. When you left Chase, you took with you a box of "STUFF" you just could not leave behind: unused but pre-printed buck slips, that heavy stainless steel name bar, some coffee mugs, lots of memorabilia that chronicled your years with Chase.

Most of the stuff never made it out of the box, and although your spouse/significant other has asked more than once that you discard the box, you could never throw away your past! Now, we have an alternative for you. Donate your Chase memorabilia to the bank's Archives. The items will be well cared for by people who place a high value on Chase and the years gone by.

While they are eager to receive most items with a history or the logo, there are some items that they just can't store, like trophies from your Chase baseball, soccer, bowling, or golf league. They already have copies of every annual report too. Some things they would like to have, or have more of, are as follows:
> Ad Campaign materials
> Bookends
> Playing Cards with the Chase Logo
> Deal Tombstones (those miniature booklets or certificates frozen in Plexiglas)
> Neckties or scarves bearing the logo
> Ashtrays–the round stainless steel ones or any with logos
> Corporate Seals
> Any promotional item
> Product brochures or related material
> Anniversary tie tacks/tie clasps/pins/awards
> Press releases or other material on Branch openings or closings domestic or international
> Historical artifacts, like more cross sections of the wooden water pipes
> Photographs
> Items from the gift catalogues
> Key Chains
> Maps
> Newsletters
> Desk Accessories
> Piggy Banks
> Framed documents
> The logo form in any material
> Chase flags
> Business unit brochures on the Private, Investment, Retail or Corporate banks, etc.
> Promotional or other videos
> Sample products (BankAmericards, Unicards, or Chase Manhattan Charge Plan plastics).

You get the picture.

The list above is not all-inclusive, so don't hesitate to give Jean Elliott, Archivist, a call to discuss records or artifacts you may be considering for donation. You can reach her at (212) 552-8330. If needed, she can arrange for items to be pick up from you.

Please be assured that we believe that all of these items were taken because they would have been discarded if left behind, or because they had little value to others beyond ourselves. There may, however, be some items of value that you would prefer to donate while maintaining anonymity. That can be arranged.

You may also know of some non-CAA members or the families of Chase alums who have passed on. Please share this information with them, as their donations would be welcomed as well.

All who will view the collection in the years to come will appreciate your efforts.