Life After Chase: Our Man in Hanoi
Chase Alum Nate Dickerson
Chase Alumni seems to be all around the world; some, however, are in more distant locations than others. CAA Board Member Leon Desbrow was recently on holiday in Vietnam and had the pleasure of catching up with an old Chase alumnus -
Nate Dickerson - who settled in Vietnam in 2003. Leon and Nate had worked together in the early 1990s on the Chase team that was assembled to manage the Bank's first portfolio of high yield bonds held for the Bank's own account. Leon (shown in photo with Nate in Hanoi, Winter 2007) writes,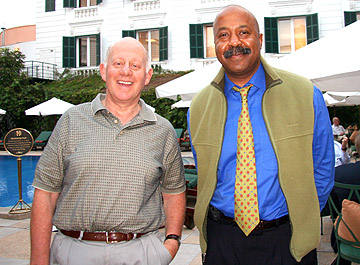 "Nate, who loves Vietnam, now has a wonderful wife (Nhi) and a 17-month- old son (Nate) in Hanoi. He is currently designing a new home there, so you know he is there for the long-term.

"Nate was a credit maven at Chase, so, as you might expect, he has put his skills to work in Vietnam offering banking seminars to state-owned and joint-stock banks. Additionally, he has been providing management consulting and training services to the public and private sector.

"He is very plugged into the local economy and is always on the look out for new opportunities. Please look up Nate if you are planning to do business in Vietnam or other parts of South East Asia, as he could be very helpful in finding partners and keeping you on the straight and narrow.

"Alumni who would like to learn more about Nate's company, which he owns with Lionel Knight, (also a CAA member), Dickerson Knight Group, should visit the company's website: www.thinkdkg.com or e-mail them at info@thinkdkg.com.