In Memoriam: Perry E. Hudson, Jr., 91
Credit Card Industry Pioneer
July 11, 1917 - August 28, 2008
Anyone else wishing to share a remembrance of Perry Hudson should send it to news@chasealum.org.
Perry E. Hudson, Jr., a major player in the early days of Chase's credit card business, passed away peacefully on August 28, 2008 in St. Augustine, FLA. He was survived by his wife, Audrey, son, Perry, daughter, Kim, five grandchildren and two great-grandchildren.
He also headed strategic planning for the consumer part of the bank before retiring.
In lieu of flowers, the family asked that tax-deductible contributions be made in memory of Perry to the Members Association of Glenmoor, Inc. Scholarship Fund and sent to the Glenmoor Scholarship Committee,
235 Towerview Drive, St. Augustine, FLA 32092.
***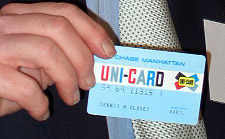 Steve Hirsch: I started work at UniCard, then owned by American Express, in 1967. Perry Hudson hired me to run Data Processing. Perry was an attorney and a judge on Long Island hired to set up and run operations for UniCard - a nine-state credit card business. In 1969, Chase bought UniCard from American Express. UniCard evolved into BankAmericard then Chase Visa.
Perry was an incredible executive. In terms of forward thinking, he was far ahead of card executives at the time. For example, he prompted NCR to develop a cash register that would accept the mag stripe on a credit card. Until then, the hand- operated imprinter was the way authorization was accomplished. He took leadership roles in the credit card standards committee that led to the adoption of the standards for the card, mag stripe, numbering systems, etc.
I must say he drove retail executives a bit crazy coming up with new innovative ideas by the dozens. He hired smallish companies on Long Island to develop new operations equipment. Data Entry, payment processing, credit authorization - no credit card operation was safe when Perry was looking for a better way to do the job.
He proved Citibank's magic middle wouldn't work by bringing in a scientist who put the Citicard on the back of a Polaroid camera and then, using just a bright flashlight, opened the shutter and took a photo. Lo and behold, there was the coded magic middle card information on the print. Using a cut-out template and some silver paint, we reproduced the magic middle card on a blank plastic....so much for better security than a mag stripe.
And besides all that, he was a great mentor to me, Steve Iovino, Bert Tobin and scores of others.
He retired from Chase after Fred Hammer came on board. By then, most of the old UniCard crowd had moved on. I stayed in touch with Perry from time to time, stayed at his home in Ponte Vedra and respected him greatly.
***
Steve Iovino: Perry was a man with true business vision and incredible focus ... he was truly 'all business' at work.
His style was not always welcomed by some of the 'new' Chase management team (after the buyout from AmEx) because of his 'out-of-the box' thinking: He was considered too much of a risk taker and spender.
He was always fair and even-handed in his management style to his staff. He quietly but strongly supported us, and he was not reticent to offer personal advice if you asked for it.
The system that Bert Tobin, Steve Hirsch and I built for UniCard was the model for Visa's technology advantage over MasterCard in the early days of national expansion. Perry was our business visionary and look-into-the-future guide. We coached and assisted Visa in many ways, not the least of which was "descriptive billing". We were a paperless interchange system first at UniCard. The credit card authorization system was the original foundation for online branch and ATM banking at Chase.
***
Ken Jablon: I worked for Perry for a short period in about 1977 when I was in the Community Bank (consumer) Strategic Planning Division. When Mike Cassidy left Planning to help start up the Chase Home Mortgage Company, Fred Hammer (who headed up the consumer area of the bank) brought in Perry from credit card area to run Planning. It was a good choice because Perry had been innovative in the card area. He retired after a short period in that job. He was always willing to help out on a personal level. In fact, he got me an increase within the VP levels because I was at the top of the salary range and couldn't get a pay increase. I remember him fondly (although I'm not sure he would have liked that word).