In Memoriam: Arthur Northrop
With Chase Since 1967
Anyone wishing to share a personal remembrance of or tribute to Art Northrop should send it to news@chasealum.org.
***
The CAA mourns the sudden passing of member Arthur (Art) Northrop, vice president of JPMorgan Chase Treasury Services. Art died on September 22, 2008 after collapsing at 1 Chase Manhattan Plaza.

A resident of Chatham, NJ, Art joined the Chase Manhattan Bank out of Brown University in 1967. He went through credit training and joined the corporate bank, where held several assignments of increasing responsibility. In 1980 he joined international institutional, where he oversaw much of the Mediterranean region. In the mid-1980s he moved to London, where he held several senior management positions. When he returned to the United States, he worked in various areas of Treasury and Securities Services in management positions that always contributed to sales growth.

"Art was universally respected and liked, as evidenced by the huge turn out for his surprise party celebrating his 40th anniversary at the firm in 2007," said his colleague Chuck Connell.

"As you may or may not be aware, Art -- in keeping with his giving nature -- was considering a retirement career working with a crisis management charity or response organization similar in nature to FEMA," Connell said. "The recent events in the Gulf Coast and China, and other natural disasters around the world had a profound impact on him, and he wanted to do his part in relief efforts and crisis management. Sadly, he will not be able to fulfill that pursuit. The family would like to honor his wishes by requesting donations be made in his memory to the International Relief and Development Organization (www.ird-dc.org)."

He is survived by his wife, Maureen, and their children, Kim, Chip (who works in Treasury Services at JPMorgan Chase) and Kevin.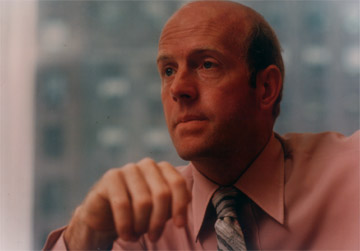 TRIBUTES
Phil Maher (October 27, 2013): My wife and I visited New York several weeks ago after many years and went down to the financial district and walked over to Chase Plaza. I thought of Art as he was the last "credit mate" with whom I had spoken 20 years ago when I was last there. For some unknown reason tonight I "googled" him and read sadly of his passing.
He and I joined Chase in 1967 as credit trainees. There was a great camaraderie among the trainees as we progressed through the various segments and Art was always at the top of my list of good buddies. I remember him as an intelligent, thorough and articulate person who always had time and a great sense of humor. After training, we also got together as couples several times when we lived in the city and later when we moved back to New Jersey after an overseas assignment. I am sitting here looking at his picture on the monitor in disbelief and sorrow.
Maureen, I don't know if you remember us but please accept my sincere belated condolences to you and your family.

David Banks: Art was always a level head in a crisis, even, I recall, when passing a kidney stone in the 1970s. You felt his warmth and the non-judgmental loyalty he so freely gave to his friends. It's not surprising he stayed so faithful to Chase and was so well regarded. I am saddened by Art's passing and extend to his family my sympathy and well wishes.
David Zacharias: Art and I joined Chase at the same time and were in the same credit class. I knew Art well. He was a friend. He was always willing to listen and help. He always put Chase before himself-so loyal. My heart goes out to Maureen, as she lost a great husband, Chase lost a great employee, and society lost a great human being. Only last year, Art helped me find a letter of credit expert, taking time from his busy schedule to help me. He will be missed.
Dennis Longwell: I worked with Art in the Corporate Bank and in London. He was calm and professional, always well-prepared and patient. Art was thorough and hard-working and never one to miss a deadline. How impressive, yet unsurprising, that he completed 40 years at Chase, through all the changes and occasional turmoil. My deepest sympathy to his family and many friends and colleagues who, I know, will miss his warmth and good nature.
David Wilmott: I worked with Art for a number of years during his assignment in London, and respected his management ability in dealing with divers nationalities and markets. He was always patient, and prepared to see the best in people, and he will be sadly missed by all his former colleagues in Internatioal Institutional in London Europe and the Middle East. With a heavy heart...
Ken Picknell: I worked for Art Northrop within International Institutional from February 1980 for more than eight years. We moved from New York to London together. His group was a major forerunner of today's Treasury Services, and Art helped
build it. His working life was devoted to Chase but equally devoted to his colleagues, each one of whom saw him as a friend and will be as shocked and saddened as I to hear of his passing. He had our great respect not least because of his willingness to help - to get the job done or the deal closed, or to help his people do better. He would catch a plane across the world if you called for help. A rare talent of Art was his ability to empathize and develop long-lasting and productive relationships with clients from a wide range of ethnic and cultural backgrounds. But that was Art; he was so good with people.
On December 21, 1988, he flew home with his family from London to New York for the holidays. Unusually, they all flew together. There were two evening flights that day; one of them was Pan Am 103, and it did not make it past Scotland. His people, on both sides of the Atlantic, sat in silence until someone arrived who knew which flight he was on. (He had booked his own tickets). Even then it took us days to track him down upstate to make sure. People then started to relax.
So many will miss Art, but he will be remembered with fondness and respect as one who made a difference to the lives of those who knew him. How many indeed remember a photograph of him with 11 girls in soccer gear on his desk, with the inscription "Coach Northrop". That says it all.
To Maureen and his family our condolences are indeed heartfelt.