In Memoriam: Robert Opiat, 65
Celebration of His Life Set for May 27th
Roger Griffin writes:
We mourn the passing of CAA member Robert Opiat, 65, on May 2, 2010 in Spoleto, Italy. He was visiting with his wife, Desi Prinsloo, a talented painter on a six-month sabbatical in Italy and Greece. Robert, who had lived in Sydney for many years, had battled cancer in 2009, had been declared clear earlier this year and embarked expectantly in mid-March on the next stage of a life already full of twists and turns. Sadly, he, unknowingly, felt the first symptoms of a recurrence on the first stage of the trip in his former home of London and entered hospital in Italy on April 13.
Robert was an exceptional talent. Born and raised in Southern California, he was educated at UC Santa Barbara (cum laude), was a Rotary International Fellow at Bristol University in England and received an MBA from Harvard. He joined the credit department of Chase in New York in 1971. Postings at the branches in London, Paris and Hong Kong followed. In 1978, he left to form his own merchant bank in Hong Kong with Chase colleagues. Lured back to Orion Bank in London, a consortium bank in which Chase was a leading shareholder, he established a worldwide project finance group and then moved to Chase Manhattan Ltd. to form a similar business focused on Europe and the Middle East. Joining Midland Bank in 1984, he was in Singapore and then Sydney beginning in 1986; he switched to Swiss Bank Corporation in 1995.
While at Swiss Bank Corporation, Robert founded the Australian chapter of the Chase Alumni Association and regularly hosted drinks at the Intercontinental Hotel Bar.
Apart from a five-year stint in Auckland, New Zealand, running a retirement village, hospital and nursing home business for Met Life (and thereby confirming his capacity to successfully run a business rather than simply advising others), Sydney was home. There he was subsequently COO of the Garvan Institute of Medical Research and then started the Public Private Partnership business for a subsidiary of Bilfinger Berger AG as their in-house investment banker. His last job, which he left in 2009, was in a similar role for Hastings Funds Management, a subsidiary of Westpac.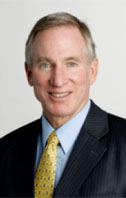 Robert was, however, an all rounder. As befits someone from Southern California, he was dedicated to physical fitness and a life-long surfer, a devotee of Bondi and an ocean swimmer, coming in third in his age group class in a competition just days before his last trip. He was a dedicated tinkerer, acquiring, stripping down and rebuilding his MG TC in London in the '70s – a car that followed him around the world – and a DIYer, all set to start a project to renovate, by himself, of course, an Umbrian farm house as a studio and art classroom for Desi. He had enormous generosity of spirit, which made him such a good mentor, was dedicated to the welfare of others but never talked about it, and was a stalwart and popular Rotarian. He was also an exceptional person, as described by his friends.
I met Robert in the early '70s in London. We lived close by each other, shared a Bristol University connection and remained friends wherever we were. I will remember his unfailingly positive attitude, his absolute courage in the face of adversity over the last months and weeks, and the rolling of the eyes at life's absurdities – including just three weeks ago in hospital in Italy. He made friends with the Franciscan monk whose only English word was Kangaroo; he taught one of the nurses to "high five" and say "Hey Dude" and then "Gidday Mate" and insisted she introduce these words to her English class. A remarkable man and one I'm proud to call a friend.
Robert is survived by his wife, Desi, and two step-daughters. Our thoughts are with them.
Memorial contributions should be made in Robert's name to Sculpture by the Sea. Please contact Layla Saleeba, sponsorship and philanthropy manager (Tel: 61-2-8399-0233) to discuss donation options.
* * *
Graeme Rogers reports: Robert's Memorial and Remembrance evening on May 27th at The Bondi Icebergs' Club was a great event. We had in attendance over 80 friends and former colleagues, representing a wide array of chapters in Robert's very busy and colour-filled life. Many friends addressed the gathering (and particularly Desi, Amelia, and Estee), sharing some wonderful reminiscences - a great many of which were very funny - quite a few outrageously so!
The shared theme of the evening was that everyone in that room remembered Robert as a character - a wonderfully warm, generous, thoughtful, intelligent, fastidious, disciplined and funny humanitarian, who loved life and Desi with a passion, and who actually practised what most of us do not quite achieve - he lived every day as if it were his last.
The immense respect and affection in the room for both Robert and Desi was heartwarming to observe, and a privilege to share.
* * *
Colleagues and friends wishing to post recollections of Robert should send them to news@chasealum.org.
Andy Berry writes: "And please mention his great sense of style and gracious manner that was part and parcel to his being. Robert always presented himself in a way that made all of us both respectful and a touch envious."
Graeme Rogers writes: "Robert was a memorable colleague and friend to a great many people. He was a man of considerable intellect and professional ability, with a constant thirst for a new and different challenge. However, his most memorable attributes are likely to be his considerable personal style - his curiosity and genuine interest in people, places, and cultures - his quick and very dry sense of humour - and his unfailing courtesy and humility. He will be remembered with great affection."
Vinnie Zinck writes: "I have very fond memories of working with Robert in Hong Kong."
Chuck Adams writes: "Robert was a very good friend and mentor in so many ways. I will miss him a lot."
David Banks writes: "I was saddened to learn of Robert's death. He was, as I remember him, vibrant and active and wanted to excel in life. His enthusiasm was impressive. I had lost touch with Robert, but hope he became more peaceful with himself and the world around him."

John Oakes writes: "Robert was a very active sportsman, incredibly amusing and great company; as a work colleague and long time friend, I rarely saw him without a smile on his face, so his loss is such a tragic waste ... and example of how the medics got it so wrong. The irony is that he was a godparent to my elder son who is about to qualify as – you've guessed – a Doctor!"
From Surinder Singh: "Robert was a very gentle person till we stepped into the squash court in Tregunter Towers, Hong Kong. He never gave up trying to beat my brains out on the court. That is my best memory. I wish that I could have met up with him one more time."
From Joe Murphy: "I had been assigned to Singapore to join Tim McGinnis et al in the launch of Asia Pacific Institutional Banking, but a reassessment sent me to Hong Kong Area HQ before the flight to Singapore. It was October 1978, as Surinder was engaging Robert on the Squash Courts on Tregunther Path. (Robert met me and warned me about Surinder who, Robert said, earned his tea money on the Squash Courts of the British Colony.) Robert showed me his flat on Tregunther Path at Branksome. The bachelor Robert assured me that my wife and newborn daughter, still in New Jersey, would like Branksome 12B – truly a wise man providing direction and information to the newly arrived Domestic Banker. Thank you Robert. Your advice was 100 percent correct."

His stepdaughters, Estée and Amelia, write: "A man of incredible intelligence, honour and the deepest respect for all. A man who always 'did the right thing' and has inspired that in us, stand tall. A generous and kind man yet taught us to not be wasteful. A man with many quirks, a fantastic sense of humour! & certainly not bashful. A man of immeasurable discipline. The greatest Step Dad two girls could have wished for. Be 'cool and groovy' Robert John."