Life After Chase: Joan Koukos
Banker Turned Chocolatier
If only you could taste this article.
Joan Coukos has gone from being a middle-market banker to being a middle-to-small-market entrepreneur, with a line of insanely delicious and high-end artisan chocolates, Chocolat Moderne.
Operating out of a space on Manhattan's West 20th Street, where the Flatiron District begins to blend with Chelsea, Koukos supplies her chocolates to such top food specialty stores as Eli's, Dean & Deluca, City Bakery, Bristol Farms (in California) and Whole Foods. She also sells via mail order (either through her own site [www.chocolatmoderne.com] or via amazon.com). You can also come up to her chocolate atelier (it's really too small to think of as a factory) to buy direct, but it's by no means a traditional retail space. Call first, since chocolates are made to order. Her staff will hand wrap and pack the chocolates for you, as they do for even their big retail clients.
This is an old-fashioned operation, but with modern flavors.
Consider the names (and ingredients) in just part of Koukos's product line:
The Kimono Collection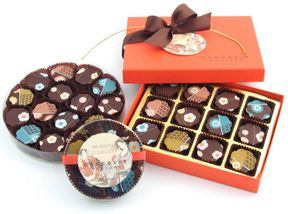 | | | |
| --- | --- | --- |
| Ganaches: | Shiso Lime | Dark ganache infused with shiso leaf (Japanese mint) and lime |
| | Adzuki Bean | White ganache with smooth adzuki bean paste and a hint of raspberry |
| | Green Tea | White ganache with macha green tea |
| Caramels: | Soy-Miso | Tamari soy and white miso paste |
| | Persimmon-Peach | Organic Fuyu persimmons and white peaches |
| Pralines: | Sesame-Shichimi Togarashi | White sesame paste with black sesame seeds, traditional red chili spice blend, caramelized orange zest and milk chocolate |
The Greek Revival Collection, including:
Kalamata Olive: Koukos's interpretation of a Greek salted caramel made with Kalamata olives and olive oil.
Mastiha-Orange Blossom: a delicately scented white ganache infused with Mastiha, a prized flavoring that is the sap of a rare tree found only on the island of Chios, whose herbaceousness is sweetly balanced by the nectar of orange blossoms.
Ouzo: a dark ganache made with 72% Venezuelan chocolate infused with anise seed plus the Greek liqueur Ouzo, the finest of which comes from Coukos's parents' island of origin.

And then, with a title no doubt influenced by Koukos's days as a Chase banker in Moscow, Salt Talks: here salted caramel meets three of America's favorite flavors: coffee, smoke and pecans. The 'coffee' flavor is the Madame 'X'tasy caramel, containing sea salt, Illy espresso and dark chocolate. A milk shell holds a salted caramel with an additional sprinkling inside the shell of coarse sea salt and chopped pecans. Finally, a white shell holds a salted caramel seasoned with sea salt smoked over Welsh Oak.
And if Koukos could only eat one more of her chocolates ever again? Her current favorites are the sea salt caramels, peanut praline, passion fruit caramel, Mme Xtasy and Chocolat Moderne's signature flavor, the La Dolce Grapefruit caramel.

The Epiphany
Oh yes, this is an article about Joan Koukos after Chase, not just the ecstatic chocolates that are worth every bit of the pretty pennies they cost. (We're talking $8 for a chocolate bar, but you haven't lived until you've tried Chocolat Moderne's Chipotle chocolate bar.)
Koukos entered the banking world after getting a degree in French and Russian magna cum laude from Duke and then an MBA at the University of North Carolina, Chapel Hill. She got her credit training at Chemical and was a middle-market banker there in the 1980s. "I loved working with entrepreneurs, folks like Workman Publishing, and thought it must be the coolest way to live in New York City, running your own business, walking to work, keeping your own hours."
She left for Barclay's, wanting to work in its large corporate media group. When Barclay's downsized, she became part of a program run by the Federal Reserve, U.S. Agency for International Development and the Financial Services Volunteer Corps, to train Eastern European bankers.
Just as the training period was ending in 1994, the Central Bank of Russia granted 12 western banks licenses to have full banking subsidiaries in Russia; before then, western banks only had representative offices, which were more for diplomatic and observational purposes.
Fluent in Russian, she was quickly hired by Chase to work in their new Russian subsidiary in Moscow. She worked there from 1994 to 1997 and then until 1999 for Westdeutsche Landesbank. While she was in Russia, Chase and Chemical had merged.
Koukos returned to New Yorkas an expat without assignment before being hired by the Chase Private Bank, then managed by a Chemical heritage banker.
Just as JPMorgan and Chase were announcing their merger, and layoffs were being anticipated in the Private Bank, Koukos went on a December vacation to Brussels.
And came the epiphany.
The month before she'd seen the film Chocolat. "It didn't make me want to be a chocolatier, but I wanted to be Juliette Binoche – or at least her character, who draws everyone to her and has a positive impact on the community," Koukos recalled.
Koukos was a "real foodie" and en route to Brussels saw an article about the chocolatier Pierre Marcolini and the "really cool things" that were happening in chocolate. "Chocolate had not yet caught up with what fine restaurants were doing in pastry kitchens," Koukos said. When she arrived in Brussels, before even checking Marcolini's shop, she found herself walking in the antique market of La Place du Grand Sablon and saw antique chocolate molds.
"I felt as though someone were handing me the keys to the kingdom," she said. She saw it as a sign, and returned to New York to teach herself how to make chocolates. "I began by googling 'truffles'. And then I found the Web site of Pam Williams, who has a chocolate school in Vancouver," Koukos said.

"From the minute I started making chocolates in my tiny apartment, I knew this wa it. I had a million ideas, I trusted my palate and I had a lot of confidence. I'd devote one weekend a month to making chocolates and bring them to my colleagues at the Private Bank," she continued. "I used Valrhona chocolate as my base from the very beginning, and still think it's the best."
She also researched the health benefits of chocolate "before it was on anyone's radar." "I didn't want to start this and then find out there was some health problem on the horizon."
She went back to Brussels. She began taking classes at the New School on how to start a specialty food business.
And when September 11th occurred, and Chase began laying off people a month later, she resisted the calls from headhunters and decided to pursue her dream. She had some severance and some savings, but she didn't incorporate until 2003. She gave up her financial security.

"My mother and friends were very nervous. I went through Chase Outplacement and asked for someone who had experience with entrepreneurs. I got to work with Anita Landis, who was just terrific," Koukos remembered. "Once my relatives saw how serious I was, they were supportive, and they said, 'you've really got guts!'."
By 2005, Food & Wine named her one of the country's five most innovative chocolatiers.

Seven years since incorporation, Koukos says she's been successful in making a beautiful brand, but acknowledges mistakes on the sales side that have since been corrected. She also now has some small investors in addition to loans from Chase.
"I thought the product would sell itself, but there's a lot more competition now," she said, noting that chocolate is the second fastest growing category in the specialty food business. (Number one is coffee, number three is cheese.) "As an ex-middle market banker, I could relate to issues that entrepreneurs like me have in unmitigatable risks, in having a lot of concentration in one or two accounts. A buyer changes, and you're dropped."
"Every entrepreneur has to learn at some point that he or she can't do everything," Koukos observed. "Sales people are expensive and hard to control, so I resisted." She also lost ground because she only wanted to produce fresh, non-shelf stable lines. Sales declined in 2007-2008. What was missing? A shelf-stable chocolate bar.
With the introduction of a Moderne Bar in six flavors, she got Chocolat Moderne into Whole Foods and sales doubled. "We're back in a lot of places we hadn't been because of changes in buyers," Koukos said. "We're the favored child again. The focus on 'local market' food has also helped." Koukos won't disclose her sales volume, but says that wholesale accounts for 85 to 90 percent of her business.
Another small but special part of her business is holding pairings of wine-chocolate-cheese-charcuterie in her workspace or at corporate work sites. (Note: We're thinking of organizing some of these tastings for Chase Alumni this January.) As Koukos sees it, chocolate can fit in with every course.
She also acknowledges one other advantage of being an entrepreneur in a cranky old building on West 20th Street. She met her husband, James Todd, in the building's elevator, complaining about how slow it is. He works on the floor below hers, writing and producing music primarily for commercials. "I think I like music more than he likes chocolate," Koukos said.
-- Article and photo of Joan Koukos by Andrea Axelrod