Life After Chase: Fred R. Cohen
From a Lawyer's Eye for Detail to an Artist's
Mathematician. Chase technology lawyer (with time for extracurriculars like performances in community theater and a Chase barbershop quartet, the "Bank Notes"). And now, photographer.

If Fred R. Cohen's career hasn't been a strictly linear progression, the common denominator has been keen intellectual interest. To borrow a term from the automatic toll collector he helped pioneer at Chase, his career has not necessarily been "E-Zpass".

The New Yorker is consulting part-time now and putting increasing heart and energy into FredCohenPhotography. A Web site went up in the past year, exhibiting his photo galleries of people (exotic and the plebeian made narrative), places (exotic and the familiar made iconic) and birds (exotic and the common anthropomorphized). His photos of buildings focus on the details that are sculptural in and of themselves or that sculpt out the space in which they exist. Many photos are the result of his love of travel – particularly uncoddled adventure travel, to places like Turkey, Greece, Vietnam, Ecuador and Tanzania.

"I first went to Africa in 1983. We pitched our own tents in the jungle, and the lions walked through the camp at night," reminisced Cohen, who now lives in the civilized habitat of upper Fifth Avenue, with photographable flora and fauna easily accessible in adjacent Central Park.

The African trip came three years before he joined Chase Manhattan as its first staff technology lawyer. Cohen had graduated from New York University (a BA and a BE), and earned a masters in mathematics from the University of California, Berkeley, as a National Danforth Fellow. He earned his law degree from Columbia. "I had been working unhappily for law firms at the beginning of my career. I didn't like the egocentricism or politics," he said. He ended up working at Chase for "15 years and a couple of days."

"Busi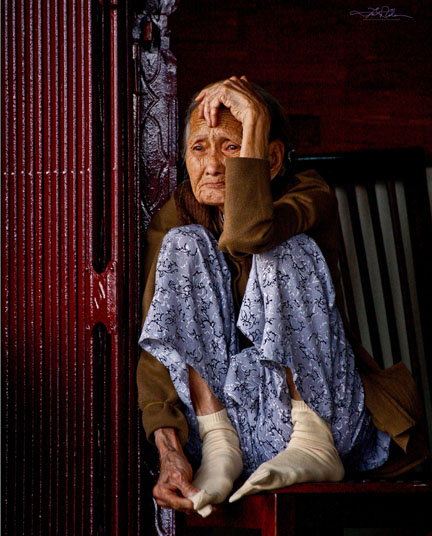 nesses were just beginning to distribute technology to the users' desktops," he reminisced. "Fax was relatively new. Chase, as a relatively advanced bank, was pretty quick to develop software systems to facilitate client banking and account reconciliations by computer. We needed licensing agreements for Chase's products and agreemtns for the use and integration of third party technology." As technology became increasingly important to businesses generally, it became even more important to the banking industry – and Chase was an aggressive consumer and distributor of technology.
A reminder: Back then, by regulation, banks were prohibited from paying interest on checking accounts. By working on issues such as check clearing, cash letters and LOCs, and by helping to engineer cross currency, cross-border, multi-currency liquidity products, Cohen became one of Chase's team of in-house legal experts on cash management.

The legal department had about 130 lawyers in the late 1980s, and his section –operations and technology – grew to approximately nine attorneys from three during his tenure with Chase.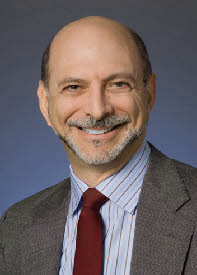 Hired by Bob McAllister, Cohen did not have any banking background. "I was probably more idiosyncratic than most lawyers – very outspoken, very direct. My verbiage was distinctive, but got the job done. One colleague said she always knew on reading a contract of mine that I had drafted it," Cohen said.

He still speaks with pride of the work done by his legal group and of particular notice taken of his legal efforts on the E-ZPass project, a project that spawned innovations within Chase that underlay a slate of later successful products like pay cards and Navy Cash.

(He apparently didn't have to flash an E-ZPass in 1998 when he undertook a seven-week, 3,400-mile cross-country bike trip ifor the American Lung Association.)

After Cohen left Chase in 2001, it was a bumpy ride. He left Chase during the dot.com bubble, to become Counsel to White & Case, courted specifically to help train and oversee less experienced IT attorneys. When the bubble burst, the White & Case technology business slowed to a trickle, and Cohen had to look elsewhere.

As chair of a committee on technology for the County Lawyers Association of New York, he learned that LeBoeuf Lamb had been abandoned by the bulk of its tech team, so he joined them as Counsel. Though named one of New York's 14 "Superlawyers" in technology and outsourcing in 2006, Cohen was jettisoned in preparation for the 2007 LeBoeuf Lamb merger with Dewey Ballantine.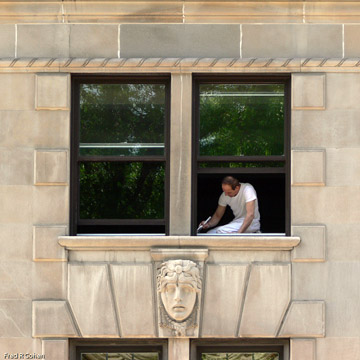 He remains a consultant to the Exeter Law Group, but is now largely practicing independently.

During this life re-set, he rediscovered an old love – photography. In college he'd learned from a roommate how to use a darkroom. He always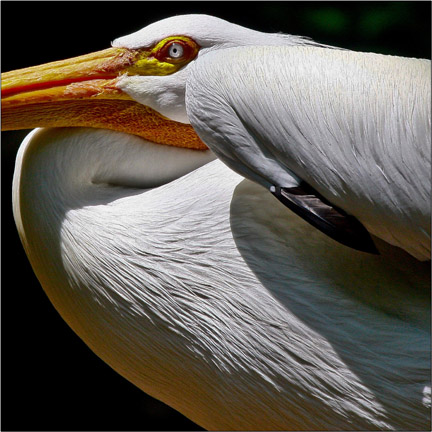 shot photos when he traveled. (He remembers going to India during his Chase days, and upon his return was asked to give a slide show – well attended – within the legal department.)

As he says on his Web site, though originally trained to work with film and chemicals, he is now "happy to utilize the more precise and varied capabilities of digital processing." He shoots with a Canon digital SLR and a handful of lenses. He generally sees the elements of a picture coalescing before he shoots, so he is rarely surprised by his images. As a rule, he relies on Photoshop for post-processing.
It's a pleasure to read Cohen's prefaces – alternately poetic, opinionated or fanciful – to each gallery of photos. For example, before the gallery on birds (a favorite but hardly sole topic of his work), he writes: "Birds are supposedly descendents of the dinosaurs - which must have been a varied and glorious family. Today they present a remarkable, diverse and elegant animal coterie. Even while being so different from ourselves, they strike a responsive chord in many hearts - perhaps for their ability to fly, or perhaps simply their ability to charm and beguile - except maybe the wild turkey."
Cohen is trying to make his avocation his occupation. His work is for sale, and he is available for specific assignments, from extended travel to a morning's in-home shoot. "I have done some weddings for friends, but I'm not sure I'm prepared to do that for pay," he said. His dream? Being hired to do travel or wildlife photography.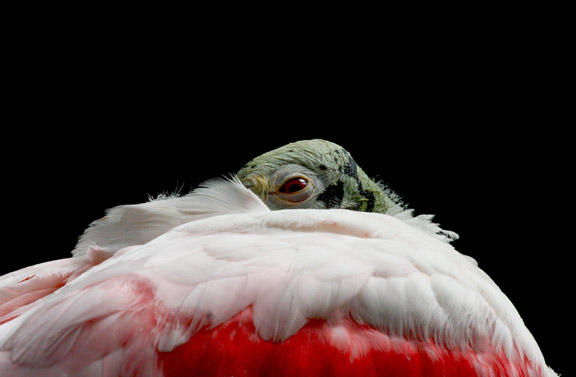 NOTE: One of Fred Cohen's photographs will be given away as a door prize at the October 27, 2011 CAA reception in New York.
To the left: Cohen's "signature" photo, The Wary Spoonbill