Life After Chase: Carlos Talisaysay
Philippine Gift of Life Interpreter:
Bukod-tanging pagpapala (a true blessing)
Carlos Talisaysay doesn't just "have a heart" where it comes to children. He's helping kids from his native Philippines when they come to the United States to repair their hearts, through the Gift of Life program.

Talisaysay, who retired in 2002 after a 27-year career as a corporate accountant at Manufacturers Hanover, Chemical and Chase, was recruited to the program by a friend who was active in the local Rotary Club.

Based in Great Neck, NY, not far from Talisaysay's home in Flushing, NY, Gift of Life, Inc. was founded by a group of Long Island Rotarians in 1975 to help children from around the world receive life-saving cardiac procedures in the United States, free of charge. In 2009, the program celebrated its helping its 10,000th child.

The Philippine Gift of Life program has helped 30 children from the Philippines since it began in December 2000 as a project of Home-Reach Foundation, Inc.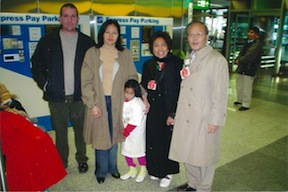 Talisaysay and his wife have served as interpreters for about a dozen children who have come to such marvelous institutions as St. Francis Hospital in Roslyn, NY or North Shore University Hospital in Manhasset, NY, or Montefiore Hospital in the Bronx for their heart surgeries. Many of the children come from the lowest echelon of Philippine society and would be surely headed for an early death without the surgery.

"My wife and I will pick up the child and his or her parents from the airport, usually with a member of Rotary, and we'll bring them to the hospital or house where will they will be staying. Then we wait for the schedule," he explained. It helps that his wife, who like her husband speaks Tagalog, is also a retired nurse, so that she can explain the more technical issues.


Talisaysay, 74, came to the United States in 1966 for graduate studies at New York University. "I got married instead of finishing my thesis," he said with a laugh. He and his wife have a son and a daughter and two grandchildren, three and five.

One gets the feeling that he is as excited when one of the young Philippino heart patients gets to celebrate a sixth birthday as he will be when one of his grandchildren reaches that age. "When you're aware you're helping, it's a great feeling. It's a warm humanitarian cause," said Talisaysay.

He has also been an active member of Queens (NY) Community Board 7 since 1990 and, with his wife, has represented the board in the Queens General Assembly to promote cross-cultural understanding among ethnic groups.