Wines for the Holiday Table
Recommendations from Vivian Tramontana,
Director of Tasters Guild International New York Chapter
We asked CAA Member Vivian Tramontana (see below), director of Tasters Guild International New York Chapter, to recommend some holiday wines. She graciously complied – with recommendations in all price ranges for pairing with food and sauces. (Prices given indicate the cost at Acker Merrall & Condit 160 West 72nd Street, between Broadway and Columbus Avenue, New York, NY www.ackerwines.com)
Happy Holidays!
$10 - $30

WHITES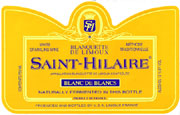 Saint Hilaire Gold Blanc de Blancs
France $10.99
This sparkling wine is named for the Benedictine monks from the Abbey of Saint-Hilaire, who invented France's first sparkling wine back in 1531. Fresh, Lively, Crisp and Dry. It is delicate and elegant. Once you taste it, you'll discover why the French compare Saint-Hilaire with their finest Champagne. And at a fraction of the cost, you'll never pay Champagne prices again. Perfect for New Year's Eve.
Benzinger Chardonnay 2009
Carneros, California, USA $15.99
The southern end of Sonoma produces wines with crisp acidity and fresh citrus flavors. On the palate, the wine is supple and long, with a touch of oak and butterscotch cookie in the finish.
Food Pairing: Fried Shellfish, Crab Cakes

Vigne Regali (Banfi) Brachetto d'Acqui Rosa Regale 2009
Brachett, Italy $18.99
This is from a single vineyard "La Rosa" estate in the very heart of the historic Brachett, Italy's smallest DOCG zone. Ruby red color, lively persistent rose froth. Intense aromatic bouquet of rose with a soft and elegant taste of strawberries.
Food Pairing: Spicy Fare, Fresh Berries, and Chocolates. Also a unique and festive aperitif. A perfect gift for any occasion.

Hermann J. Wiener Dry Riesling 2009
Finger Lakes, New York, USA $18.99
Refreshing crispness lets the true qualities of the grape shine through. Hints of lime and orange blossom on the nose set the stage for a succulent palate of apricot and grapefruit. Minerality creates a beautiful texture that carries into a long, lingering finish.
Food Pairing: Asian Cuisine, Poultry, Shellfish

Melville "Estate" Santa Rita Hills Chardonnay 2009
Santa Barbara, California, USA $25.99
Loaded with exotic fruit nuances of honeydew, kumquat, star fruit and tangelo. Other citrus and earthy aromas drift towards lemon tart, orange skin and lemon verbena. Wisps of cinnamon, floral honey, graham cracker and hay also subtly shine. The mouthfeel has grip and volume with hints of dried stone fruits, minerals and brine.
Food Pairing: Shellfish, Fish, Chicken

REDS
Ramsay Pinot Noir 2009
North Coast California, USA $15.99
Initial aromas of cherry and raspberry evolve to include subtle notes of toast and leather. The red fruit aromas are reinforced on the palate where dried cherry flavors, supported by just a hint of varietal earthiness, are carried nimbly forward by the silky-smooth tannins and pinpoint acidity
Food Pairing: Grilled Salmon, Pork Tenderloin

Domaine du Pesquier Gigondas 2007
Rhone Valley, France $25.99
Deep ruby/purple color along with notes of black and red currants, raspberries, plum, chocolate and crushed rocks. The tannins are sweet and mature, and the wine is deep, full-bodied, and impressively layered and long.
Food Pairing: Roasted Game, Braised Red Meats

Hess Cabernet Sauvignon Allomi Vineyard 2009
Napa Valley, California, USA $25.99
The Allomi Cabernet Sauvignon is a full-bodied wine with rich flavors of blackberry and currant paste. Aging in American oak barrels brings a toasty nose of vanilla and nutmeg. The jammy entry of dark fruit carries through a well-balanced mid-palate into fine-grained tannins on the finish.
Food pairing: Grilled, Roasted Red Meats

$30-50
WHITES
L'Angevin Chardonnay 2007
Russian River Valley, California, USA $44.99
Abundant amounts of opulent pear, pineapple, and other assorted tropical fruits intermixed with a notion of wood spice as well as an attractive, fleshy, medium to full-bodied personality with nice texture and length.
Food Pairing: Grilled Fish, Lobster

Chateau Carbonnieux 2007
Pessac Leognan, Bordeaux, France $39.99
This has a gently creamed fruit nose, lightly grassy, with notes of yellow plum. Good freshness on the palate with lots of steely flavors. Lean, precise style.
Food Pairing: Fish, Shellfish, Salads

Paul Pernot Puligny-Montrachet 2008
Burgundy, France $49.99
A pure, stylish and classy nose of honeysuckle and spice plus ripe peach and pear aromas marries into rich, naturally sweet and punchy medium-bodied flavors that possess a mouth coating and gorgeous silky texture, particularly on the intense, palate staining and lightly mineral finish.
Food Pairing: Chicken with Cream Sauces, Charcuterie

REDS
Chateau Montelena Cabernet Sauvignon 2007
Napa Valley, California, USA $47.99
The nose is layered with ripe plum, blackberry, dried black currant and rich cocoa. In addition, there are undertones of earth, leather and vanilla, along with a light rose top note. Bright acid and fresh red fruit flavors open the palate, leading the way to big ripe cherry mid-palate and mellow barrel tones. The wine is rich and mouth filling with good layers, good persistence and depth, and culminating in a nice spicy ripe fruit finish.
Food Pairing: Steaks, Braised Meats

Domaines des Croix Beaune Pertuisots 2008
Burgundy, France $49.99
This is crystal red color in the glass with an elegant floral nose accompanied by minerals, cherry, a touch of herb and oak. Classically nuanced, the palate carries through with red fruits, delicate structure, great balance and a savory, dry finish. Smooth tannins.
Food Pairing: Roasted Chicken, Quail, Pork

$50-100

WHITES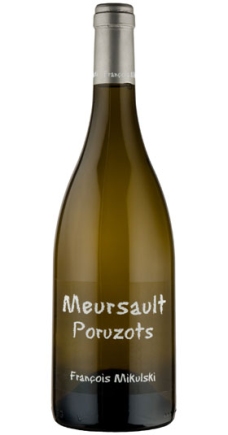 Francois Mikulski Meursault 1er Cru "Les Poruzots" 2008
Burgundy, France $69.99
Full, generous nose of toasted almond and perfumed honey. Medium bodied and very complex in the mid palate with a silky, glycerol texture intertwined ripe fruit and oak and all wrapped up with a clean, mineral acidity
Food Pairing: Poultry with Cream Sauces, Lobster


REDS
Chate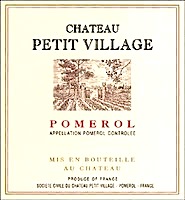 au Petit Village Pomerol 2006
Bordeaux, France $80.99
A very deep style of fruit here, dense, compact, giving it a very gamey-cakey edge. It has the perfume and the depth, but also a roasted, dense character. A nicely polished entry, quite relaxed, kicking off in a quite robust fashion but then broadening out, relaxing, showing good style and substance. Very nicely composed, balanced
Food Pairing: Beef Tenderloin, Beef Wellington

O'Shaughnessy Cabernet Sauvignon Howell Mountain 2008
Napa Valley, California, USA $85.00
The 2008 Cabernet Sauvignon Howell Mountain is comprised of 81% Cabernet Sauvignon and the rest six other grapes – Merlot, Malbec, St. Macaire (how often do you see that!), Petit Verdot, Carmenere and Cabernet Franc – and is aged 20 months in three-fourths French oak. It has a dense purple color, a wonderful, crystalline nose of crushed rock, camphor, creme de cassis and spring flowers and a full-bodied mouthfeel. The tannins are moderately high, but they are soft and well-integrated. This is a wine of tremendous intensity and plenty of up-side.
Food Pairing: Shepherd's Pie, Herb-Crusted Lamb

Brogan Pinot Noir Jan's Reserve 2008
Anderson Valley, California, USA $89.99
Dark reddish-purple color in the glass. Shy but pleasant aromas of black raspberry tart, dark chocolate and dark red rose petals. Delicious medium-weight flavors of cherry pie filling, cola and mocha. A stunning wine with polished tannins and plenty of pizzazz.
Food Pairing: Roasted Poultry, Pork Tenderloin

Domaine Robert Chevillon Nuits-St. Georges Les Vaucrains 2008
Burgundy, France $94.99
Dark cherry red color; nice cherry, black cherry, spice, French oak nose; tight, tart cherry, framboise, baking spice palate with definition; medium-plus finish.
Food Pairing: Roasted Chicken, Quail

Flavio Roddolo Barolo 2004
Piedmont, Italy $82.99
Gorgeous, layered wine bursting with dark cherries in liqueur, spices, menthol and sweet medicinal herbs. The wine reveals the telltale high-toned balsamic nuances that are typical of the Barolos of Monforte, showing plenty of intensity, drive and sheer personality. The Barolo was aged in neutral French oak barrels. This is a gorgeous effort from Flavio Roddolo, but there are only 3,000 bottles to go around. Readers should do whatever they can to taste the wines of Flavio Roddolo, one of Piedmont's most genuine artisan producers.
Food Pairing: Roasted Lamb, Venison, Veal Chops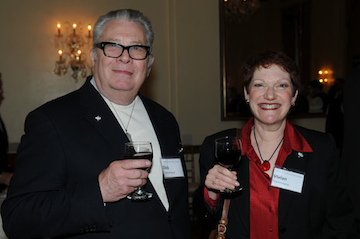 Vivian Tramontana (right, with husband, Richard) graduated cum laude from Brooklyn College with a BS in math in 1968. She got her first job at Chase Manhattan Bank programming Management Information Systems. Chase was using Univac computers with 90-column punch cards for security processing. She became a Vice President in 1978 at age 30. Over the course of her 22-year career at Chase, she managed the conversion from Univac and the development of IBM mainframe Computer Systems for Domestic Banking, Security Processing, Insurance, Commercial Lending, Factoring and the development of new front end real time processing systems for all.
She left Chase in 1990 and joined Paine Weber to develop their online real-time brokerage system for the broker as well as their customers. After completing the development of the Broker Workstation and the merger with UBS Bank, she left UBS in 2004 to pursue a new career in the wine industry.

Vivian Tramontana was a long time L.A.D.V./Tasters Guild member. After leaving UBS, she studied with some of the city's leading wine educators and gained retail wine marketing experience. For the past 10 years, Vivian has organized and coordinated numerous wine tastings and dinners for several organizations. As Director of the New York Chapter of TastersGuild International, Vivian and her husband, Richard (also a Chase alumnus), provide Tasters Guild/NY with extensive marketing, technology and financial expertise.

Dedicated to the pleasures of the palate, Tasters Guild is a unique society for wine and food lovers, encouraging appreciation and discernment of fine wines and food. Not "just for the connoisseur", Tasters Guild members of all levels, from novice to professional, benefit from the multi-faceted organization.

Vivian and Richard Tramontana, the principals of Wine Events Planner Tasters Guild/NY (WEP) , have over 40 years of combined experience in organizing and planning wine, spirit and food events. In addition to the approximately 40 events they run for their own group annually, they have extensive experience planning and implementing events for other entities.