Life After Chase: Larry Weiss
Banking with a Little International Intrigue Thrown In
Some of Larry Weiss's post-Chase banking career sounds like a movie script – especially the death threats.

Weiss – a boy from the South Bronx and Far Rockaway, educated at Queens College (New York City, not Cambridge, UK) and Columbia's School of International Affairs (SIA) – has been based in London for the last 29 years. He's renovating a home in Hampstead – where he can always catch Green Bay Packer games by satellite – and has led Bank Leumi UK since late in 2008.

"All the international banks were recruiting from SIA when I was there in 1977 to 1979. Euromarkets had just opened up, and the banks wanted people who had broader experience than just an MBA and people willing to travel overseas," Weiss recalled. "SIA had managed to get into that niche.

"I had done a summer internship for Citi in Milan during the summer of 1978, working on the budget for 1979…it was also the period of kidnappings in Italy. I learned about cost allocation, I learned the politics of doing budgets, how indirect expenses were handled. I discovered the real world," he continued. He enjoyed his stint in Milan especially as his father had lived in Florence for five years after World War II – and language wasn't a requirement.

Weiss graduated from SIA in December 1978 with an offer in hand from Chase to join its Credit Training Class III, beginning in March 1979.

Training was to begin on a Monday, and the Saturday before, at the age of 25, Weiss came down with the chicken pox. He dreaded calling up Chase HR, but they told him to arrive when he could. He managed to begin on the Wednesday – still a bit polka-dotted, but no longer contagious.

Following training, he was offered a job in financial analysis for Jeff Sell, assisting the workout team in problem loans.

"I can't rate that experience highly enough," Weiss said. "You really see what goes wrong with companies."

After a year, he joined the commodity finance division in New York, working on soft commodities like cocoa, sugar and coffee.

"Chase was one of the premiere banks in commodity finance worldwide at the time," Weiss said, and had the greatest praise for Peter Larr, who was in charge of the whole group, Hugo Wyss, who led the "soft" division and In-Suk Oh, on the metals side.

"I learned as a young relationship manager to make sure the bank is protected," Weiss said. He recalls trying to impose strictures on a Colombian family that wanted to set up a coffee business. A young Weiss was flown in a private plane to New Orleans, wined and dined, but he told the family that Chase would only provide financing if a third-party warehouse was involved. The family passed on the deal.

"Some time later I read how they were not only importing coffee in those bags from Colombia," Weiss said, breaking into a grin. "All my career, I've applied what I learned at Chase: SPC – seniority, protection and control."

In the summer of 1982, the commodity division was having a pre-performance party at Tavern on the Green before the annual Chase night at the New York Philharmonic. Weiss's wife, Evelyn Stern, mentioned to Weiss's boss that she would be spending six months in Germany to do research for her PhD in international relations. The next day, Weiss's boss offered him a job in London. The Weisses moved there in August 1982 and have lived there ever since.

"When I moved here, I thought I was moving to a lesser developed country – the restaurants and service were pretty bad," Weiss said. "But a lot has changed. There's a lot to thank Mrs. Thatcher for, and the city can thank the immigrants who have come here."

Weiss worked in the commodities division until 1987 and then ran a special nine-month project for the manager of Chase London, to determine whether it should get back into real estate. (It didn't.) Afterwards, Weiss became a Director at Chase Investment Bank on loan syndications, on the origination and distribution side.

About that time Chase wasn't doing that well, Weiss said, and he thought it would be nice to look for a change. Coincidentally, he received a call from a former colleague who was working for Marc Rich. (Yes, Weiss smiled as he said the name.) Rich's London Glencore office was looking for someone with commodity and syndication expertise. One lunch and one meeting later, Weiss had a job offer. "I resigned from Chase the same day in November 1990 that Mrs. Thatcher resigned as prime minister," he said, laughing. "There went my headline!"

"I remember one colleague saying to me, 'I think you're making a big mistake,' Weiss said. "Years later, of course, I ran into him and he said, 'You made a fantastic choice. I knew you'd make a success.'"

In the commodity world, Weiss said, the Marc Rich name had value. "I didn't work directly for Rich," he noted. "All the people I worked with in that company had the highest integrity…Glencore was a real Chase alumni club. There was an entrepreneurial flare to the group." Weiss worked on project finance, a lot of pre-export finance deals. "We always backed our deals with political risk insurance or bank cover so we limited our actual exposure."

He was then asked by the head of Glencore's oil trading group to become finance director of Total Marc Rich (TMR), a joint project with the French oil company. TMR focused on upgrading oil refineries in parts of what was still the USSR. They would have upgraded oil product to export.

Asked whether a man who was somewhat obviously Jewish encountered anti-semitism on his trips to such places as Ukhta, Vovograd, Baku, Constanta and Lisichansk, Weiss replied, "Let's say that some people we dealt with really did believe a 'certain group of people' controlled all the money in the world. Our approach was, 'You have the prejudice you have, we'll use it.'"

"In the so-called workers' paradise of the Soviet Union, you saw waste water and dumping; they couldn't reclaim the oil and didn't care about people. People were expendable," Weiss recalled. "We weren't the World Bank coming in, but we brought environmental benefits to them– no more waste water lakes, less air pollution – and we were bringing in cash."

After the fall of the USSR in August 1991, Weiss said, Boris Yeltsin introduced a "draconian export duty on oil going out".

"We had to rethink where we would focus our energies," Weiss said. "In one joint venture, our partner was no longer the State but a major Russian oil company that told us, 'We like this joint venture project so much, we want all of it. And we'll give you two choices: You can negotiate the Italian way [Weiss indicated a throat slashing] or the Western way – you can just give up and sign it over.' We said: 'There's a third way. We have an arbitration clause in our contract.'"

TMR won the case when it was taken to arbitration in Stockholm, the award was recognized by the Supreme Court of the Russian Federation, and the Russian oil company paid TMR what was due.

A more swashbuckling defense was played out over a five-year period against an attempted seizure by another eastern European country, which Weiss prefers not to name in print (although it is part of the public record) – perhaps because it's where he faced death threats.

The country wanted to nationalize the TMR projects there, although TMR had won arbitration rulings in various countries. TMR needed to put pressure on the country and so looked to its assets, settling on Antonov cargo planes.

"Those airplanes had no market value, really they were only of value to Antonov, but as big cargo planes they generated millions in cash flow," Weiss explained.

TMR learned that an Antonov plane was ferrying NATO troops to Goose Bay, Canada; Canada was one of the countries that had recognized TMR's arbitration award. Once the troops disembarked, a sheriff seized the plane. Following a two-week hearing in Montreal, a Canadian judge ruled in TMR's favor.

"I was called in to have a session with the deputy prime minister of the state from which we were seeking the money. I arrived in the cabinet ministers' room with a colleague and lawyer to find 25 gray men with standard glasses. Here I am, this New York guy with the deputy prime minister, who was also the minister of finance," said Weiss.

"He had to be very respectful and diplomatic, recognizing an award is an award – and then he became very Soviet: 'We have to establish a commission to investigate and agree on a settlement amount.' Unfortunately a new government soon came in, and it didn't want to be seen giving in to a foreign company early in its reign."

So once again, TMR needed to seize a plane. This time the Antonov cargo carrier was due in Brussels.

"As the pilot was landing the plane, he could see that fire trucks were blocking the end of the runway. The pilot tried to take off again, but couldn't," Weiss said. "The crew stayed on the plane for a few days until their country's ambassador persuaded them to get off. We were soon invited to meet with the new government."

"Clearly, you don't start an arbitration of that nature unless you have very deep pockets," Weiss said. The eventual award was some $30 million – which, even after the legal expenses, was a considerable payday.

By 2008, the joint venture was winding down, and Weiss's wife – a lecturer at the University of London – "was not happy I had this death threat over me or the inordinate amount of time I spent traveling" – at Weiss's estimate, at least half his time. He'd loved how his jobs at Glencore and TMR had kept evolving over time – at one point, he was also trustee of the company pension fund – but he had had enough and thought about retiring after 17 years of that high pressure lifestyle.

Then he had a meeting with Bank Leumi's head in Tel Aviv. He'd known the bank, as Glencore had a joint venture in Israel.
He was asked if he would consider becoming CEO of Bank Leumi UK. "It came a bit out of left field," Weiss said, but the more he thought about it, the more interested he became. In October 2008 he was approved by the Leumi board, and he began his post in November, after receiving FSA approval.

"It's been non-stop ever since. So much for an easier life," Weiss said.

At least his travel is reduced. Once a quarter he goes to Israel – where his son has lived for the last five years – but a lot of meetings are held by video conference.

Bank Leumi Tel Aviv just celebrated its 110th anniversary. The UK subsidiary celebrated on February 27, 2012 in London's Guild Hall. Topol was the emcee and performed "If I Were a Rich Man", presumably to many rich men and women who were at Guild Hall as a cross-section of Leumi's clients from the UK, Europe and Israel.

Weiss said that Bank Leumi UK has moved on considerably from its roots catering to the Anglo-Jewish community.

"I always explain that we are a British bank that is a subsidiary of an Israeli bank," said Weiss. "We're nimble. We have our own board and can make decisions here."

Of the 200 people Leumi employs in the United Kingdom, 150 work in a building not far from the Bond Street tube station. The others work in Leumi offices in Brighton (a leading player in asset-based lending and equipment finance) and Jersey ("for people for whom it makes sense to have facilities in Jersey"), with two business generators based in Leeds.

Bank Leumi Group accounts for about a third of Israel's banking market. For growth and diversification, it must look elsewhere. Weiss called Bank Leumi UK "Leumi's platform for corporate finance in Europe."
The UK subsidiary focuses on property finance (residential development, student accommodations, healthcare and hotel finance, the latter particularly in Germany and Holland); media finance for film and TV production (notably for the hit series Doc Martin); commercial finance for mid-sized companies; deals with Israeli companies doing inward investment in the, and Private (personal) banking. Not surprisingly, the bank has become a significant player in commodities finance.
Weiss notes that Bank Leumi wasn't horribly affected by the credit crunches and problems of 2008. "Instead of trying to pick up the pieces and becoming a workout shop, we have been able to say what are our strengths and how we can focus on our key markets. We don't do plain vanilla marketing; this is very much a niche bank with value added. The deal flow pipeline is tremendous. That said, we have to constantly monitor ourselves given Basel III and capital requirements."

Asked what he's had to learn as part of his new job, Weiss noted that at both Chase and at Glencore he dealt with all sorts of interesting people from all over the world and developed a reasonable skill set, but one of the biggest challenges as Bank Leumi UK's CEO is time management. "Here there are so many people who have to see me and meet on various issues, yet I want to be out there seeing clients. There's also the regulatory aspect. The British FSA is our immediate regulator, and the Bank of Israel is Bank Leumi Group's regulator. I meet with Bank of Israel once a year. They have to be comfortable."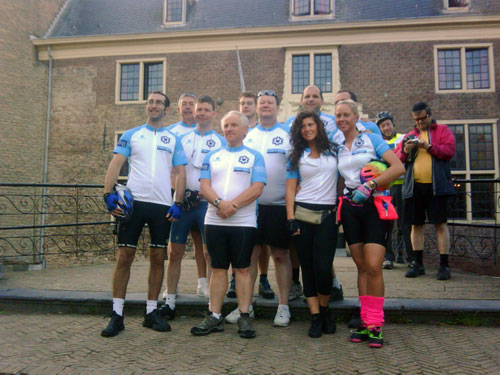 He's also visibly charged by the charitable work the bank is involved in, from Israeli film festivals in London to a particular favorite, a marathon bike ride in England and on the Continent, to raise money for the Shaare Zedek Medical Center in Israel and local charities of Bank Leumi employees' choosing. (In the picture at left, Weiss is front and center.)

"Looking back at my Chase experience, Chase was the most phenomenal training ground," Weiss reflected. "What we learned there really carries through a career: relationship banking, getting behind numbers and getting to know structure.

"The first day I walked into 1CMP and they show me where my desk was, I recall seeing 'the lost batallion' – one guy in particular, who didn't make it through credit training, and he had an MBA from Cornell. We had 'desks and caps' – we were given a company on a Monday, had to present it on Friday, had to pass a certain number. For caps, we had the weekend to work on it. He hadn't passed enough of them. If I needed any fire in my belly, that was it – and I still remember him every day. You can't sit back and relax."