Life After Chase: Alfredo José Assumpção
Protean Brazilian
Visit Alfredo José Assumpção's Web site, and you wonder, "How does he do it all – and all so well?"
The former head of HR for Chase Brazil, he is founder and CEO of Fesa, the largest retained executive search firm in Latin America. Named as one of the most influential headhunters in the world by Business Week, Assumpção recently won the prestigious Eleanor H. Raynolds Award, sponsored by the Association of Executive Search Consultants (AESC), in recognition of his contribution to the executive search consultant profession and his engagement in volunteer work. He is the first Brazilian to be receive the award.

Assumpção is also the chairman at Asap, a middle management search firm. With an innovative spirit, he founded the second firm during the 2008/2009 economic crisis. Both companies are recognized by the market for the ethical stance of their executives.

In addition to his work in executive search, Assumpção is a poet, musician, composer and author of nine books, including a trilogy on leadership. His 10th book, Talent: The New Wealth of Nations, will be published soon.

Assumpção has a graduate degree in Economics from the University of Finance and Economy of Rio de Janeiro, a post-graduate degree in Human Resource Development from Fundação Getúlio Vargas and an MA in Human Resource Management by Pacific Western University.
We posed several questions to Assumpção based on the extensive information and commentary on his Web site. Here they are, with his written answers:

The Web site states: "Alfredo is recognized for his accomplishments and entrepreneurial spirit, being tireless in his attempt to build a more transparent, conscious, and humane job market." How do you do that? When clients come to you with assignments, are they looking for the candidate with humanity or skills? Or do you train your clients to look at the candidates with different eyes?

I try to balance my time, in order to find my moments "to be of service". I work very hard every hour of the day, dividing my time in such a way that I am able to dedicate part of it for my company and my profession, for lectures (from students to CEOs and Board members), writing books (10, so far), playing my bass guitar, composing some songs, enjoying physical exercise, and recording my poems, to stay only with some examples – in addition to (last but not least) the deserved dedication to my family (married for 36 years already with Nadia, having two daughters – Milla and Brena).

I am used to saying that our life is like a pizza divided in many pieces, each one representing a kind of activity, with an amount of time you devote to. Sometimes I need to stop something to dedicate myself to other activities focusing on other accomplishments, selected as more important at that specific moment. This way the size of the piece of the pizza will depend on the moment I am living and the interest I am showing for a specific matter. This is the way I found to manage my time to accomplish so much.

Based on the work that I do, and on my beliefs, I try to change the mind of some clients trying to make them more interested in sustainability. "To be of service" in this case is the great mission. Everything in the planet is used for a specific purpose to improve our planetary system. A leaf that falls from a tree at the moment that it arrives on the ground, it starts fertilizing the ground, serving to bring more life to the planet. In this sense, we are a kind of leaf.

In the same way, we, as human beings, must serve each other and the planet. This way we can build great teams in the corporate world, having the companies improve quality and increase profitability. If someone searches the organizational environment of the great companies, the most successful, those built to last, all of them, without exception, are managed with such feeling and mission in mind. It is vision, mission, objectives and practices, all together, in this direction.

But in the end, the client culture is the most important variable to be observed when recruiting an executive. The executive talent, know-how and skill, as well as his/her capacity do deal well with other executives (peers, subordinates and bosses) are also taken into account. Usually clients are looking for candidates with skills but more recently some have come looking for candidates with both humanity and skills. So, I try to build capability by transforming leadership for the goodness of the client companies, the planet and society.

"He is a rare breed that mixes high doses of idealism and pragmatism." Yet you're working in the "real" world… Which usually wins out, idealism or pragmatism?

Even while working in the real world I am able to mix both idealism and pragmatism. I try to put them together, mixing them, in order to find solutions. For instance, doing what I do and being the way I am, I was able to manage my business Fesa Global Executive Search Transforming Leadership and Asap Recruiting Leaders for the Future, both retained executive search business, to become the largest operation in this field in Latin America. We were able to increase our operation 2,500% in eight years. I do not know any other case like this.

And here I am saying that we compete against all the big integrated multinational firms. What I mean is that when you have idealism you have followers who want to stay with you in a kind of synchronicity that was so well explained by Jung. And, at this moment, you have a real team ready to "roll the stone uphill", because downhill gravity does it by itself. So, building capability by building great teams is an achievement possible only by those who have a great amount of idealism. This is the new "real" world. And it is valuable for countries, companies, families and the entire society. The new great leaders are those idealists who know how to improve their strategy and make their dreams real.

When did you join Chase?

I was hired at Chase in October 1982. At that moment the bank was investing in the Middle Market and Agribusiness to build these two lines of business in Brazil. I started in Rio de Janeiro and then, three months later, I was transferred to Curitiba, from where I would manage human resources for the South Region of the bank, related to wholesale banking type products. I left Chase in May 1992.

What were your impressions when you first joined Chase, in particular about the culture of the organization?

I was very well impressed. First of all I was coming from the manufacturing sector (General Foods, Reynolds Tobacco and International Paint) and all of a sudden I was in the middle of the financial services segment where you never see the products. That was a shock, since I was accustomed to working as a real support (does not matter if I was an HR guy) for the business areas, connected to the production and sales lines of business. So, very quickly I had to change my mind and get accustomed to the new environment and the new industry.

The organizational culture, unfortunately, at least in Brazil, was kind of a paternalist one. One must remember that Chase Manhattan acquired a bank in Brazil called "Brazilian Home Bank" (Banco Lar Brasileiro). This way, the administrators were used to using the bank as a home. There were comfort zones and a kind of assistencialism avoiding that anyone be dismissed by the bank, just to use a single example.

It was very difficult to practice "building capability" by changing the bad performers for good talents that had to be recruited in the market place. Additionally, the recently arrived New York executives managing the bank were kind of arrogant, believing that the Chase Manhattan talent was the must. And, in some cases, that was not the truth. We wanted to operate in all the banking lines of business in Brazil (Investment Banking, Commercial Banking, and Personal Banking, to stay with only the most important) and we did not have the know-how to compete against the Brazilian banks much more adapted to the country's way of doing business, sometimes not fit to the ethical philosophy of Chase. So, we decided to compete in a grey field without following the local practices. To make the long story short, we started losing money.

Which story (or stories) from your time at Chase do you like to recount/ re-live when you meet former Chase alumni?

The whole change that we conducted to move the bank from a loser (losing on average US$6 million per month, without knowing where, so badly built were our financial controls) to a profitable bank (we gained US$40 million – bottom line) in three years of dedication, changing the market strategy and the organizational culture of the bank.

Building capability was the objective, training people for the new culture (investment bank-type products) and for the new strategy. From the vantage of HR, I was responsible for closing almost the whole retail banking and middle market and agribusiness lines of businesses (at that time Chase was the largest international bank operating in Brazil – bigger then Citibank, Lloyds, Boston and other commercial banks).
Still, I fired close to 3,000 employees. I was responsible for closing branches all over Brazil and for firing 70 percent of the bank population. The good side, I gained no enemies. I built a successful career as a headhunter specialized in financial services (FESA stood for financial executive search associates) and could always count on my colleagues from Chase for that. They helped me a lot. And they still help me.

As an influential headhunter, what general advice do you have for former banking colleagues looking for new challenges, especially for those who are baby boomers?

I have just finished writing a book, Talent, the Real Wealth of the Nations. A talent in this present and modern world, chaotic in its essence, is that person who makes himself or herself needed. Once you are needed, and it does not matter how old are you, believe me, you are a talent. And there is a shortage of talent in the whole world. The unemployment index is made of non-talented people, the obsolete ones. One must be up to date with everything. This is the great challenge for the person to continue being recognized as a talent. But once you are recognized as such, you will have a place to work in this chaotic world. It does not matter if you will work as an owner of a business or for a company. Seasoned executives, provided that they are up to date, are needed.

You have written extensively about "happiness" and say that you are influenced by the teachings of G.I. Gurdjieff "to better perceive, feel and understand the Divine, the Universe and Mankind."Would you discuss your discovery of the teachings of Gurdjieff and how they have changed you? Are they the basis of your writings about happiness? Are there other religious influences?

I learned in the Gurdjieff School about myself. This is a self-study school and as such I invested three years learning about myself and the connection that we have with the universe, to stay with the simplest question answered in this school. I learned that we must serve each other. And I also learned that when you are serving in your utmost you have achieved the highest degree of happiness. Yes, I brought everything that I learned to my organization. Whatever applies to a human being is also applied to a group of human beings, what is the case of a company. I am not religious. I have just religiosity in me. In other words, I practice spirituality that has nothing to do with spiritism or religion. I do not believe in religion. I believe in persons working for the goodness of the planet, including here other human beings.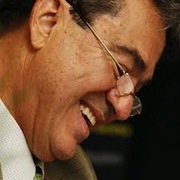 How would you describe your music's sound/genre/audience? Has it evolved over time? What are your influences?

My music is a mix of genres – rock and roll, popular Brazilian music (MPB), afro-jazz. Yes it has evolved over time...the more I study and dedicate myself to music, the better it gets. I have several influences, The Beatles are among them, as well as jazz musicians, Blues musicians and also our Brazilian musicians from the northwest region of the country.

What training have you had as an instrumentalist, singer or composer? Or are you self-taught?

I am both self-taught and I take contrabass lessons, the instrument that I play. I also invested two years studying in a music school to be a singer and to improve my way of playing the bass. But, to tell you the truth, with all the increase of my business it has become more difficult to find time to play in a band, for instance. This is something for me to figure out, how to mix these interests in the near future.

Would you talk about how music fits into your life? Where do you find the time for it (and writing books and everything else)?

I love music and it is a part of my every day. I listen to it all the time. I take time out to practice my contrabass as often as I can and take a class at least once a week. When I set out to write or play, I dedicate myself to that and make time for it. As I explained, I manage my pizza to find time for everything.

What is the source of the name Lé, which is how you're known as a poet?

My complete name is Alfredo José Assumpção. My oldest brother is just one year older them me. He did not know how to pronounce José. The tonic is the same, Lé and José. This is the only explanation I have for my nickname, which I have had since I know myself as a person.

Is your poetry self-published or commercially published?
My poetry is self-published, but you can buy my books on my personal website. I wrote my poetry books just to have fun, but once in while I have to make other editions. Here and there people buy them.

If we were to run one of your poems as translated into English, would we be missing something essential that's in the Portuguese?

It is possible that you would find it difficult to translate. We are talking about feelings, and some words in Portuguese to do not have an exact translation in English. For instance the word "saudade" – one may translate it as something or someone (a thing or a lover, for instance) that one is missing. And "saudade" is more profound than just that.

You've written extensively about talent. How do you define it? Are you born with it or is it revealed with experience?

Talent is difficult to define. I dare say that talent is to make yourself necessary. Whenever you are needed is why you have some aptitudes that others do not have. So, at this moment you are a talent. Even in the artistic or sporting world it is like that. If you are needed you are a talent. If not, you are forgotten in a corner.

I have just published my 10th book, exclusively covering this matter. In the book I give some definitions for talent differently than the usual text one finds in other books. Once again, I did not follow the conventional way of doing my things. In my definition talent is acquired and must always be updated in order for the person to be used in his/her utmost.

Are any of your books published in English?

Not yet, I am working on that. One should be published very soon. It is Fearless Management, on how to be happy in the corporate world.

How much sleep do you need? (!)

I do not sleep very much. But whenever possible I sleep.

If you were limited to one activity, choosing among business, writing, poetry, composition, music performance, could you choose?

I would not be able to choose just one of them. I am very happy with this Alfredo's world. They, in total, make me who I am.

Was there a specific turning point where you consciously decided that your primary career was to be in business, not as a writer or as an artist? If so, when was that and can you describe the circumstances?

I left my small village, Anta, in the Rio de Janeiro country, to move to the city of Rio de Janeiro just to enter college to participate in a music festival named Festival Universitário da Canção (Song University Festival). At that time I was already a composer, and I wanted to use one of my songs to start in the artistic field. Nothing happened in this direction. My song was not even classified to compete as one of the 20 songs that would be presented. So I gave up and decided that I should be an executive in the corporate world. But I knew that later on I would come back to the artistic side of my life. And I did it, as self-realization.

With so much varied talent of your own, is it not hard to see some of your job candidates as being narrowly focused? How do you assess them?

I can't judge candidates based on my talents, by projecting myself on them. I must focus on what my clients are looking for. The focus is on them and not on me. I have to evaluate and find their aptitudes to indicate whoever the best talents to my clients.

Is there any other talent you wish you had?

A soccer player would fit well with me. Believe it or not, I practiced this sport until I was 48 years old. Then I had a problem with my Achilles tendon and after a surgery I had to stop playing. But, for sure that if I had had the opportunity to present myself in a first degree football team in Brazil, I would be the captain of the Brazilian Selection. (Lots of laughing)