Life After Chase: Eileen Morgan (aka Morgan, the PhDiva!)
An Entertaining Consultant and Coach
We received the following note from Chase alumna Eileen Morgan, PhD. She earned a doctorate in Human and Organizational Systems from The Fielding Graduate University, an MA in Organization Development, and an MS in Counseling. Her current research and practice interests include accelerating systemic change in global companies, business ethics in the cross-cultural context and global management competencies.

When not spending time with her organizational "day job," Morgan is a cabaret singer and performer, known as Morgan, the Ph.Diva!
She has both a series of cabaret shows coming up in New York (October 27, November 10 and 18) and the start of a teleseminar series, Reclaim Your Passion and Transform Your Life by Reconnecting Who You Are to What You Want To Do.
I began at Chase in 1979 in the then Operations and Systems Sector, working at 1NYP. I was hired by Deborah Shah in Management Development, who reported to Stan Schrager. In fact, Ralph Aiello was responsible for bringing my name to the attention of Deb Shah (who I am still friends with 30+ years later). I'd met Ralph while working with Chase on a program with Cornell University's Industrial and Labor Relations School, Institute for Women and Work. Ralph made the introduction and I was fortunate enough to be hired. I didn't know it at that time, but working for Deborah and Stan really set the bar high for my days at Chase! Stan reported at the time to John Sciccatella, who was head of Human Resources for Ops and Systems.

Later I worked for Jack Rosenstock in Operations as one of the three business face-offs to Corporate, Domestic Institutional and International Institutional. This was in 1981 when the bank was just starting to develop what we called at that time "non-loan products." (That sounds so quaint today!) I was placed as the face off to the Corporate Division and worked for two years with the Shipping Division with Stew Gager, George Zannos, Barbara Brennecke Tsarnas and Bob Hennebry. What a group and what a team, and did we ever have fun!

After Shipping I spent some time in Consumer Banking, both in Brooklyn, Queens and Staten Island as Marketing VP working for John Mitchell, and then out to Suffolk County, Long Island, as Division Manager for Suffolk County Consumer Bank.

In 1986 I left Chase and started my own consulting business. I focused on Organizational Development, Leadership Development and, eventually, strategy development and execution. My company worked primarily with Fortune 500 companies all over the world. I consulted with and taught in General Electric's Leadership Development Institute. I've published two commercially published books on leadership and business ethics in global companies (Cutting the Red Tape: How Western Companies Can Profit in the New Russia, 1993, The Free Press, and Navigating Cross-Cultural Business Ethics: What Global Managers Do Right To Keep from Going Wrong, 1998, Butterworth-Heinemann).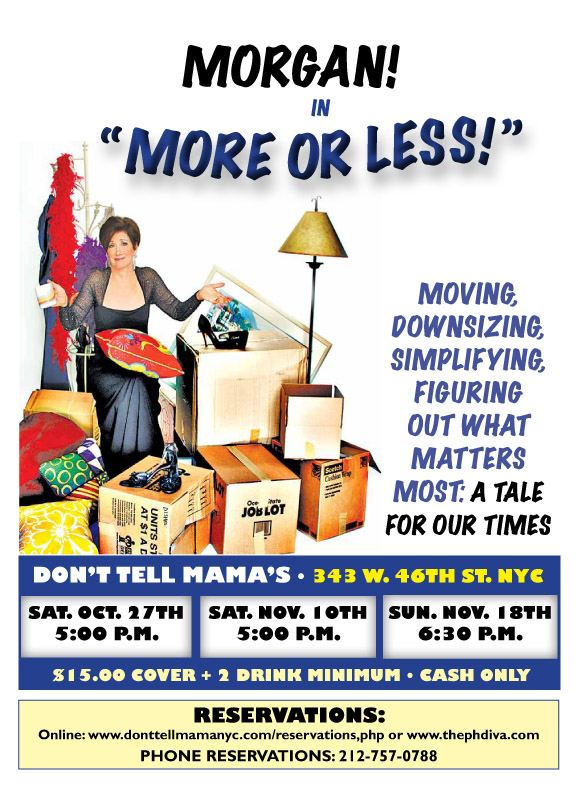 But in 2005, I decided that I was missing the joy of singing, which I had done for many years when younger, but had put aside for 20 years. I found a great vocal coach, and auditioned for and was accepted into the 10-day intensive Cabaret Conference at Yale, a virtual boot camp for singers and performers. From there I went on perform in New York City, several cities across the United States and even in Bangkok, where I performed while working with a corporate client there. The client asked me to do a show and I found a great jazz trio to play for me. Later, on that same trip, I managed to record a CD of American Songbook Standards. In addition to my one-woman shows in NYC, I do specialized benefits and private parties, often crafting a show to reflect a special event or important celebration.

After over 25 years with my own consulting firm post-Chase, I am reinventing again, winding down my corporate practice and helping experienced professionals and "post-career" adults to Reclaim Your Passion and Transform Your Life by Reconnecting Who You Are to What You Want To Do. I just recently launched this new venture with a teleseminar series called Living in the Coda.

I am so often struck by how many people at "this age" are looking to give back, make a contribution, reclaim a passion, start a non-profit or volunteer effort. Many people go right to it - others can use a little coaching or some frameworks to think it through, or a means to connect with others who are looking for the same things. At this stage, after so many years of building solid, exciting corporate businesses, we are more about the heart stage, and I am now helping experienced adults create those businesses and reclaim those passions that, like mine, were set aside for a long time.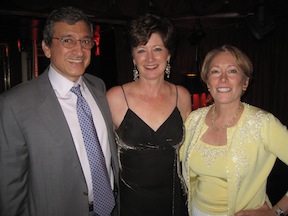 To the right and above are photos from one of my shows at the New York club Don't Tell Mama (343 W. 46th St) where I perform, among others. I love these photos of Stan Schrager, Martha Sherman, Barbara Tsarnas and George Zannos for several reasons. We all still remain good friends after many, many years of my having left Chase. I think those photos are strong testimonials to the amazing bonds that were forged by many of us that had the good fortune and pleasure to work at Chase. We are still connected to each others' lives. They show up for me - in the deeper sense of that word. And I for them.

Eileen Morgan, Ph.D. aka MorganPhDiva!