CAA 25th Anniversary Reception at 1 CMP
Thursday, October 17, 2013
It was a full house on Thursday, October 17, 2013 as alumni from around the world gathered to celebrate the Chase Alumni Association's 25th anniversary on the 60th floor of 1 Chase Manhattan Plaza – probably the last time we will gather there.
Coincidentally, 1 CMP was sold on Thursday for $750 million to Fosun International Ltd. of China, and JPMorgan Chase is not intending to lease the 60th floor.
David Rockefeller sent a letter to the group, and Art Ryan, unable to come because his wife was ill, sent warmest greetings. Mike Esposito received a burst of applause when he was introduced.

Among the some 280 alumni who attended was a group of 34 who came for three days of activities, in upstate New York and Brooklyn. (We will post a separate story and photos from the reunion trips in a few days.) The intrepid group is pictured below: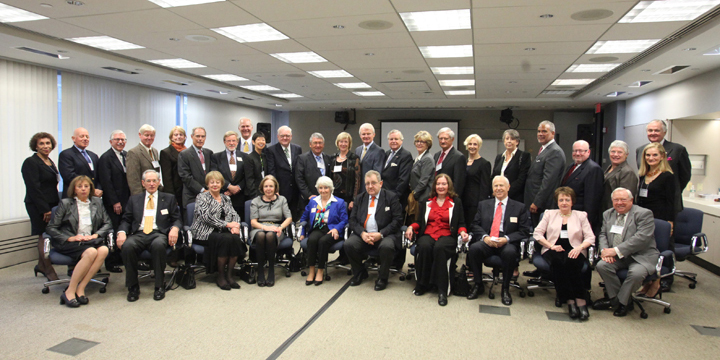 The group that attended the full weekend of activities: (Top Row, L-R) Maria V. Trinidad, Leon Desbrow, Ken Jablon, Tom Lynch, Carol and Peter Holzer, Heinz Rahlves, Jean Marc and Marianne Bara, Willy Debor, Rolf Reinhold, Sigrid and Peter Gross, Hans and Marian van den Houten, Jim Johnson and Becky Ford, Beatrice and Carlos Burns, Paul Heller and Ruth Acker, John and Denise Ward; (Bottom Row, L-R) Rita and Norbert Conradi, Elisabeth Reinhold, Ellen Debor, Frigga Rahlves, Wolfgang Drewes, Sieglinde and Reiner Hartmann, and Beryl and David Willmott