Life After Chase: Erica Dhar
Senior Advisor at AARP International
Talk about shifting gears! From 1985 to 2000, Erica Dhar was part of "heritage Chase's" technology group, starting on the Wang e-mail help desk, helping Chase employees navigate through new customized software systems and leaving as a training manager under Ralph Anderson.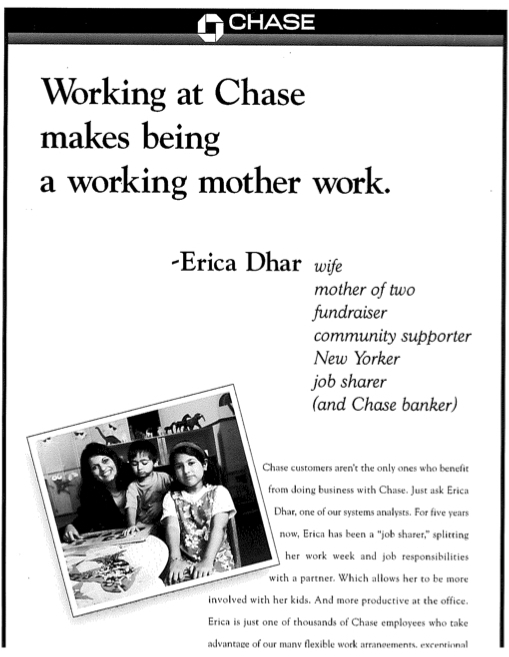 Today, after going back to university and prompted by a family crisis, Dhar is a senior advisor at AARP International, serving as the organization's liaison with the United Nations and Council on Foreign Relations on issues pertaining to aging.

Dhar took a buyout from Chase in 2000, planning to "take care of the dog" (a beloved Labrador) and spend time with her daughter (now 25) and son (soon to be 21).

"I was living in the city, became an active mom in school and started an exchange program between my daughter's school and a school in India," she recalled, "but I was having a hard time figuring out what to do."

At the same time her mother was aging, in Dhar's native India, outside of New Delhi. Dhar went from being the working mother in a Chase advertisement about job-sharing to, in essence, the working daughter in the classic "sandwich generation" dilemna, complicated by her mother's being overseas.
Dhar saw a career consultant who suggested, since Dhar was focusing increasingly on her mother's needs and having to travel back and forth, that she start an NGO taking care of older persons in India.

She approached her alma mater – Delhi University – to see if they could begin a program by which empty nester alumni would visit older persons, particularly those with children abroad.

"I asked myself, 'Why would anybody in India take me seriously?'" she said. In 2006, she enrolled in New York University's Gallatin School of Individualized Study, intending to focus on public health and aging issues. She put together a curriculum for herself, mostly at NYU's Robert F. Wagner Graduate School of Public Service and the NYUSchool of Social Work. In 2009, she finished her master's thesis, Transnational Caregiving: Caring for Family Relations Across Nations. It was published in Care Management Journal in 2011.

She had already begun volunteering with AARP International. An internship followed and she came back as a consultant in 2010. She was hired full time in 2011, to look at how issues of globalization, longevity and caregiving overlap and connect with NY-based NGOs concerned with aging.

"It's a dream job," Dhar said. "I'd always wanted to work at the UN, but when I graduated with my first degree, there was no way I could get my foot in the door."

Now she convenes an annual briefing series at the UN in conjunction with the UN Commission for Social Development and works to make aging a "bullet point" on the UN's list of sustainable development goals.

"I am so privileged to work for this organization," Dhar said. "It is really mission-driven, and the people are very sharp and passionate."

She says the UN member states take the work of AARP International quite seriously. Although the AARP may be a punch line in conversations among most Americans about to turn 50 and receive their first invitation to join the group, the AARP, of course, is a major research, advocacy and lobbying organization in support of the 50+ demographic.

Though headquartered in Washington, DC, AARP has an office in every U.S. state plus Puerto Rico and the Virgin Islands. Dhar works out of AARP's New York office. "Our job is to work on the same issues but to bring best practices from overseas and share, regarding issues like health, employment and age-friendly cities." She notes that while AARP once stood for the American Association for Retired Persons, it's now just AARP, not as an acronym, because so many of the people it represents are not retired.

AARP looks at caregiving locally, trans-locally (i.e. interstate) and then transnationally. "In some countries caregivers don't see themselves as caregivers or what the value is of what they do. It's very difficult for people with older parents living overseas – how to manage that caregiving, particularly in some countries where home care is not as advanced as here."

She noted that "caring across continents" – as Judith Graham put it in a story about Dhar in The New York Times last year – also has major financial consequences. "It's hard to sustain a job if you're going to have to go back and forth and manage caregiving in a different time zone and with different traditions," Dhar said. "And every vacation must be spent taking care of the situation."

In some traditional families, there is a sense of stigma against the child: "How selfish are these children that they left the older parent at home," Dhar said. At the same time, the distant child must accept, "I need to be here, not there…I'm not a bad person for doing this."

"For my generation, bringing your mother here was not the answer. Mine was a very independent lady and had her own system at home. In the old days before direct flights, due to visa issues and the distance, we would ask her to come for three months. But that was not an option; she would get antsy after a month here," Dhar said, adding, "And then there's the question of insurance."

Dhar, whose mother died in 2012 with dementia, said her family was fortunate that one of her mother's doctors in India was trained in the United States and understood her expectations regarding palliative care. That isn't true everywhere.

"When you've lived abroad so long, you can be clueless when you go back to your home country," she said. As an example, while the use of morphine is legalized by the centralized Indian government, it is regulated by each state and forbidden by some.

Time and technology have made transnational caregiving a little easier. "Years ago, we had to make a trunk call to India, and it was so expensive that we wouldn't say more than, 'How are you? Fine? So am I.' Now we use Skype and phone services that are only pennies per minute. I would call my mother every day, but if I could tell she was having a bad day of it, it would ruin my day, since I couldn't do anything from here to help her."

"There's a digital divide, though. Some immigrant groups can't access technology," Dhar said. "There are also issues regarding visas. If you fled a country and have refugee status here, you can't just go back to visit." Taking care of an estate overseas can also be confusing and even more time consuming than handling an estate in your own country. Among the work that AARP does is to work on policies that make employers understand what employees are going through as caregivers and then after the loved one's passing.

Dhar recommends the AARP's "magnificent portal on caregiving" and offers herself for advice to Chase alumni who are facing transnational caregiving issues. Of course, for those U.S. Chase alumni who have decided to retire abroad, they are creating their own transnational caregiving challenges for their U.S.-based children.

The AARP, she said, advocates for long-term care as a right – as well as such issues as "what it means for older persons to be employed, retained, retrained and rehired, for them to pursue lifelong learning and for poverty eradication among older persons."

As for her advice to Chase retirees, she urges that they remain socially engaged to stave off depression from social isolation. "AARP is very big on volunteerism, as a means of engagement and a way of giving back."