Remembrances
To see two collections of alumni recollections of DR, presented to him in honor of his 100th birthday, dues-paying members can click here and click here. For a photo album, click here.

From Neale Godfrey in Forbes.
From Gene Swanzey: There are no words that come to mind to express my sadness. While each one of us at the Bank worked for David, I had the distinct privilege of working directly for him in the Office of the Chairman--not only on Bank matters, but also on his various activities outside the Bank. My wife and I had quality time with him last November at Joseph Reed's memorial and at a Chase gathering at Pocantico later in the day. We will never forget that conversation. May he rest in deserved peace.
From Dick Hay: David was a true Gentleman. He treated everyone with respect. I remember him fondly. As a young Assistant Treasurer, I would cross paths on the elevator at One Chase and he would even remember my name.
From Nick Binkley: A gentleman and statesman extraordinaire. May he rest in peace.
From Phil Sorace: I can't say that I knew David or that he knew me but, at those few brief encounters on domestic business trips and local customer lunches. Whether true or not, he made me feel he valued my presence by initiating some conversation relevant to the event. I recall one trip in particular to Detroit that was well represented by officers of all ranks from various departments and divisions in the Bank. At check-in at the Renaissance Center Hotel, David was asked for a credit card to start the process. He smiled at the Desk Clerk and after a brief self pat-down, said to the effect, "I don't believe I have my wallet." As I remember, it took less than a second or two before a dozen or more wallets were being snapped open and credit cards were slapped on the marble counter. I don't have memory of what DR's reaction was as I, a junior officer, was shunted to the rear of the crowd where I tried my best not to laugh out loud. Truly, it was scene from a Billy Wilder movie.
My most lasting memory of "the man", David Rockefeller, was a brief encounter on an elevator at 1CMP. After he retired, he maintained an office at the Bank. Since my office was a floor or two above his, we shared, from time to time, the same elevator in the morning. I was having a room built on our home and experiencing all the typical problems one has with contractors. One morning in the elevator I was complaining to a colleague about having to redo the installation of a wood plank floor because of shoddy workmanship. David entered the elevator on the Plaza level as I whined about enduring the mess. After a brief greeting, I continued with my tale of woe. About three to four weeks later. I encountered David again on the elevator. This time I was alone and he was windswept and bundled up, having crossed the Plaza into the building, We chatted briefly about the cold spell and the Downtown wind shear until he exited on his floor. As the door was closing, he suddenly spun around and said, "How did you make out with the floor?" I was stunned and only could nod an OK, before the doors closed. I couldn't imagine how he could have remembered an overheard conversation several weeks before, or why he would even felt it necessary to ask about it then. My take-away lesson at the time was, it is important to pay attention to small things.

From Loretta Rivera: RIP

From Bob Mitchell: A great man, and a truly genuine human being – all the way from the 17th floor to the treadmill in the Fitness Lab. It was an honor to work for "David's Bank".
From Rudi Bogni: David Rockefeller created an environment at Chase that made it possible for us, from so many different nations, to grow professionally and as human beings and to take pride in our job and in the bank. I, for one, will remember him with affection and gratitude.
From Tony Walton: There were so many moments when he touched our hearts and entered our lives. One of my fondest was an Oil and Gas conference around '75 in Boca Raton. I was attending with Jimmy Adamson, Harold Hammer and Bob Herr. I don't think Jeff Cunningham was there.
David suddenly jumped up and asked me to walk up the beach with him. We took off shoes and socks, rolled up pants and walked up the beach a long way.
He pointed to a long line of condos as far as the eye could see. He said, "Tony, they are all empty and they are all ours. What should we do?" I replied that we could both take individual penthouses as anchor tenants. He thought that was worthy of study. Pity I didn't. Ultimately they filled up.
David in his gentle and unassuming way instilled the core values that many bankers lack. Those days from '67 to around '82 were the most deeply rewarding of my life thanks to his imbedded culture. Thank you David.
From Al Krtil: A wonderful era has ended...may he Rest in Peace...and thanks, for the memories!
From Bernard Giraud: Apart from being a world class banker, David Rockefeller was a gentleman in the full sense of the word–an extint breed in David Rockefeller's league of today's bankers.
From Hans van den Houten (co-founder and chair emeritus of the Chase Alumni Association):
March 20, 2017, a day to remember with sadness, but also with ample happy memories of an icon in the banking and philanthropic world. "David", "DR", "Mr. Rockefeller" is no longer with us, but how can we forget the glorious days at the Chase Manhattan Bank, aptly named "David's Bank", when "DR" was our emissary around the world putting Chase on the "to do" list of expansion and diversification in many countries. Those were the days that we, the trainees in the Credit Department's Global Credit Training program, bonded with each other. We were being groomed to carry on the mission to expand "his" bank globally. Our bonds became deep and loyalty was felt to our Chairman and his drive towards becoming that significant international bank.
The Chase Alumni Association, is an exponent of the Chase Manhattan Bank built under DR's guidance. This bank not only trained us, but cemented enduring friendships and bonds for many, which we find embedded in our Association. Today, we mourn our former Chairman and we remember him as a leader on so many levels, in so many activities. He left us, but his life has been full and, as he stated: "I had a rather interesting life!" For many of us, he made our life interesting at the bank and beyond. After one hundred and one years, he deserves to Rest In Peace.
From Ulises Giberga: David will be remembered for the many good things he did in life, and I will always remember him especially for one little-known position he took back in 1960. Chase Manhattan branches in Cuba had been nationalized by the Castro government in September 1960, with no compensation offered. There were more than 20 Cuban-born employees, I among them, working in the Cuban branches, who had been recognized as having served exceptionally well, and had expressed no desire to continue living under the Castro dictatorship. While David was not on Chase's Board of Directors at that time, he was most instrumental in arranging for senior management to approve Chase's re-hiring those of us who left Cuba in New York and other locations. It was David's strong hope that things in Cuba would settle down and that Chase would soon be able to re-open its four branches there. Alas, this was not to happen. So, thank you, David, on behalf of all of Chase's Cuban employees, and may you rest in peace.
From Robert Schwarzenbach: He understood that people make history, hence his focus on getting to know the people who could make things happen. He could meet people from one year to the next and pick up his conversation with them as if it was yesterday, and this was quite impressive to those persons he wanted to cultivate. He had a clear vision of what he wanted to accomplish, and he understood what he was good at, and more important, what he was not good at nor wanted to do. He once related to me how he was called to the White House by President Carter, who begged him to take the job of Secretary of the Treasury to replace Secretary Miller. He thanked President Carter for the offer, but persuaded the President to offer the job to Paul Volker, and the country benefited greatly from his selfless and good advice. David Rockefeller was truly a man for all seasons.
From Gino Verza: David was an affable and courteous gentleman with a keen sense of social responsibility he embraced as a lifetime opportunity to do good–in banking and everywhere. Like my Chase colleagues I am a beneficiary of the inclusive, nurturing, and productive environment David shaped at the Bank, for which I am grateful. It was only natural to be very proud to work for David's Bank. Today I celebrate David's life and mourn his passing; may his kind soul rest in peace.
From Barrie Johnson: Almost had a chance meeting many years ago with Mr. Rockefeller. So very sorry to hear of his passing. I will always cherish this chance meeting. God speed on your journey, Mr. Chairman.
From Charles F.A. Schroeder: It is with deep sadness that I learned of the death of David Rockefeller and I offer my condolences to the members of his family.
David Rockefeller has been a great inspiration to me and I was fortunate to have known him and seen him in action, be it at the Chase Bank, at his Rockefeller Center Office, at his homes in New York City and at Pocantico Hills or on occasional domestic and foreign trips during my 25 years at the International Department of the Chase Manhattan Bank. He was a great human being and had a huge positive impact on the world around him. During my meetings with David I was always very impressed by him and my memories of him will stay alive with me.
From Colette Mason, wife of the late Francis Mason (about whom an "In Memoriam" will appear next week): Francis passed away in his sleep on the morning of March 14th. For the two years he was in a nursing in Warrenton, Virginia, Francis talked about David so many times. In a personal way he was so fond of him. As Francis's wife I had the great privilege to travel all over South America, Europe, Africa, the Far East. Those are fond memories that will forever stay with me.
The day Francis died my family and I said, David is still alive. Ten days later ...
It is so hard for me to express such sadness but I feel fortunate to have known such a great man. With all my condolences.
From Brahm Nirgunarthy: It is very sad to know about the demise of Mr. David Rockefeller. During my time at Chase, he was our Chairman. Those days I saw a TV program about DR's travels as Chairman and how he used to be treated as a head of state in every country he visited. This made me proud those days. What I fondly remember is when he visited most of the countries during his pre-retirement visits inthe 1980s, I happened to be there in three locations–Paris, Frankfurt and San Juan PR–at different times and saw how he was given fond farewells. In PR, he was given a glass item as a farewell gift. He saw the gift, smiled and said, "What a nice frog!" But the whole audience exclaimed, "Sir, it is a cookoo!" He had his full life. May his soul Rest In Peace.

From Tony Lord: During my years in Asia with Chase, I had the good fortune to cross paths with DR on several occasions. I will always remember my last conversation with the Chairman:
I had resigned from Chase while I was with the Chase/AIG joint venture in Manila. DR called me at home and shared with me his thoughts about my time, and my future, with Mother Chase, and what he thought about my plans to work with Barings Asia. DR was not supportive of my decision to join Barings–and his thoughts proved to be 100% accurate!!!
That conversation only mirrored what I'd experienced over the years I spent with Chase in Asia–a Chairman who was not only a caring individual, but also someone who was an inspiration to all of us who had the privilege of serving Chase during his tenure as Chairman.
From Gary Scalise: I was 17 years old, just out of high school and less than a month on the job, eating lunch in the cafeteria. David came in and had lunch with me. It set my management style for my 42-year career at Chase.
From Diane Shaib: I recall a dinner for new executives in 1989. I had recently joined the Bank and was seated next to David for the evening. He was charming and welcoming and encouraging ... and made me feel as though I had been a key member of the team for a lifetime. His wit and warmth are remembered to this date. He is a consummate example of a senior leader who understands and practices inclusion and team-building. I am fortunate to have personally experienced this. He is remembered by me as one of the best aspects of my years at Chase.
From Bill Kaufmann:
I walked a mile with Pleasure,
She chatted all the way;
But left me none the wiser
For all the things she had to say.
I walked a mile with Sorrow,
And ne'er a word said she;
But oh, the things I learned from her
When sorrow walked with me.
– Robert Browning Hamilton
David's impact on so many of our lives and careers could not be overstated. Our family is deeply indebted to him, and hope his wisdom and generosity will be, at least modestly, reflected in our own lives over the years.
From Anthony Salvatore: He was a man from another era where concern for all was a true measure of a person. He made us all proud to be a member of the Chase family.
From Manuel Peña-Morros: What a gentleman in all the sense of the word. I had the opportunity to travel with David in Mexico during my tenure as Country Manager in that country, and the visits to Los Pinos, the residence of Mexican presidents, CEOs and our staff were always very special. Great memories.
I join Chase people who had something to do with David in commending his noble soul to God, with gratitude for his years of service to human kind.
From Eshagh Shaoul: During 1986 to 1989 when I managed the Credit Department of Chase Tokyo, Mr. Rockefeller visited the department three times, chatted with everyone in the department and made everyone feel good and honored to work for Chase. The pictures I have with him when he visited me and provided me kindest support will remain treasures of my 22 years at Chase.
From Paul Didier: I worked closely with David for about five years until he retired, planning and coordinating all of his travel in the U.S. and Canada and accompanying him on most of those trips. I knew him well and we kept in touch over the years. Having only warm feelings about the man that David was, I am deeply saddened by his passing and shall miss our correspondence. He was a very caring person about everyone he met…a real Prince of a Man. Everything he touched turned out very well and in the following poem the grey-haired fellow playing the violin becomes a metaphor for David's competence.

The Touch Of The Master's Hand
'Twas battered and scarred, and the auctioneer
Thought it scarcely worth his while
To waste much time on the old violin,
But held it up with a smile.
"What am I bidden, good folks," he cried,
"Who'll start the bidding for me?"
"A dollar, a dollar. Then two! Only two?
Two dollars, and who'll make it three?"

"Three dollars, once; three dollars, twice;
Going for three..." But no,
From the room, far back, a grey-haired man
Came forward and picked up the bow;
Then wiping the dust from the old violin,
And tightening the loosened strings,
He played a melody pure and sweet,
As a caroling angel sings.

The music ceased, and the auctioneer,
With a voice that was quiet and low,
Said: "What am I bid for the old violin?"
And he held it up with the bow.
"A thousand dollars, and who'll make it two?
Two thousand! And who'll make it three?
Three thousand, once; three thousand, twice,
And going and gone," said he.

The people cheered, but some of them cried,
"We do not quite understand.
What changed its worth?" Swift came the reply:
"The touch of the Master's hand."
And many a man with life out of tune,
And battered and scarred with sin,
Is auctioned cheap to the thoughtless crowd
Much like the old violin.

A "mess of pottage," a glass of wine,
A game -- and he travels on.
He is "going" once, and "going" twice,
He's "going" and almost "gone."
But the Master comes, and the foolish crowd
Never can quite understand
The worth of a soul and the change that is wrought
By the touch of the Master's hand.
From Kidgie Williams: I'll always remember David Rockefeller for his unfailing courtesy to one and all, his unbelievable ability to remember individuals he had met decades previously, being updated on any banking or other topic that might arise and his willingness to extend himself to insure that one and all were comfortable, if not at ease. And all these traits, that appeared so naturally, would inspire some, cement contacts with others and be vividly remembered decades later.
Amongst the hundreds of international customers I met through the Seminar for International Bankers, specified group visit seminars and various visiting firemen, DR handled them all with finesse and seemingly genuine interest. One incident has always stuck in my mind, as in an instant it could have become a PR disaster. I had scheduled speakers for a half-day seminar based on the pre-selected topics of the 52-member group, sponsored themselves by a respected Department of the U.S. government we had dealt with for years. The group was composed of individuals from a "rogue-state" on the world scene, in the 1970s. Not long after introductions in the Auditorium, the guests made it known that they were not interested in their pre-selected topics and corresponding speakers and began belligerently talking about capitalism, The Chase Manhattan Bank and David Rockefeller.
As soon as I introduced the next speaker, I slipped out and went directly to the 17th floor. I asked to see Mr. Rockefeller about an unpleasant situation developing in the Auditorium. Without missing a beat, I was ushered into his office, he stopped writing, listed to the short version, stood up, and asked for more details as we took the elevator down. I introduced him and the soaring animosity dropped to an 'audible hush'. He fielded their hostile questions regarding capitalism, economics, banking and finance as practiced in the West and finally a reasonable level of interchange began. He spent a far longer time with them than originally scheduled for the group. The Chairman was spot-on as he handled this volatile situation.
Mr. Rockefeller went out of his way to notice and speak with everyone. This was at its clearest one year when the NYC Japanese banking community had its annual invitation to a day of golf at Pocantico Hills. Everyone assumed, at that time in the 1970s, that every Japanese banker played golf. Unfortunately, three could not play and were obviously 'losing face' with their peers. DR managed to delay the next tee-off and as we played a round of croquet with the three men and others, he casually spoke with each of the three, insuring they would have something to talk about the next day at the office and later on in Japan.
Some 30 years later I was a Volunteer at the United Nations and very surprised to run into Joseph Reed, DR's Personal Assistant at Chase, who was not only one of the then Under-Secretary Generals but also coincidently had direct administrative responsibilities for my unit. Every few years I would get a telephone call from Ambassador Reed alerting me 'to be tomorrow at the down escalator on the 2nd floor at 9:43 a.m.', or some such location and time, and sure enough out would come Mr. Rockefeller and we would have a nice informal chat on old times and whatever happen to so and so. Then, in his nineties, he was still the fine banker, diplomat and perfect gentleman he always was.
From Gary Heinze: David Rockefeller, the sole surviving child of John D. Rockefeller, Jr. and grandchild of John D. Rockefeller died at age 101. He was connected with The Chase Manhattan Bank from before Chase National Bank merged with the Bank of Manhattan, just like my father, George C. Heinze. Rockefeller joined Chase in 1942 and my father in 1941. Both got credit for their military service with the Bank and both left the Bank in 1982.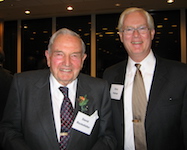 This is a photo of David Rockefeller and me taken at a Chase Alumni Association reception on the 60th (top) floor of 1 Chase Manhattan Plaza in 2006. While I am most proud of the photo, the important point concerns the tie clips that both Mr. Rockefeller and I are wearing. Back in the day, Chase would award men with 25 years of service with a gold tie clip and then for each additional five years of service, Chase would add a diamond chip. Both tie clips have three diamond chips. (Rockefeller's is in the center of the Chase logo, my father's is not.). I wear my father's tie clip to the Chase Alumni Association receptions twice each year. There are at least three people that I regularly see at the receptions who knew my dad. For me ... ALL VERY, VERY SPECIAL!!!"
From Yakir Lubowsky, son-in-law of the late Francis Mason (whose "In Memoriam" is nearby): I was the last young lawyer at Milbank Tweed to work with the inestimable John J. McCloy, upstairs at One Chase, in the 1980s. (The legal merger of the Chase National and the Bank of the Manhattan was designed by Mr. McCloy, who then served as first chairman of the Chase Manhattan Bank from 1955 to 1960.)
The relationship between Mr. McCloy and David Rockefeller went back decades, and DR viewed Mr. McCloy as a mentor as long as both men lived. When he died in 1989, Mr. McCloy's funeral at the Brick Presbyterian Church on Park Avenue drew over 700 guests internationally. Richard Nixon sat in the front row, and the pall bearers included two former U.S. secretaries of state and a Federal Reserve chairman. Among the seven noted eulogists were two more secretaries of state, a former head of the German Federal Republic and David Rockefeller.
All the eulogies were interesting, but only DR's came entirely from a deep spring of pure humanity -- its entirety focused on Mr. McCloy and his character (rather than on their relationship, which would have placed much of the attention on Mr. Rockefeller, whose intention was clearly to direct everything toward his remarkable colleague).
It was another instance, as many others in this space have reported, of a unique human being who kept his eye on what really matters: the ineffable and essential dignity of every person, whether one who advised nine presidents and was referred to routinely as the "chairman of the American Establishment" (as Mr. McCloy was), or innumerable others, encountered through a century of exchanges, both momentous and humble.
I was fortunate to witness one such exchange between DR and my late father-in-law, which I recount in my Remembrance of Francis Mason also here on the CAA site.

From Bill Flanz: On other occasions I have shared stories of what a great adventurer and traveling companion David was, as we shared trips in the Middle East and Asia (an elephant ride in the mountainous jungles of Northern Thailand, sightseeing on horseback in Petra, military helicopter excursions in Jordan and Oman, etc.).
What I would like to share now is one vignette which illustrates the exemplary manner in which David treated people, whatever their station in life.
One time we were engrossed in conversation as we descended the steps from his townhouse in Manhattan and were helped into his car to be driven to a function. David waited patiently for me to finish a sentence as we got into the car and then politely interrupted the conversation to introduce me to his driver and bodyguard. He then explained to them how I fit into his life, and into Chase, before resuming our conversation.
While David was well aware of his own stature in society, he had the grace to treat all people with respect and consideration.
We all hope we have internalized some of the lessons we learned by observing David's behavior.

From Anna Gilhuley: It is with a profound sadness that I heard about David Rockefeller's passing. Mr. Rockefeller was one of the best CEOs I worked for in my lifetime…and the learning curve through him and his exposure to the arts in our 1 Chase Manhattan Plaza! It was the finest art collection in the financial world.
I had the privilege to represent the bank…its history on the 17th floor, the 60th floor, the officer dining rooms with executives, the private dining rooms filled with the finest art, plus we had the largest painting on Wall Street on the 60th floor. Mr. Rockefeller's private bathroom was even magnificent, graced with a Wyeth.
When Ms. Fitzsimmons called I knew I was taking some dignitary in one of the five languages I spoke, proudly taking them through our vault which had the securities and a door that weighed 45 thousand tons. How many checks we processed!
I owe Mr. Rockefeller my start and the wonderful future he orchestrated for me. My 10 years at Chase were the most rewarding, expanding and productive, beyond belief…Seal Harbor with Mr. Douglass, Hobe Sound through Ambassador Reed, plus all the executive on the 17th floor calling on me until I left shortly after Mr. Rockefeller. For 10 years I took dignitaries around our magnificent building, even including the Japanese water garden. My days where like a box of chocolate, never dull. Mr. Rockefeller had such confidence that he asked me to take princess Margaret and his brother and his wife around.
John McCloy, head of Milbank, spoke German, and even he called on me. When he became Ambassador to Germany, he had a wonderful party for me on my way home to my family. Among the many fine people we had at the bank were Ann Ahern and Lynn Jeffreys who were my witnesses for becoming a citizen of the United States. I formed a wonderful relationship with my closet confidant Dr. Masloswki. He was there for me – a fine doctor and a great
human being also.
My young career lasted 10 years at Chase, followed by J Henry Schroeder, Citibank, Lauder and last stop Lehman Brothers, and all because of one fine human leader, superb visionary and fine mentor. I owe Mr. Rockefeller my wonderful life and exposure beyond my wildest imagination, and with my heart I wish him all peace and divine glory in rest.


From E.T.(Tom) Williams, Jr: It was a sad day for me on March 20. My mentor David Rockefeller died at 101. He brought me to Chase Bank in 1970 (we met when I was working for the The American Bankers Association on leave from Maryland National Bank). Later he asked me to join The University Club, becoming the second black member in 1974. (Cliff Wharton was the first.) In 1980 he agree to give me a leave of absence from Chase to lead the conversion of Fordham Hill from a rental to a co-op, hence helping to stem the tide of the housing decline in the Bronx. It was so successful I resigned from the bank to give full time to the co-op and community. David then asked me to join the board of MOMA, which I enjoyed until the mid 1990s. I am active in the Friends of Education of MOMA to this day. At David's 100th birthday, I gave him art by the jazz musician turned abstract expressionist artist Claude Lawrence. He will be missed indeed.
From Scott B. Taylor: It was the mid 1970s when I ran the Special Projects Division, better known as the intensive care ward for U.S. corporate clients. As agent bank for American Motors, we had just closed on a recast of AMC's credit facility in a conference room at Milbank, Tweed, Hadley and McCloy at 1CMP. The phone rang and someone said, "Hey Scott, it is David Rockefeller for you!" I picked up the phone and Mr. Rockefeller congratulated me on the closing and followed with some incredibly probing questions which I answered to the best of my abilities. This was a very special moment that revealed to me what an incredible Chairman this gentlemen was for Chase Manhattan Bank.
Further, earlier at Chase while in the Aerospace Division, one of our support members, Norman Calindan, was retiring after 50 years of service. With the aid of my wife, Elaine, we prepared a poster with all the logos of Chase's history (going back to the 1920s), with room to have staffers sign with thanks and good wishes to Norm. Not one senior executive refused to sign the poster, with one of the warmest remarks coming from David Rockefeller. I was so proud to be a part of this fine institution.
From Angela Hughes Gardner: In the late fifties I was a 20-year-old secretary in the International Department of The Chase Manhattan Bank at 18 Pine Street. One morning I stepped into the elevator and came face-to-face with the only other occupant, "Mr. David". He immediately doffed his hat and I was much impressed with his courtesy to such a junior employee. Now of course I realise he would have been no less courteous to me than to The Queen herself. What a true gentleman!


From Carl A. Singer: In early 1976, fresh out of a doctoral program and newly on board at Chase Econometrics, I was asked to give a presentation to Chase's International Board of Directors.
There were many "heavyweights" in the room -- Agnelli (Fiat Motors), Ford (Ford Motors), Sinclair (Canadian Pacific Railroad), Tata (Tata Industries) .... all gathered around a large conference table.
Mr. Rockefeller was seated mid-table -- not at the head. He spoke softly, asking insightful questions and he was a most gracious host to all.
In Memoriam: David Rockefeller, 101
David Rockefeller, who shaped Chase Manhattan into an international financial behemoth and was an equally towering figure in the worlds of culture and philanthropy, died this morning, March 20, 2017, at his home in Pocantico Hills, NY. He was 101.

He was chairman of Chase Manhattan's board from 1969 to 1981 and chief executive officer from 1969 to 1980, leading and mentoring generations of Chase alumni.
Mr. Rockefeller accepted honorary lifetime membership in the CAA in September 2003, when he appeared at a special CAA event at which he discussed his recently published Memoirs and signed copies for members. He welcomed Chase alumni to Kykuit, the Rockefeller family home on the Hudson, during the worldwide CAA reunion that took place in the New York area in October 2004. He also attended the first CAA fall reception at 1CMP, in October 2006, and stayed longer than he planned – making him tardy for dinner with then UN Secretary General Kofi Annan.
Click here to find the Fall 2003 CAA Newsletter with a report on Mr. Rockefeller's evening with the CAA to discuss his Memoirs.
For a biographical sketch, please click here.
For the obituary in The New York Times, please click here.

Memorial contributions of any size may be made to the foundation he established, the David Rockefeller Fund (475 Riverside Drive, Suite 900, New York, NY 10115) or to a charitable organization in which you and he shared an interest.