FUNERAL INFORMATION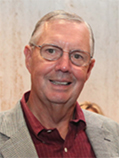 Visitation is scheduled for 4 pm to 7 pm at Tuttle Funeral Home, Route 10, Randolph, NJ, on Wednesday, June 5, 2019. There will be a funeral service at Delbarton's St. Mary's Abbey in Morristown, NJ on Thursday, June 6, 2019.
Remembrances
Please send to news@chasealum.org.
From Gary Olson: Will miss you John. It was a real pleasure working with you.
In Memoriam: John F. Jerow, 75
The CAA mourns the sudden passing of longtime member John F. Jerow, who died on May 26, 2019 while on vacation with his wife, Frances, in Scotland. He was 75 and lived in Randolph, NJ.
From 1975 through his retirement in 2005, Jerow worked in such areas as Credit Policy and Audit/Risk Management, Regional Banking, Infoserv, Wholesale Products and Leasing. When he retired, Jerow had been working in Middle Market Banking.
His wife, a CPA, worked at Chase from 1972 to 1979. His son, John G. Jerow, is currently an executive director for wealth management at JPMorgan Chase.

---