Remembrances
Please send to news@chasealum.org.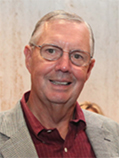 From Gary Olson: Will miss you John. It was a real pleasure working with you.
From Ed Moran:
John did long and faithful service as one of my team leaders in the PennSquare circus. I'm sorry to hear of his passing. He and Tom Jordan can be discussing the merits of good beers now that they have been reunited.
From James K. Sepulveda: I joined Chase in 1986 working in HR for Jean Sheng. My first role was supporting DIB (Domestic Institutional Banking), led by Peter Larr. I did not have a banking background, and I fondly recall Peter taking the time to help me understand the changes taking place in the banking world and how that impacted the people working for the bank so I could best support them. I remember him as a patient and helpful leader, willing to take the time to help me and others learn so we could be more impactful in our roles. The same can be said of John Jerow, who I also met during this time period. John was working in Credit Training at 33 Maiden Lane when I met him. Although our interactions were limited, I truly respected his knowledge and willingness to share that knowledge with others as he helped build the capability of the future generations of bankers. I thank them both for enriching my early time at Chase and may their memories bring joy to those who had the honor of knowing and working with them.
In Memoriam: John F. Jerow, 75
The CAA mourns the sudden passing of longtime member John F. Jerow, who died on May 26, 2019 while on vacation with his wife, Frances, in Scotland. He was 75 and lived in Randolph, NJ.
From 1975 through his retirement in 2005, Jerow worked in such areas as Credit Policy and Audit/Risk Management, Regional Banking, Infoserv, Wholesale Products and Leasing. When he retired, Jerow had been working in Middle Market Banking.
His wife, a CPA, worked at Chase from 1972 to 1979. His son, John G. Jerow, is currently an executive director for wealth management at JPMorgan Chase.

---