Life After Chase: Timothy Kanter, MD
Working in the COVID-19 Ward at a Bronx Hospital
By Tim Kanter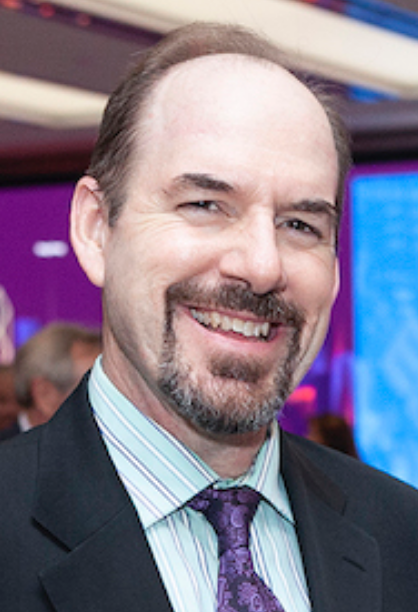 After spending eight years with Chase (1985-1993) in International Trade Operations with Frank Volpicelli, Tom Kingston, Ed Pierson, and Nick Perrelle as our Division Executives, I went on to medical school. After graduating from New Jersey Medical School, I did an Internal Medicine residency at Northwestern in Chicago, and then returned to NYC to eventually become an AIDS physician working in the South Bronx. I worked our inpatient AIDS ward in 2002 when our neighborhood zip codes had the highest death rates due to AIDS.
Fortunately, the incredible advances in therapy eventually reduced the death rates, and our AIDS ward was closed like most across the city. I continued as Medical Director of the largest HIV/AIDS outpatient clinic in the South Bronx. I also do research in HIV/AIDS. With the emergence of the COVID-19 virus, I returned to the wards now as a COVID physician.
The hospitals in NYC are truly the front lines in this battle. Several times I've been reminded of the words of Doug Williams, a Chase senior executive, who met with our Management Development Program (MDP) in Corporate Operations & Systems in 1986. He said that when things were difficult after his time in the service, he always thought, "No matter what, they can't send me back to Vietnam." After my time on the COVID ward, I now truly understand what he meant.
There has been tremendous suffering, but there is also tremendous hope. And, I want to focus on one of those patients.
The medical residents working with me have uniformly rallied around a 36-year-old Dominican physician with no past medical history. He came to the United States a year ago to study for the USMLE (the medical licensing exam) and learn English.
Almost all of our resident physicians, the warriors on the front lines, are foreign graduates like him. They have all sacrificed to get where they are. First was the hardships that go along with medical school. Then, like our Dominican physician who worked two years in Emergency Medicine and three years as a hospitalist, they chose to start again. They study and sacrifice to take the licensing exams. They work in a residency for low pay, hard work and many hours, while sacrificing their youth, and spend most of their time away from their family and friends.
Hopefully the best thing that I do during my week rotation on the Covid ward won't be doing chest compressions or participating in a cardiac arrest or anything physically heroic but dangerous. I am hoping that my team will save this young physician with whom all of our medical residents identify. He is like them.
The Dominican physician has an LDH of over 800, which is the worst prognostic indicator, and an impressively large bilateral pneumonia. He requires high levels of oxygen and becomes extremely short of breath when just transferring from the hospital bed to the bedside commode just a foot away. Walking to the bathroom is out of the question. He obviously knows he is sick, and I can see it in his eyes when he looks at me.
Our medical residents normally refer to patients by their room numbers, as in, "Room 1007B needs a CAT SCAN." Room 1009A is the exception. "The physician remains dyspeptic," the medical residents observe.
Forty percent of the residents have been stricken by COVID. Forty-seven percent of the nurses have been out. It is decimating the ranks. Everyone feels the need for our physician brother to make it through.
I can see it in their faces. "He has to live," they all silently pray.
I include below a video I took upon walking out of the hospital a couple days ago, and a video from a Bronx Hospital done by the NYTimes which is incredibly accurate to the experience.
I am now in my second day post-COVID ward, doing telemedicine, and still staying on a cot across the street in an outpatient clinic exam room. Tomorrow, I get a COVID test myself, and if negative, I'll go home to my wife and four-month-old son.
In the days and weeks ahead, I hope to provide a happy ending to this story, but as Anthony Fauci says, "This virus is very tricky."
5/8/2020 UPDATE FROM DR. KANTER
I hope all the Chase alum and their families are doing well and staying safe.
I have an update and an introduction.
The young Dominican physician whom I mentioned in my first letter had a long complicated hospital course. He had a prolonged stay in our ICU and received several experimental drugs and, thanks to donors, convalescent plasma. Fortunately, we were able to avoid intubation. He has done well and is now back at home recovering, still receiving oxygen and anti-coagulation.
I will stay in touch with him and hope to see him become a medical resident caring some day for our patients in the Bronx.
(Below: TIm Kanter, left, with his team)
Read more coronavirus-related stories at
Send comments or your own story to news@chasealum.org.
From Stephen Elston: Just read the 'Life After Chase' account by Timothy Kanter, MD; and watched his video posted on YouTube.
Those people in the Bronx celebrating their Health Workers must be getting pots and pans from a global supplier. We in the UK have a similar 'thanksgiving' ceremony every Thursday evening. Everyone waves across the street and shouts the question: 'Are you alright?'
And we are – but will we be tomorrow?
In that respect the world is united as a community against this common enemy–an enemy as yet unknown and 'yes' very tricky.