The Coronavirus Spring
How is it affecting your life?
How should we respond?
We're thinking of all our readers who are feeling the impact of the coronavirus crisis. While you may be holed up at home, we hope you will share with us any special stories you have about displacement (i.e., cancelled weddings, postponed divorces or adventures getting home from an overseas trip), odd or funny stories about how you are occupying your time or old banking stories you've delayed writing up for us because you were too busy doing other things.
Also feel free to comment on the stories below.
Stories now start with the posting date.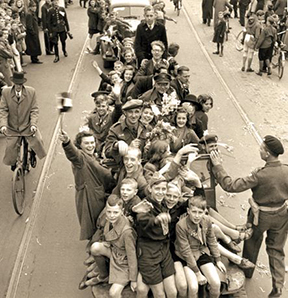 5/1/20 Hans van den Houten remembers the Netherlands during World War II, prior to this week's observance of the 75th anniversary of the country's liberation by Canadian forces, providing a link to a stunning article in the New York Times about recovered Dutch wartime diaries and putting today's "war" against COVID-19 in a different perspective.
4/26/20 From Stephen Elston: Just read the 'Life After Chase' account by Timothy Kanter, MD; and watched his video posted on YouTube.
Those people in the Bronx celebrating their Health Workers must be getting pots and pans from a global supplier. We in the UK have a similar 'thanksgiving' ceremony every Thursday evening. Everyone waves across the street and shouts the question: 'Are you alright?'
And we are – but will we be tomorrow?
In that respect the world is united as a community against this common enemy–an enemy as yet unknown and 'yes' very tricky.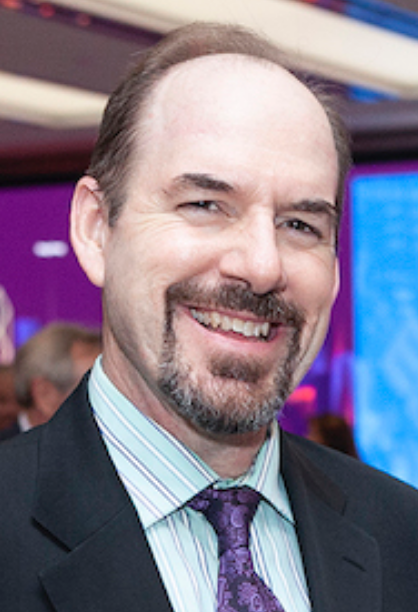 4/19/20
Chase Alum Tim Kanter became a doctor and fought HIV/AIDS. Now he's on the front line fighting COVID-19. Read his remarkable story of his fight for another physician's life.
4/5/20
For our U.S. readers:
here's a pretty definitive list
of largely wholesale grocery delivery services available in the tri-state area (primarily New York, but some for New Jersey and some ship nationally).
3/29/20 from Brenda Scotland: My sister is on the front line. And although things are hectic and require long ho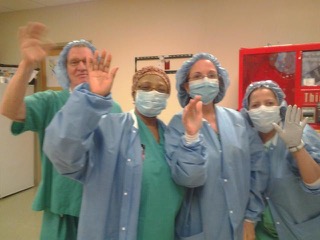 urs, the team of doctors and nurses are 24/7 to keep patients well. As are all of our medical practicioners. She works at Our Lady of Lourdes Medical Center in Camden NJ, and has been on staff at hospital many hours. She goes home to change and catch a nap and returns to the hospital 45 minutes away.
Just wanted to share not only about my sister but also all of the medical professionals who are going above and beyond - working amazing hours to keep us all safe.
To the left is a picture she sent to me (she's second from left) - when I reached out to touch base on how she was doing. Her time is totally focused on patients.
Keep them all in your thoughts.
---
3/22/2020 from Sergei Boboshko: Read his marvelous account of the reception and concert to commemorate the opening of Chase Manhattan Bank International in Moscow, in 1994–including the Russian National Orchestra performing John Philip Sousa in Moscow!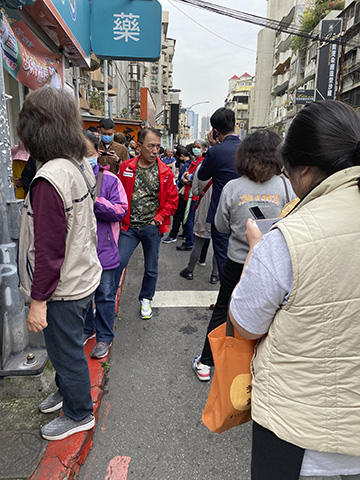 3/18/20 from Victor Ho: Here's a photo of us lining up to buy face masks in Taipei. We are fine in Taipei! People here are very alert, as we have lots of anti-SARS experience from 2002. Most of the time we stay at home! We wear face masks when we are out.Hopefully all will be gone soon. God bless NYC!
---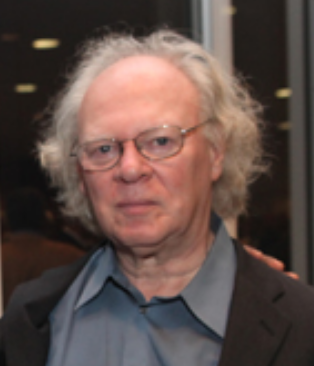 3/15/20 from Joseph Lyons: I don't have a story about displacement, but a suggestion about coming together and looking toward the future. Over the weekend, I sent my children my views and analysis of the challenges the US will face between now and June 30 in the event of a huge ramp up of serious infections, including the potential for shortages of ventilators, ICUs and medical personnel that could lead to rationing treatment and higher mortality. The best forecasts of the numbers are sobering. Today my daughter, who has a graduate degree in engineering from CMU and has led engineering teams at Google, had a few creative ideas for rapidly producing a variety of ventilators with various levels of complexity. How
ever, such ideas require collaboration across teams of professionals and influential people to motivate a sense of urgency and connect individuals who can collectively create and produce new processes and products to address the coming crisis. Within a few hours, our nuclear family identified a number of groups and individuals with the right expertise to address the engineering issues and began contacting them.
We were amazed at all the work that is well underway at this moment, of which very little is brought to you by mass media. Perhaps my family will have little to add, but I would urge everyone to look realistically about the detailed requirements of what is required to combat this virus. Do the analysis, collaborate with others and do wherever you can play a part in mitigating the effects.
At Chase, I worked in the Management Science Department. In the 1970s and 1980s, my colleagues nationwide in the community of people trained in Management Science and Operations Research easily crossed boundaries across industries and disciplines to apply their skills to problems of all kinds, including health pandemics. If you go back to World War II, Operations Researchers created applications that played a substantial role in the war effort and consequent peacetime commercial applications.
---
3/16/20 from your webmaster, Andrea Axelrod: Just before all hell broke loose, I got to sing at a concert celebrating Stephen Sondheim's 90th birthday, at our mutual alma mater, Williams College. Here I am -- singing a song about survival. Let us all still be here when this crisis subsides!
---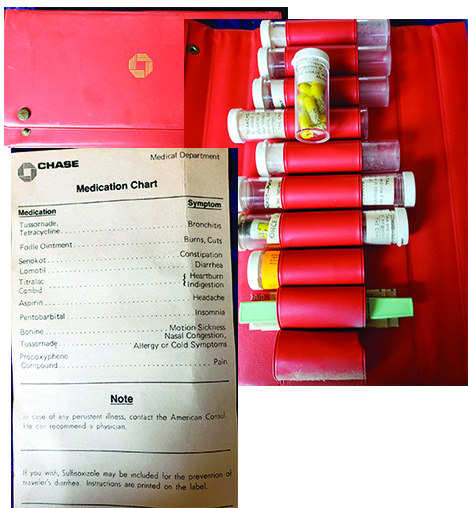 3/16/20 from Jim Wertheimer:
In the 1970s, Chase would send you off on overseas assignments armed with a medical kit with antibiotics, creams and band-aids. The purpose was not to have to rely on overseas pharmacies or to provide relief as you attempted to get back home for treatment. You would be given a letter from Dr. Granville Walker, VP & Chase Medical Director to make it legal.
I came
across this Chase artifact while searching an old trunk. Don't worry–I'm not going to use these 40+ year old pharmaceuticals!
Great Reads
We'll probably find ourselves with more time to read as we stay indoors. Send us your book suggestion with a short explanation of why you recommend it.

It's a great time to catch up on books written by Chase Alumni:
► Harry Haldt III: Upper To'Gallants and Rusty Scuppers
► Hans van den Houten, One Year in Africa
► Frank Reider, Can't Get No Satisfaction
3/17/20 Gillian van Schaick recommends:
- Fiction: Pachinko by Min Jin Lee
- Non-fiction: The Ghost Map by Steven Johnson
3/22/20 Andrea Axelrod recommends Daniel Defoe's A Journal of the Plague Year, because everything old is new again. (It's available as a free pdf online.)
"Here we may observe and I hope it will not be amiss to take notice of it that a near view of death would soon reconcile men of good principles one to another, and that it is chiefly owing to our easy situation in life and our putting these things far from us that our breaches are fomented, ill blood continued, prejudices, breach of charity and of Christian union, so much kept and so far carried on among us as it is. Another plague year would reconcile all these differences; a close conversing with death, or with diseases that threaten death, would scum off the gall from our tempers, remove the animosities among us, and bring us to see with differing eyes than those which we looked on things with before."
3/23/2020 Fascinating Article on Plague Doctor Costumes
3/22/2020 from Laura Effel:
So many books! So little time! You cannot go wrong with these.
If you like reading about history, here are some of my favorites.
Destiny Disrupted: A History of the World Through Islamic Eyes
by Tamim Ansary. You won't find this point of view written many other places. Ansary was born in Afghanistan of an Afghan father and American mother. He moved to the US at about 10, went to college here, and teaches writing in San Francisco.
The Black Count: Glory, Revolution, Betrayal, and the Real Count of Monte Cristo
by Tom Reiss. Fascinating and real.
Killers of the Flower Moon: The Osage Murders and the Birth of the FBI
by David Grann. A shameful part of our national history that ought to be better known.
Elephant Company: The Inspiring Story of an Unlikely Hero and the Animals Who Helped Him Saves Lives in World War II
by Vicki Croke. The title says it all.
Reading Lolita in Tehran: A Memoir in Books
by Azar Nafisi. You will never read
Lolita
the same way again.
Permanent Record
by Edward Snowden. Find out what really happened and how he ended up in Moscow.
If you like
police procedurals and mysteries
, try these.
Devil in a Blue Dress
by Walter Mosley. Don't forget to find the song of the same name on YouTube. Fun.
True Confessions
by John Gregory Dunne. It's the perfect procedural.
Anything by Michael Connelly or Henning Mankell. I like these two authors in part because their heroes are not sociopaths.
Novels:
The Remains of the Day
by Kazuo Ishiguro. My all-time favorite novel. The main character is a butler reminiscing about the wartime years.
A Short History of Tractors in Ukrainian
by Marina Lewycka. Funny.
If you crave
short stories,
try these.
A Good Scent from a Strange Mountain
by Robert Olem Butler.
For
something to read to young grandchildren
,
Cloudy With a Chance of Meatballs
by Judi Barrett.Kids seem to agree that the book is better than the movie.
3/22/2020 from Clare Johannessen:
A very short book (more of a short story) by EB White called Here Is New York. EB is the author of Charlotte's Web and Stuart Little.
The book is truly entertaining for any New Yorker and somewhat predictive of NYC's most recent disasters, including the coronavirus. Let me know what you think!
3/23/2020 from Rudi Bogni:
Belonging: The Story of the Jews 1492-1900
by Simon Schama
Civilisation: The Rest and the West
by Niall Ferguson
Conjuring the Universe
by Peter Atkins (greatest book I've read since Rovelli's on physics for the layman)
3/23/2020 from Dave Kuhn: