In Memoriam: John Torrance-Nesbitt, 70
Part of Chemical's Special Recruitment Effort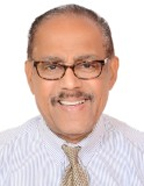 The CAA mourns the passing of its member John Howard Torrance-Nesbitt (known to many as Jack, Johnny or Nezz), formerly of Chemical Bank, who died on August 26, 2020 of heart-related complications at the age of 70.

Nesbitt was a graduate of Essex County Community College and Amherst College (Class of 1972) and earned an MBA at Rutgers. After a period of employment with AT&T, he joined Chemical's Special Recruitment effort, having been recruited by Thomas Barile, Manager of Special Recruitment within the Human Resources Department of The Bank.

Working with Nathaniel Queen, Assistant Treasurer, he was responsible for expanding the Bank's MBA recruitment effort from 1977 to 1980. He traveled extensively on behalf of Chemical identifying and attracting minority candidates for the Management Training Program. In addition, Nesbitt became involved in recruiting minority executives to the Bank and placed efforts into this that not even Don Quixote could match, according to Barile.

He was the subject of a "Life After Chase" article. For more about Nesbitt and his later professional activities in employer brand management (including in Saudi Arabia), click here. He also contributed a "Moment in Bank History" article to this website.
Remembrances
From Tom Barile: I met Nez when I was an adjunct professor at Essex County College. He had a huge Afro and a brain to go with it. I was among many to encourage him to go on with his education and we all were most proud that Amherst saw the same talents that his supporters did.
He was from Orange, NJ. We often commuted to the Bank together. He drove! His late mother grew the best tomatoes in NJ and I was well treated to those.
In these later years, John was angry with me over some silly things that I was fully responsible for. Still, he was a brother and I cry as I learn of his death. Special thanks to Lewis Jones for informing us of his passing.
From Nathaniel F. Queen, Jr., OSJ: May John rest in peace and rise in glory.