MHT/Chemical...Chemical/Chase
Starting at MHT
Alumni remember their careers
(with date of posting next to name; newest entries on top)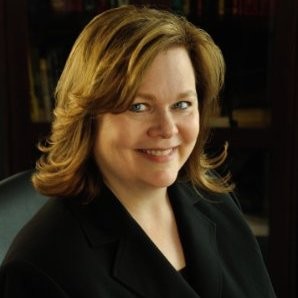 From Mary Timoney Strauch (1/14/21): I started my career in 1985 at Manny Hanny. Attached are a few photos of relics I still have in my possession. The Officer's Dining Room plate was actually purchased at a second hand shop in NYC decades ago, and yes, I paid $38 for it! In 1985, if memory serves me, John McGillicuddy was the National Chairman of the Savings Bond campaign so I am sure we all "enrolled". The beach towel was a gift for participating in the 1986 Savings Bond campaign. (I worked in Global Investor Services at 530 Fifth Avenue, 1211 Avenue of the Americas and Metrotech, and left Chase in 2006.)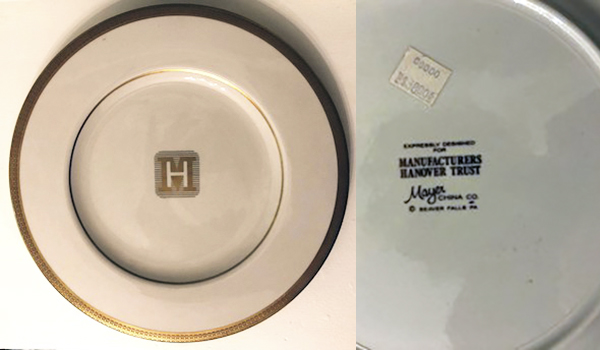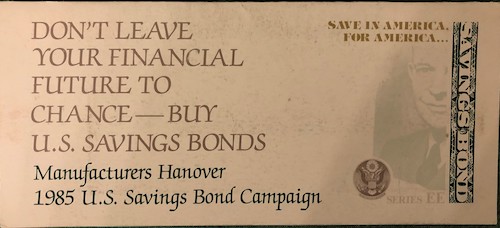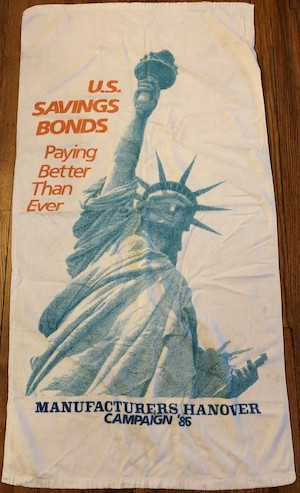 ---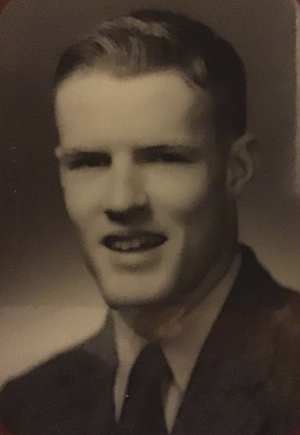 From Geoffrey Burke (1/10/21): I joined Manufacturers Hanover in November 1963 (see picture) shortly after my release from active duty with the Navy. Perhaps because the SVP in charge of personnel, John Henneman, was a former Navy admiral, participation in Reserve components was encouraged and actually subsidized. We were given full pay for two weeks training duty in addition to regular vacation pay. I remained in the active Reserve until moving to Connecticut in 1971, when the time demands became too much — but that extra pay constituted a
significant part of the down payment on our first house.

Because the Justice Department's suit against the 1961 Manufacturers/Hanover merger was still unresolved, all departments had to contemplate "unscrambling the egg", so our trust accounts were carried separately–and staff referred to each other as "old Hanover" or "old Manufacturers" men. And "men" was a significant term in those days of dress codes and separate duties. Adjacent to the officers' platform on the fourth floor of 40 Wall Street was a bathroom with a "Gentlemen" sign on the door. On the other side of the floor, where the operations area was, were two bathrooms: one titled "Men" and the other "Women".

While the pressure to wear hats was fading, the VP to whom I reported remarked on my habit of wearing blue, rather than white, shirts. One day in late summer of 1964, having spilled coffee on myself, I went over to Wanamaker's on Broadway and changed into a blue and white striped shirt. His only comment was "interesting compromise".

Somehow, I survived until the summer of 1995.
---
From Lawrence Bloom (1/10/21): I was an employee of MHT starting in 1968 who rose to AVP and dined daily in the officer dining room. That changed with the name change to Chemical Bank... gone was the Officer Dining Room. I was part of the joint venture between Chemical Bank and Mellon Bank that led to my relocation to Ridgefield Park, NJ as an employee of Chemical Mellon Shareholder Services in 1995. I was involved in more corporate and location changes before I retired in 2007 from BNY Mellon in Jersey City, NJ.; 39 years of devoted and loyal service!
---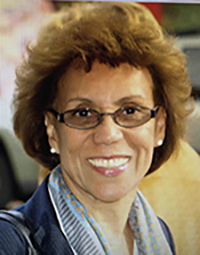 From Maria V. Trinidad (1/10/21): I came from Caguas, Puerto Rico to New York City. This is the story of my banking career from July 12, 1967, to my retirement from JPMorgan Chase in November 2007.
First of all, I thank my parents, who stressed the importance of education and their love which helped me to realize my life achievements. I also thank all my wonderful teachers from Thomas Jefferson High School who were instrumental in the start of my banking career. They were the ones who recommended going to Manufacturers Hanover Trust Bank (MHT), then located at 40 Wall Street, NYC. I was interviewed and offered a position as a typist/clerk in the Securities Collection Department. I took advantage of their tuition refund college program and obtained a college degree. Over the years I was transferred to different areas throughout the Bank, retiring 40 years later as a JPMorgan Vice President and Global Account Manager for the IT Risk Management Team.
I had wonderful management teams at MHT. They went out of their way to make sure that I was able to learn the business, and they were very happy with my work. This was a time that I was preparing to enter a rapidly changing society. I learned at an early age that many of the old ideas were being scrutinized and analyzed, and new concepts, new guidance were evolving. Women and minorities were entering the business world, and new technologies were creating a new economic system. I immediately learned that it was my duty to learn as much as I could in order to excel in this new working environment. The choices I made when I started to work at MHT determine the direction of my future. I had a burning desire to be the best worker possible so I could be successful in the business world.
After I was promoted to Typist Head, I started to look around other areas at the Bank. I had acquired sufficient wisdom and knowledge, and my networking communications with other departments and managers expanded tremendously. That initiative guided me to play a part in building my better future throughout the changes and mergers that I survived during my wonderful career. In addition, I became a volunteer to many different organizations from MHT through all the banking mergers, and I helped other workers to be proactive in all the opportunities that the banking world was offering to all of us, as women and minorities began breaking glass ceilings throughout the banking world.
On August, 22, 1983, plastic cards opened household doors across the United States; MHT debit card holders were able to get cash or check their balances at any of 3,000+ ATMs across the country. That is when I met Mr. Edward Miller, Chairman, MasterCard International.
I became a volunteer worker for MHT and encouraged others to be part of my team. At this time I was working for the Brokers Automation Dealers Department. We did United Way, IBM Management Development Team, Walk American Teamwork. We were part of Starting Diversity Groups Initiatives. We won many awards in the name of our companies.
I survived the changes and mergers throughout my wonderful career because I acted wisely and attentively. I was able to bring happiness to myself and many others, including management teams, by sharing my experiences. I also taught managers and co-workers Spanish, so they could be bilingual.
My Personal and Professional Growth has inspired many other employees to continue to invest in their own careers. I became a role model for others and was able to mentor and help others to support our communities as well as our Banking Company.