D. SYKES WILFORD thanks ROBERT SLIGHTON

Robert Slighton was the Senior International Economist in the Economics Group at Chase New York from the 1970s till mid-1990s. The picture was taken at the retirement party we gave for him in London at our flat, which was attended by many of those economists he influenced in New York and London.
Bob Slighton was my first boss at Chase so many years ago. He hired me out of the Federal Reserve Bank of New York in 1977 to work in the Economics Group. Over the years I worked for and with him, I realized he was much more than my superior. He was a true gentleman who quietly developed his people to be more professional so that they could achieve their potential. (He had to develop me to realize this; I was so slow to understand his mentoring.) Besides honing my skills in the Economics Group, he taught me about good wine, good food and cooking, which were his passions. I was always amazed that he would take time in this way for me. Always encouraging me to do something else, to expand my horizon and develop new ideas and opportunities, Bob clearly was more than my superior. I like to say Bob literally kicked me out of my comfortable cocoon in the Group, supporting the development of different crazy ideas and my personal career. Bob's decency and intellectual character were always in evidence. To summarize what is most important: Bob was selfless in the way he treated us, always knowing and choosing what was best for us (me), even when not best for him. He trusted those who worked with him, always from a positive, supportive position while demanding our best.
One story must be told. I have told it to my children and my students at The Citadel when apropos. Sitting in my cubby hole office with the door closed and feet up on the desk, arms crossed and clearly asleep, Bob opened the door and said: "I want you to meet (xyz) and discuss (abc)." He then saw I was barely awake when I responded, "Bob, I am preparing for a meeting." Bob closed the door and I continued my nap before the next meeting. He knew it was true and never missed a beat. My lesson to my children with this example: Always take a nap before attending an important meeting or making an important decision! And the second lesson is: Have a boss who trusts you to do the right thing.
Bob Slighton was that special kind of person, and I owe him so much.
TED KLINGOS thanks CORNELIUS (NEAL) HOWLAND
This is a wonderful opportunity not only to recognize exceptional people but also thank someone who made a lasting impact on my life. In my case, I want to recognize Cornelius (Neal) Howland, of blessed memory. Neal was someone who was the consummate professional, who had a willingness to make you feel at ease while in his presence. He always had a big smile and while talking to you was looking straight at you and not through you.
Neal taught me what client relationships were all about. He insisted on always coming to a meeting with open ears, ready to listen and not just talk. He understood people and offered his guidance in how to interact with them not only in a business setting, but also by simply having a conversation over lunch that was not always focused on work-related matters.
He was clear that you had to work hard to earn the trust of your client, and, more importantly, his trust. On one trip to visit an insurance company in Vermont, we had dinner with the client the evening before our meeting, and I observed how he put his advice into action. While returning back to where we were staying, he suggested we have a nightcap–of warm milk, of course–and asked me to give him a preview of the presentation, as this was my first meeting with him. I realized he was not only confirming my client skills but also offering his knowledge of the client and how our service would add value. Always be prepared.
He was a colleague, and also someone who was always approachable as a friend.
May his memory be eternal.
---
DEDE GOTTHELF (CC8/1973) thanks TONY WOODWARD
I not only failed accounting. I flunked with a score of around 30%. Had never had an academic disappointment. Ever. So I almost decided to abandon my career of one week in Global Credit Training on the 7th floor of One Chase Manhattan Plaza. Tony Woodward was my advisor. Mentor? The person assigned to a few of CC8 to get us through accounting and desks and pits. He stepped up, tutored his unfortunately not understanding student, and within a couple of weeks had explained the language of accounting. And finance. With his British accent, his mod suits and his support, I was able to ace the accounting program, complete desks and pits with flying colors (or grades) and move on to a career in banking, finance and business that required the wonderful accounting base from which all business decisions flow. Thank you very much to the training program and to Tony for playing such a huge role in his assigned students' education.
---
ROBERT C. SUTTON JR. thanks CHUCK McCOY
I was one of many who were blessed to call Chuck McCoy a mentor. He was the quintessential people person. I'll tell you a story about Mr. McCoy. We were at a formal board meeting dinner. My wife was seated next to Mr. McCoy and had on a new pair of shoes that were hurting her feet. She took them off underneath the table, which had a tablecloth to the floor. When the dinner ended, my wife could not find her shoes. So Mr. McCoy, the chairman and CEO of our bank, Louisiana National Bank (which became Premier Bank, Bank One and JPMorgan Chase), crawled underneath the table on his hands and knees to find her shoes.
He was the kind of boss who gave you a mission and let you run with it. He inspired everyone to do more than they thought they were capable of. What a blessing to have worked for and called Chuck McCoy my boss.
---
MARTIN POOLE thanks TOM HARKINS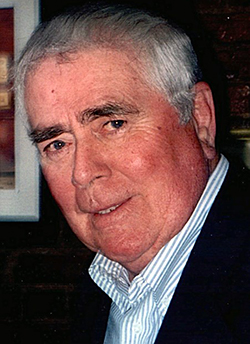 I would like to pay tribute to one of my earliest bosses, Tom Harkins. I worked for him in 1980 and 1981 in a group called Issues to Senior Management. This unit was responsible for addressing complaints by customers/clients that were so frustrated they tried to reach the president or chairman (David Rockefeller). Tom was always so professional and demonstrated so much finesse at dealing both with internal staff and the complainants to get the complaints resolved to the complainant's satisfaction. For me it was a great way to get exposure to many areas of the Bank. I have used those skills and knowledge that Tom exhibited throughout my career at multiple institutions.
I was a new hire straight out of MBA school. Tom took me under his wing and taught me the ropes. I had come from a small bank in South Carolina before MBA school. One of my first cases required me to resolve a money transfer problem. The supervisor of the area was too busy to help me and I was getting nowhere. Tom called the supervisor and asked why there was a problem. I never had a problem with that supervisor again.
---
FRANK TALLERICO thanks JANE MAGDASY
Too often we forget or don't get to properly thank those who patiently and selflessly provide us with invaluable guidance and support in our careers.
I graduated from Hofstra University in 1991 with a freshly-minted finance degree and not a lot of ideas of what I was going to do with it. I came from a blue collar family, most of which didn't have college degrees, so I couldn't look to them for advice or a "foot in the door" anywhere. I decided to apply for an entry-level customer service position in the stock transfer department of Chemical Bank. I distinctly remember my interview with Nancy Miller (not the subject of this essay, but also an incredibly professional and intelligent individual), and the job offer that soon followed (I still have the original offer letter!). I was told that, although I had interviewed with Manufacturers Hanover, I would be working for Chemical Bank now due to a recently completed merger.
I enthusiastically reported to my new job, which was located at 450 West 33rd Street on the west side of Manhattan. For those of you who never got to experience the far west side in the early 1990s, it was a very different and much grittier place than it is today. But I digress.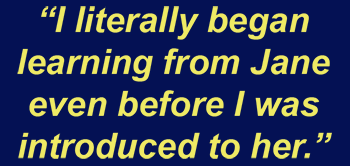 As I settled into my desk with the person who would train me for the next few weeks, I was informed the head of the group would be stopping by to introduce herself as she did with all new hires. When that group head, Jane Magdasy, entered the room, I could immediately tell how well-respected and well-liked she was by her interactions with everyone. People didn't shy away from her as you might think would be the case with junior staff when they were around senior management. I literally began learning from Jane even before I was introduced to her. Jane proceeded to come over and introduce herself and let me know that her office door was always open if I had any questions or concerns. And Jane meant it. Her door was seldom closed, and she was always present if her staff needed her. And sometimes when we needed her, it was to help calm down a customer who didn't receive the service he/she expected. These were great learning experiences–how to interact with and relate to staff and customers.
And because Jane was an incredible manager and always spoke with her staff, she was able to identify and leverage skills to improve the service offered by the department. As an example, she partnered me with another colleague who was skillful at working with data, and carved out new roles for us where we helped improve the daily staffing efficiency of the department, which allowed us to better serve the bank's customers. This was another great learning opportunity–promoting people based on what they know and providing growth opportunities to your staff.
After serving under her for a number of years, I approached Jane to let her know that I would be applying for the bank's management training program. I was nervous at first because, if accepted, it would mean moving on from a manager who had taught me so much in such a short period of time. Incredibly, Jane was more excited than I was when I told her. I was lucky enough to be accepted into the program and also to continue to have Jane available as a mentor, as she played a role in overseeing the training program. For the next two years Jane provided amazing guidance to a guy who had never traveled overseas before, was a little intimidated at being in a cohort with almost all Ivy League graduates and sometimes wasn't sure what his next move should be. And Jane did all this while managing hundreds of people in her "day job". Yet another, and perhaps the most valuable, lesson I learned from Jane: Encourage staff to move on to new challenges when it's in their best interest.
It became evident to me years later, after serving under managers who weren't nearly as skilled as Jane, how lucky I was to have met, worked and learned from one of the best so early in my career.
So I want to sincerely say "Thank You" to Jane Magdasy, who taught me so much and was so selfless with her time. My career would have looked very different and wouldn't have been nearly as complete without her influence.
---
JACK MACPHAIL
thanks several mentors
Reason all are listed: I learned something from all of them, as I have since and am still going strong advising folks wherever they are in their career: Go for maximum exposure while in these bg places 'cause it's all about building diversified equity in yourself. Thanks to anyone reading this and best–I learned a lot from each and every one of you, and got paid for it!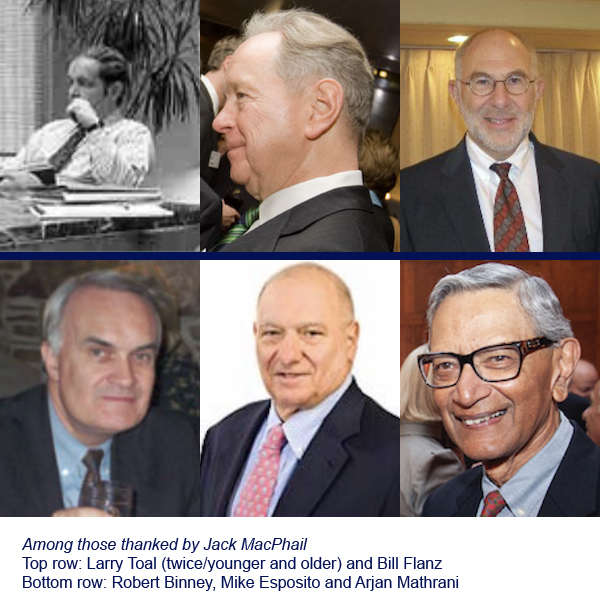 Laura Calhoun
and
Lee North
while in credit training; 1973-1978:
Larry Toal, John Vaughey
and
Palmer Turnheim
while in Government Banking; 1978:
Tony Terracciano
and
Frank Stankard
in the Long Range Strategic Search directed by Tom Labrecque; 1980-1984:
Bob Hunter
and
Peter Greer
while Country Manager of Chase Sweden; 1984-1986:
Bill Flanz
and
Robert Binney
while Country Corporate Manager of Japan; 1986-1989:
Mike Esposito
while Budget Director of Chase; 1989-1992:
Mike Urkowitz
while CFO of Inforserv International; 1992-1993:
Bob Douglass
while CFO of the Diversified Bank; and finally (1993-early 1995),
Bob Murphy
and
Arjan Mathrani
while CFO of the Global Corporate Bank.
Michael Kruse
was also looking over my shoulder when I took early retirement in April 1995.
---
ANONYMOUS thanks JOHN WARD
I started my career at Chase in my 20s, and my tenure lasted decades. During the always changing landscape, the insane challenges, the highs, the lows and the successes, the journey was always better because of the people.
Along the way there were many people and former managers who influenced my career. One mentor, however, clearly stood out.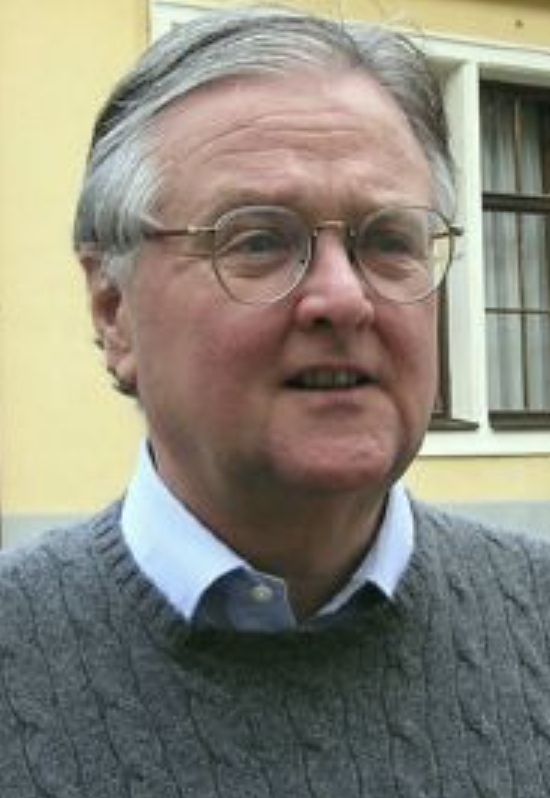 I'd like to recognize John A. Ward aka JAW(s)

🦈

, as the most influential and most memorable "character" of my professional and subsequent personal life. John was and is a huge presence. His reputation preceded his introduction to PFS*,

PFS was Personal Financial Services, a wholly owned subsidiary of The Chase Manhattan Corporation. It had 50 offices in very affluent markets throughout the US. It specialized in Jumbo Mortgages and achieved #1 market share, #1 in customer satisfaction among all jumbo mortgage lenders, and #1 in employee satisfaction at Chase. PFS was a finalist for the Malcolm Baldrige Award.
our small but highly visionary business, with the smartest, most successful, competent and most sought after talent in the industry. John's reputation
preceded him as a tough, no nonsense, no bull
🐂
senior most "credit" guy, which didn't garner him any points with our highly driven sales culture, in fact a vote of no confidence running a business was the word on the street. It turns out that you can teach a no nonsense, bull headed, credit trained, risk averse, smart, competent, visionary, to take the journey to the promised land, where, in terms of sales, profit, credit risk, employee and client satisfaction, PFS reached number 1 under his leadership. He also instilled a focus on quality and respect for every employee. He modeled this behavior by greeting and being approachable by every employee, from the lowest to the highest ranks. John challenged us to reach our highest levels (even if we didn't think we could), and his high standards and expectations pushed us to do so. At the same time, he was an exemplary leader who worked incredibly hard himself and expected the same of his employees. His toughness was coupled with how much he also cared and fought for his employees in so many situations. From changing HR regulations to assisting an ailing employee to being the last person out of the WTC after the first bombing and only after checking every single employee had left. He created a culture of highly driven employees which led to a number #1 rating in all the key metrics. His legacy has taught us what an extraordinary leader can accomplish and what each one of us could accomplish. I was lucky to have experienced such a company culture and to have him as a mentor.
The expression.... "If you can make it there you can make it anywhere" resonates.
If you worked for JAWs and followed what he taught you, you were bound to succeed anywhere and that was well known! Twenty plus years later, many of my colleagues expressed similar thoughts and how this organization and this particular leader was the best one they ever had!
– From Anonymously Grateful Forever
*

PFS was Personal Financial Services, a wholly owned subsidiary of The Chase Manhattan Corporation. It had 50 offices in very affluent markets throughout the US. It specialized in Jumbo Mortgages and achieved #1 market share, #1 in customer satisfaction among all jumbo mortgage lenders, and #1 in employee satisfaction at Chase. PFS was a finalist for the Malcolm Baldrige Award.
Comment from Ann Heinz:
This was such a wonderful tribute and expressed everything that I thought as well.
John asked me a long time ago, when faxes were still a thing, if I needed anything to do my job better and I said a fax machine at home. Within the week one was delivered to my home. That will always stick with me as he listened and he acted.
It was a true privilege to work with him.
Please thank the person who wrote the tribute.
Comment from Jim McFadden:
I could not have written a more accurate tribute than that one. John managed with a well honed sense of humor and knew just how to use it to get his message across. I enjoyed every minute of our relationship and wish him nothing but the best.
Giving Thanks to Mentors, Part I
Thank you to the mentors who influenced generations of superb Chase bankers (and those of Chemical and MHT and other heritage institutions). These were men and women who shaped careers, values and interests, superiors who went beyond just being a boss.
If your story didn't make it into this first batch, or if you want to say more about someone cited by a colleague, please send your comments to
news@chasealum.org
.
Because of the number of submissions, we've divided the tributes into three parts:
►D. Sykes Wilford thanks Robert Slighton
►Ted Klingos thanks Cornelius (Neal) Howland
►Dede Gotthelf thanks Tony Woodward
►Robert C. Sutton Jr. thanks Chuck McCoy
►Martin Poole thanks Tom Harkins
►Frank Tallerico thanks Jane Magdasy
►
Jack MacPhail
thanks: Laura Calhoun, Lee North,
Larry Toal, John Vaughey, Palmer Turnheim, Tony
Terraciano, Frank Stankard, Bob Hunter, Peter Greer,
Bill Flanz, Robert Binney, Mike Esposito, Mike
Urkowitz, Bob Douglass, Bob Murphy, Arjan Mathrani
and Michael Kruse
►Anonymous thanks John Ward
►Janin Campos thanks Rudi von Eisenhart-Rothe
►Dé Pham Lifvenborg thanks Liz Flynn and
David Baggs, Carter Booth, Peter Lighte and
Ro Fallon
►Monica Altmann thanks Richard Guariglia
►Barbara Tsarnas thanks Steve Friedman
►Hugh Balloch thanks Peter Nice
►Gillian van Schaick thanks Bob Russo
►Sally Ballweg thanks Scott Blatterman & Ed Nelson
►Larry Bloom thanks Anthony J. Annucci
►Robert Shippee thanks Robert Strong
►Phil Sorace thanks Jerry Sullivan, Jim Brennan,
Pete Bailey, Tony Terracciano, Mike Cassidy,
Ron Keenan, Alden Small, Tim McGinnis,
Barbara O'Neal, Jack Woods, Palmer Turnheim,
Wolf Schoellkopf and Tom O'Reilly
►Edith Orenstein thanks David M. Morris
►Gary Olson thanks John Philpot, George Perry;
also Bob Aberlin, Tim McGinnis, Don Chafee
►Dick Hay thanks Dave Boyce and Stan Burns
►Lawrence DeVan thanks Peter Holzer, Bill Higgins
and Jack Hooper
►Marsh Carter thanks Frank Reilly
►Ed Moran thanks Kaye Jones, Marty Logan, Tom Hill,
Paul Walker and Greg Brennan
►Herbert Aspbury thanks Don McCree Sr.
►John Hehir thanks Bob Barnes, Jack Gates, Francis
Mason, Peter Nice, Ulises Giberga, Frank Reilly,
Mike Urkowitz, Liz Flynn, Don Boudreau and
Yoram Kinberg
►Annette Whittemore thanks Jane Klivans
►Jerry Hannon thanks Al Gamper, Ed Farley, John
Dowling, Jimmy Lee and, especially, John Zutter