In Memoriam: Carolyn J. (Carrie) Adrian, 79
Chase Banker in Latin America for 25 Years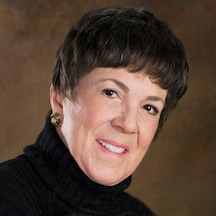 The CAA mourns the passing of longtime member Carolyn J. (Carrie) Adrian, who worked with Chase Manhattan in Latin America for 25 years, died on December 2, 2021. She was 79 and a resident of South Pasadena, CA.
Twelve years ago this website posted images from her photographic journey through Rajasthan.
The following obituary appeared in the San Marino (CA) Tribune on January 21, 2022:
Raised in the Seattle area, Carrie studied at the University of the Americas in Mexico City, where she received a B.A. in International Relations.

Carrie worked as an international banker for 25 years with Chase Manhattan in Latin America and later for the Federal Reserve regulating international banks doing business in the United States.

Her career led her to love international travel and sparked her passion for Latin American art. She built an impressive collection of Cuban, Mexican, Ecuadorian and other Latin American art, which she lovingly displayed in her home in her beloved South Pasadena, CA.

She said, "Art is universal and there's also a lot of social statement in art." Among the many snapshots of Carrie's wild and well-lived life are the stories of when she made the pilot circle back over Nepal so she could get a better glimpse of Mt. Everest, the time she held a cape to a charging bull at a bullfighting ring in Ecuador and her receipt of Brazil's highest civilian honor for her work establishing a trade association.

She was an active volunteer in South Pasadena city finance and at the Rose Parade. Her philanthropy included a special focus on organizations serving underprivileged girls in developing nations. She loved her cat, Luigi, dearly. She is also remembered fondly by her friends in the classic sports car community; her nephew Paul proudly drives her Alfa Romeo today.

She is survived by her sister, Jean Hobart, and four nephews and their extended families. In lieu of flowers or donations, Carrie's instructions are that those who knew and loved her should visit an art museum or gallery, eat some dark chocolate and toast her memory with a glass of good red wine.
Remembrances
From David White: I remember Carie for both her love of travel and her impressive Latin American art collection. I had strong regrets many times that I hadn't purchased some of of the paintings of the same artists she was collecting.