Chase Love Stories / 1
For those who found more than a friend at Chase Manhattan (or Chemical, MHT, etc.)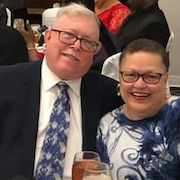 From Scrubbing to Marriage:
We are Barry and Linda Fellner. We actually met at Bank One, now Chase.
Linda started out her 46-year banking career at American Fletcher National Bank in Indianapolis. She held several positions in her years there, and worked to convert the back office to Bank One standards when that merger took place. Bank One was impressed with her dedication and work ethic, and transferred her to Columbus, Ohio, to work on the Conversions Team.
Linda traveled to various locations to teach back office and machine operating skills to incoming employees as they were converted to "Bank One Common Systems". She also acted as a Business Analyst, converting incoming Customer Files to Bank One SBS (Strategic Banking System) standards.
Linda's strong work ethic demands that things be right. Her analysis of incoming files proved to be rather demanding of any programmers assigned to write the scrubbing and converting programs needed to load Customer information to Bank One processing systems.
This is where Barry arrived on the scene. He was assigned as a programming contractor to the Conversions Area, and landed in the Customer Team in 1998. Barry had been assigned to the SBS Development Team since 1995. His skills proved to be enough to satisfy the requirements set forth by Linda, and we two became a little "mini-team" to work on the most complex data scrubbing and conversion activities.
For the next three years, we worked on conversions projects together. We formed a team to investigate and propose a reduction in operating expenses of the bank by eliminating unnecessary Routing Transit Numbers. The proposal was accepted and the "Sunset" project was born. Linda and Barry worked on a "Proof Of Concept" project, developing and testing processes and procedures to track customer behavior and usage on targeted Routing Transit Numbers. This project eventually led to a more permanent system, with Linda as the primary business analyst and Subject Matter Expert.
Those three years of working closely together proved fruitful in other more personal ways as well. We became great friends, and that friendship led to a more romantic involvement.
We were married in 2001, and have been happily moving through all that life brings our way. We are now retired, but remain active in our church and other activities.
---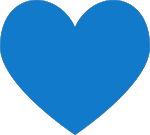 Using the system to flirt: From Sandra May: The year was 1949, when a young high school graduate began his career at Chase Manhattan Bank, Chase Plaza in New York City. His father worked in banking and thus, it made sense that young Walton 'Walt' May would follow in his father's footsteps and begin down the same career path.
He secured a job in the mailroom and worked there a year before Ruth Phyllis Bever, (who also had a father who worked in banking), graduated from high school herself and began working at Chase Manhattan Bank as a secretary.
The love story begins In 1950, with Walt working in the mail room and Phyllis working in the secretarial pool.
This was a time before the modern mailrooms and e-mail systems used today, when the bank utilized mail chutes to send mail and communications within the building. The young gentleman working in the mailroom would also utilize this system for some fun. They would use it to communicate with the young ladies in the secretarial pools, an old world version of online dating.
The men would create questionnaires to 'interview' the young ladies. They would drop off the questionnaires, while delivering the mail to the secretaries. The secretaries, in turn, would complete
the questionnaires and create some of their own and drop them into the mail chute for the gentleman in the mailroom to collect, review and reply.
Phyllis and her girlfriend each received a questionnaire, which inquired what type of gentleman they might be interested in; what hair color and eye color did they prefer, did they prefer someone tall or short, as well as other questions about where they lived and what type of date they might enjoy. Phyllis and her girlfriend filled out the questionnaires, thinking it was just for fun.
Phyllis was completely unaware that Walt had enlisted the help of her friend in order to get to know Phyllis and hopefully take her on a date.
Walt, however, was a bit discouraged by Phyllis' questionnaire responses. You see, Walt had blonde hair and blue eyes, and Phyllis's reply stated she would be interested in someone with dark hair and dark eyes, a 'James Dean type', Phyllis would say.
Due to these responses, Walt decided not to ask Phyllis on a date. Phyllis's friends in the secretarial pool, however, had other ideas. They decided they would intervene on Walt's behalf.
They made a plan with Walt that he would be in a specific elevator after work, at a specific date and time. They would be waiting for the elevator with Phyllis, on their floor, and when the doors opened, Walt would be inside and could take the opportunity to ask Phyllis for a date.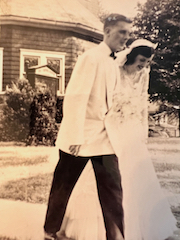 They decided Friday night would be best, and so they exercised their plan that week. After work on Friday, Phyllis and her girlfriends awaited the elevator to head home. When the doors opened, Walt was there. Phyllis stepped inside first and, as she did, her good friend said, "Oh no, I left my umbrella at my desk, I need to run back and get it, I will see you Monday" (all part of their plan). Phyllis said she would wait and attempted to step off the elevator. Her friend gave her a little push back inside and said "No, you go ahead". The doors closed, and Walt and Phyllis were alone in the elevator. This was his chance!
During this ride, Walt asked Phyllis if she would like a ride home, since it was raining and he drove his car into the city that day. He knew they both lived in New Jersey and planned this in advance. She accepted!
The rest, as they say, is history.
The couple would continue to utilize the mail chute and delivery system to send notes to each other

during the work day and would schedule times to "accidentally" bump into each other at the water cooler.
Walt and Phyllis dated for only about six months before Walt left for military duty during World War II. They continued their relationship and married upon his return. Phyllis left Chase Manhattan Bank after marriage, while Walt went on to be promoted over the years and retired after 38 years of service, as a Vice President in the Federal Reserve division. The couple raised their five daughters on Oak Beach in Long Island and were blessed with 14 grandchildren and 13 great-grandchildren.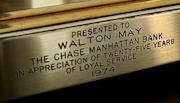 I, their youngest daughter, also worked for Chase, joining the Bank in 1994 after college, working in marketing for Chase Bankcard Services. During the merger with Chemical Bank, I worked in the Securities division, writing communications for the Senior Vice President, to keep everyone apprised of upcoming changes.
After reporting to the Senior Vice President for this division for a few months, I got to talking with him one day about my parents' time at Chase and came to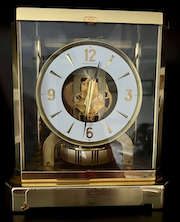 realize that the SVP had reported to my father back in the 1970s! This certainly solidifies the fact that the Chase world is small and tight-knit.
I was fondly known as a 'Chase brat', a term that co-workers used to denote the fact that my parents met and married thanks to Chase. I left Chase in 1996 but still have wonderful memories of my time there and iam still connected with many of my coworkers from my time at Chase.
Walt passed in 2004, followed by Phyllis' passing in 2012. In my home, I proudly display the clock my father received in 1974, for his 25 years of service to Chase Manhattan Bank.
---
Cupid struck twice!

From Maria (Fragano) C. Rodriguez: I have an unusual story for you! I worked at Manny Hanny in the Files Department starting in 1964. It was my first job on Wall Street, at the age of 17. It was located at 40 Wall adjacent to the Corporate Trust Department. It was there I met my first husband, Albert Myers (1944-1999), who had just come from training to be a medic with the National Guard. We were married in 1967. Al was to become a VP at Manny Hanny before he became ill and had to retire. I believe he worked for them for over 30+ years. I recall the Corporate Trust Department had more couples who met and got married from that department then any other at the bank at that time.

Jump to 1968, I am working at 1 CMP for Chase in the International Operations Department, FX19. I have always been upwardly mobile-minded, and it is soon that I am invited to join the International Administration Department working with Jack Knippenberg. It is there I met Ray Rodriguez. Ray was to become a VP later on and work for Chase for 24 years until he retired. After an odyssey that took us apart, we finally reunited. We will be married 19 years in August.
After Ray left Chase, he moved to California and started working at WaMu, where his skills from New York were gladly welcomed. He was there until they were purchased by Chase.
We are a banking family and miss the old days on Wall!
---
Did you meet your spouse or partner at work at Chase (or Chemical, MHT, BankOne or any other heritage bank)? Please let us know. Send your story to Andrea at
news@chasealum.org
.