Chase Love Stories / 2
Paul Didier: I met the love of my life at Chase Manhattan
While on a Business Trip to San Francisco
OUR STORY IS UNIQUE as many love stories are. It began in 1981 when my position involved the Chairman of the Board, David Rockefeller. My responsibilities included planning all his travel within the U.S. and Canada, to travel to each location myself to set things up and then to accompany him on every trip.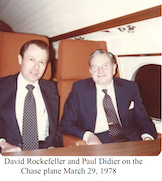 But first let's go back. In 1981 I had been with Chase for 23 years. I had started at the Bank of the Manhattan Company in 1953 as a messenger at age 17. That Bank merged with The Chase National Bank in 1955 to form the Chase Manhattan Bank. My time between 1953 and 1981 included four years in the Navy, many years in the Compensation Department, some years in the International Department and four years working for David Rockefeller.
The trip that turned out to be the most eventful for me was in March of 1981. David was scheduled to have lunch with the CEO of another corporation in San Francisco's financial district. When he would meet with just one person, I usually did not join him for lunch. When we arrived at his destination and the other man was there and all was in place, I told him I would be back for him in two hours, which was our usual routine.
At that point I decided to walk a few blocks to the offices of our subsidiary, Chase Econometrics, San Francisco branch for the western states, to see if a friend, the president, was free for lunch. When I got there, my friend was out of town and I spoke with the regional administrator, Francette Keilocker, who was the only one in the office at that time. As we spoke, we turned to small talk as strangers meeting for the first time often do, and she told me that she was taking a bird-watching course that she was enjoying very much because the people running the course took her and others to several very interesting birding spots. I found this comment very interesting because my active hobby had been serious birding (bird-watching) for several years.
After some small talk, I started to leave toward the elevators but decided to go back. I gave Fran my card and asked if she would be interested in showing me some of the places she told me about when I returned in July, which was already in my plans with the Chairman. Fran immediately agreed and I said I would be in touch. As the time moved on toward July, I contacted her, and we arranged it so I would take a few vacation days after I saw Mr. Rockefeller to our company plane for his return home to New York.
On the first day of our magnificent adventure, Fran picked me up at my hotel and we drove to our first destination. Our first meaningful conversation while driving revealed that we were both eager to share who each of us really was. Both of us were searching for sincere companionship that would be built on honesty, respect, caring and true love. From the start on that lovely day in July, we both felt a tug that developed into a pronounced attraction for each other. Each of us was speaking genuinely from the heart, which added a beautiful sweetness to what would become mutual respect and deep love. I had been divorced for four years and had been dreaming about meeting someone to share my life with, someone who would be the love of my life.
I was always a sort of romanticist or sentimentalist but never thought Cupid would shoot arrows at me on a very busy day in San Francisco. But shoot he did, and it didn't take me long to recognize that the sensations I was feeling were real. I could tell that Fran was having the same kinds of feelings too. When Fran and I think about all the what ifs that could have prevented our chance meeting­– what if I had not decided to look for my friend at Chase Econometrics, what if he was not out of town, what if the Chairman needed me for something, what if Fran was out of the office, etc. –but all the stars did line up, thank God!
Fran has a doctorate in education, and she had been teaching at the University of San Francisco in a doctoral program for superintendents and principals from all over the world. She had decided to take some time away from USF to work for a year to get a better understanding of the business world and then return to her position as professor. Choosing to work at a place other than Chase Econometrics could very well have been another what if!
On the other hand, our faith is strong. I believe that the Holy Spirit put the right words about birding in Fran's mouth to get my attention. Fran believes that her favorite saint, St. Francis of Assisi, the one San Francisco was named for, had a hand in it too! One thing we both are sure about is that we were both very happy for the help.
Besides sharing our common interest in birding, we share a love for poetry. Over the years, we formed poetry groups that met monthly in the homes of participants. Above, when I wrote about our love and the Holy Spirit I was reminded of a few lines from the poem "From the Heart" by Eileen Rockefeller, David's daughter:
May we hear God's Word
In the Wind through the trees
See Her smile
In the sun on the leaves
Feel His hand
Lift the love in our hearts
Sharing a hobby or a sport with your soul mate has an energy all its own; it casts a spell, if you will, that increases one's passion for the hobby and draws you closer to each other.
Returning to those first three days together, our first day was spent at Point Reyes National Seashore north of San Francisco in Marin County, which is a Natural Sanctuary and a popular place for serious birders. Fran had brought along a lunch that was just beautiful, including wine and wine glasses and a tablecloth. We spent that day driving around to the various parts of Point Reyes and saw a great variety of bird species, as well as some other wildlife. That evening we had dinner in a small French restaurant somewhere in Marin County that was the perfect close to a wonderful day.
The next day was also very remarkable because Fran had booked us on a ship for a pelagic (open sea) trip that included birders and whale watchers and took us 30 miles or more out into the Pacific Ocean to see the bird species that live at sea all year long except to breed on the mainland. We saw a few species of whales up close and many pelagic bird species. The ship also circled the Farallon Islands National Refuge that lies 30 miles west of the Golden Gate Bridge. The islands are closed to the public, but two groups of marine scientists live on the islands. Back on the mainland, we had dinner and continued to learn more about each other…another beautiful day to be thankful for.
The third day we went to see bird species whose habitats are totally inland. Since the third day was a Sunday and we found out that we were both Catholic, we found a little church and went to mass. At this point we both were feeling a strong attraction to each other. On the next morning, Fran picked me up and took me to the airport for my flight back to New York. It was very hard for both of us to say goodbye.
After those three wonderful days, we had many conversations by phone, as well as other meetings, in Pittsburgh, PA (Fran's hometown) or in New York City. In October I had to return to San Francisco with the three top men at Chase Manhattan, Messrs. Rockefeller, Butcher and Labrecque. The purpose of the trip was to introduce Tom Labrecque to the bank's important western clients. At that time David Rockefeller was about to retire, Bill Butcher was becoming the new chairman and Tom Labrecque the new president. It was a very busy time for me seeing our senior officers to dinners and other meetings, all of which were planned earlier from New York.
But during that time, I arranged to have dinner a few times with Fran and her sister Helen, who came out to drive across the country with Fran. In the meantime, we had arranged for Fran to transfer from the San Francisco office to the New York office of Chase Econometrics so Fran and I could spend more time together in New York. At Christmas time I asked Fran to marry me, and I was one very happy fellow when she said Yes!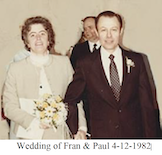 We were married on April 12, 1982, at the chapel on the Queens campus of St. John's University. The officiant was an Irish priest, Tony Casey, who was a friend of mine with whom I had birded several times over the years.
We bought a home in Chatham, NJ, and lived there until I took early retirement at age 55 in 1991. After David Rockefeller retired, I transferred to the Pension Trust Division because of my experience managing the Chase Manhattan Compensation Department earlier in my career. After nine years there, I retired from Chase as a Vice President. It was hard for Fran to leave San Francisco, because as the saying goes, she left her heart in San Francisco. But I had promised her that we would move back to the west coast when I could retire.
The cost of housing in San Francisco was beyond most people's budgets so we looked at Seattle and Portland and settled in Portland for seven years until we began to rust from all the rain; then we moved to Walnut Creek, CA for two years. In 2000 we found an ideal location in western Colorado called Grand Junction, located close to the Utah border, with the mountains all around our valley, and we have been living here ever since. The traffic here is nothing like the bigger cities we were used to (Pittsburgh, New York, San Francisco) and the birding is better than very good. We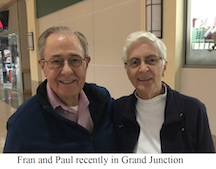 have seen more than 100 bird species right from our home and many more here in the mountains. We both have been very active with the local chapter of the Audubon Society, leading birding trips, etc.
On April 12th of this year, we will have been married for 40 years. I am now 86 and Fran in 85. As I write this, it is Valentine's Day, and we are just as much or even more in love today than ever before.
* * *
PS: Having worked so closely with David Rockefeller for about five years brought us closer. I wrote to him a few times a year and he wrote back every time. Even at his advanced age his mind was as sharp as when I worked with him so many years earlier and we kept in touch until his death in March of 2017 at 101 years of age.
Posted February 16, 2022
---

Did you meet your spouse or partner at work at Chase (or Chemical, MHT, BankOne or any other heritage bank)? Please let us know. Send your story to Andrea at news@chasealum.org.