A Moment in Bank History
A Tour of 1CMP Below Ground, Part II
(And Seeing the Light!)
Gene Ret prompts more memories from Larry Stirling
(Larry Stirling, below left, offers this account, prompted by the story from Gene Ret, below right)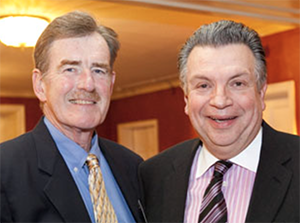 In the 1960s, 3B and 4B was "home" to Chase's data processing operations, account reconciliation services, official and certified checks and check processing. These operations were largely 24-hour components whose staff never knew the concept of "bankers hours". Indeed, the Post Office slogan, "Neither snow nor rain nor heat nor gloom of night...", applied to the vast majority who worked in those basement components.
One of the duties of an officer on the night shift was to hold one-half of the main 5B vault combination (the other half was held by Charlie Callahan, the Vault Officer (yes - a bank title back then). The vault had to be opened by 7 am daily, and it was a daily ritual performed carefully. Watching currency and bullion movements between 1 CMP and The Fed (across the street) was always interesting, as you can imagine the security in the street and on the Plaza was huge.
In the days of a live bomb exploding on the upper floors of 1 CMP, subsequent frequent visits from the NYPD Bomb Squad and a flood, the work went on in the units on 3B and 4B. More than once, and every year at Christmas, David Rockefeller visited the evening and night shifts and personally talked to each person at their work station, to thank them, wish them well and apologize for taking their time from their important duties. Talk about morale building…….
These operations relocated to 1 New York Plaza (the 9th, 10th and 11th floors). I recall looking out at a floor of check encoding machines the first day we were there, at about 6 am. The machines and other work stations were unoccupied, as each and every staff member stood at the windows of the 9th floor watching the sunrise on their first work day (actually night) out of the basement! The stories of those days (or evenings/nights) are legion and always worth recounting.
Comments

Send comments or your own "A Moment in Bank
History" story to news@chasealum.org.