Moments in Bank History
Bankers in Danger Part 2

|

Part 1

|

Part 3
Geoff Scott: Tehran, 1979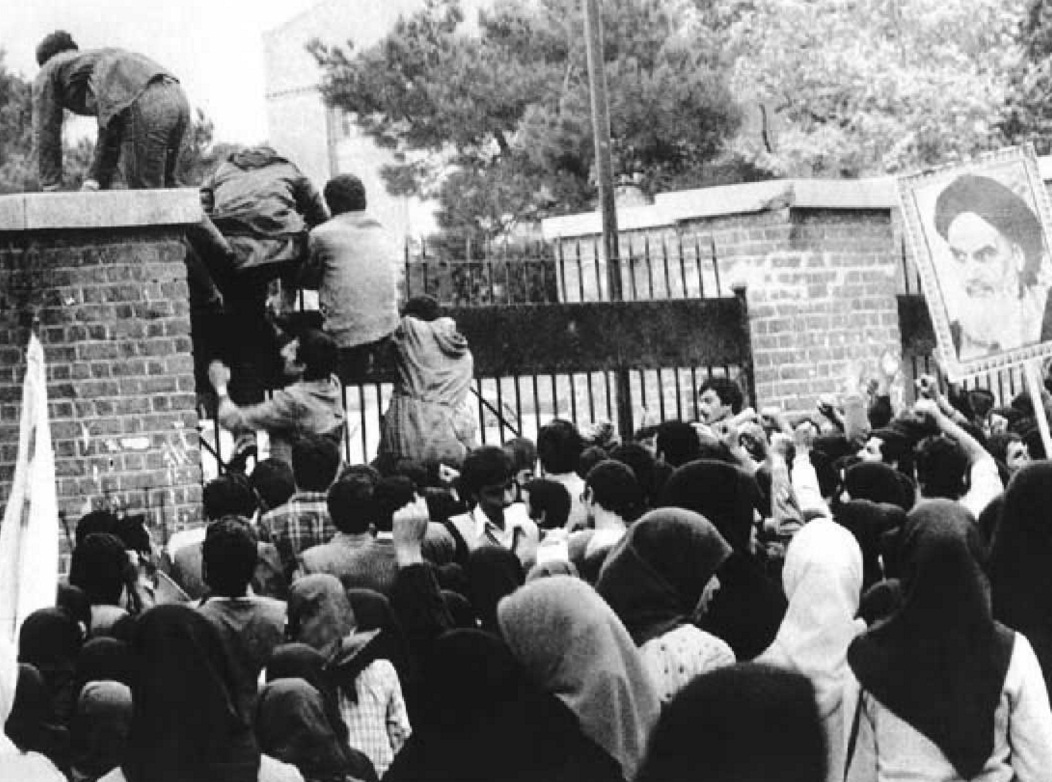 During December 1978, Iran was in turmoil, with daily demonstrations against the Shah. Four Chase Manhattan employees were evacuated by US Air Force planes, two to Turkey, two to Germany. I was being transferred from our merchant bank in Lagos, Nigeria, to become Deputy Managing Director of our joint venture, International Bank of Iran (IBI). [Editor's note: Chase Manhattan had a 35 percent share.] When the Shah was exiled, Bakhtiar became Prime Minister, and our Managing Director, Ross Pirasteh, became Minister of Finance. On the organization chart, Savak, the secret police, reported to the Minister of Finance. This was similar to the United States, where the Secret Service reported to the Secretary of the Treasury, since it had originally been an anti-counterfeiting mission.
On April Fool's Day, 1979, three of us flew back into Tehran, on Swissair from Zurich, a nice neutral airline. We brought a screwdriver in our luggage, since our first objective was to remove the bronze plaque from the outside of the rep office. We were doing three weeks in country and one week back in Athens on R&R, since there was active shooting every night in Tehran. I would telephone my girlfriend, now my wife, in London and she could hear the firing squads at the Central Prison.
Ross was in hiding for his life, since, as the head of Savak, he would have been a prime target of the firing squads. I was never allowed into IBI as a manager, since the unions had taken over daily operations, so our role was to try to get repaid on the US dollar loans that had been made by Head Office to Iranian entities. We used to go down to the American Embassy a couple of times a week for lunch in the cafeteria, just a good American hamburger, and one of the subsequent hostages was a businessman from California who also happened to go there for lunch. 444 days later, he was released. There but for the grace of God go I.
Few Americans ever get the chance to witness a revolution in action, but for a political science major from a democratic country, it was an eye-opening experience.
Posted August 5, 2022
Chris Matlon: Fleeing Beirut in 1975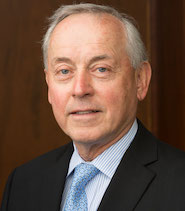 Chris Matlon's wife and son were back in the States for a couple of months because of the civil war in Lebanon, where he was country manager. "It was the first or second week of December 1975, and Beirut was under martial law at night. A number of U.S. bankers would get together nightly to have a meal and play darts. 'Curfew's up, gotta go'–we'd take off," he said.
"A banker from Continental Illinois lived across from me. We both had balconies. I told him that a Palestinian officer of the PLO was picking me up in the morning to drive me to the airport, but the banker said he was staying in Beirut.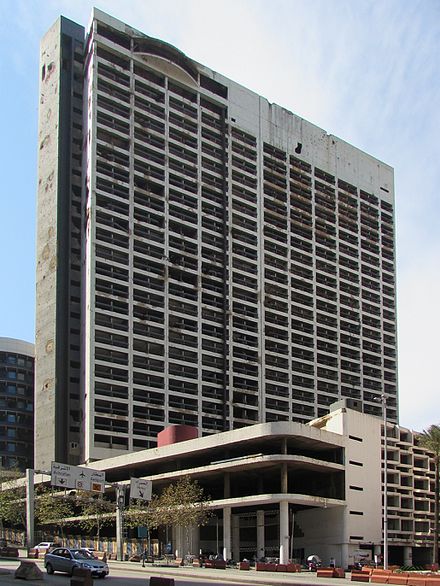 "Later he yelled to me to look down the street. There was the Holiday Inn on fire, hit by a rocket. 'That's the first bad loan I've ever made,' he said. 'I'm coming with you."
"The next morning, Ahmad from the PLO came up in an old Buick, Kalashnikov rifle across his lap," Matlon recalled. "We go through some road blocks where Palestinian kids, wearing keffiyehs and with their own rifles, ask us, 'Where are you going?' Ahmad would show them that he was a PLO officer, and they would stand back."
Later that morning, Matlon and the Continental Illinois banker caught their planes.
Posted July 30, 2022
---
Jim Haynes: Close Shaves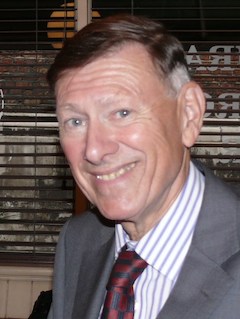 By Jim Haynes
During my career with Chase I had a few "close shaves".
1. In January and February 1975, I was working on a project that involved working far more than normal hours, so for six weeks I stayed with my parents who lived half an hour's journey from the Bank in London. Every day at the same time I got on an underground train in the first carriage and alighted at Moorgate Station. On the first Monday after I had reverted to my normal commute from home, the train failed to stop when it reached Moorgate, crashing into the barriers, and this resulted in 43 people being killed and 74 injured, many of them seriously.
2. On the 12th August 1980, I flew on Saudia Flight 163 from Riyadh to Jeddah in Saudi Arabia on my way back from a meeting with the Deputy Governor of the Saudi Arabian Monetary Agency (SAMA) – effectively the Central Bank of SA. Exactly one week later, on the 19th August, the same flight suffered a fire on board, and although the plane actually landed, the doors could not be opened and the plane eventually burst into flames and everybody on board died. There were 287 passengers on board (including four UK citizens and three US citizens) and 14 crew members. Although the plane was gutted by the fire, the inquiry found that everybody died of smoke inhalation, and it was believed that the fire was started by a passenger trying to boil water under his seat on a butane stove to make tea.
3. I retired from full time employment in 1999, but I was asked to stay on as a Director of two JPMC Trust Companies. On the 7th July 2005 I was on my way to London (Trinity Tower office) for a Board Meeting – I boarded an underground train at Liverpool Street Station headed for Aldgate. I normally got on the second carriage of the train as that was the closet to the exit, but I arrived just before the train left so I got into the third carriage. The train had not gone very far when a suicide bomber detonated a bomb in the second carriage. I was standing up as there were no spare seats, and as the bomb went off, I saw a fireball heading through the carriage which missed all passengers, including me, by a small margin. Seven people were killed in the second carriage, and several injured – many seriously. There was a massive evacuation exercise which took a long time to achieve, and I eventually arrived at the Bank about two hours later. When I arrived people were watching the news on television, and I was told that I stank of cordite, and my fingernails were all black. This was not a single attack that day – there were four suicide bombers all together, three on the underground and one on a bus. In all 52 people were killed and several hundred were injured.
Not so "close shaves" – for me at least.
4. My first job at Chase was in International Audit, and Monrovia Branch in Liberia was one of the places under our responsibility. On an audit trip in 1969 we had to fly via Lagos, Nigeria, as there were no direct flights from London to Liberia. This was during the Nigerian Civil War (also known as the Biafran War) that ran from 1967 to 1970. As we got off the plane at Lagos Airport, we were accompanied to the terminal by a group of soldiers who looked about 14 years of age, carrying what looked like Kalashnikovs that they pointed in our direction. We had been told that we should follow the person in front without running or looking at the soldiers. The previous week a soldier had been spooked by a passenger disobeying this instruction and fired his gun. Fortunately it did not hit the passenger but the warning was there.
5. In the early 1970s, I was working in New York for Overseas Operations Administration (OOA) with Kerry Hemming, Jurgen Klimm and PW Park, among others. In 1974 I was assigned to be part of a team conducting an operational survey of Saigon Branch in Vietnam. The Vietnamese War had started in November 1955 and was still going on (it lasted until April 1975), but we were told that it was safe to go to Saigon. When I got there I was advised to keep a low profile outside of the Bank, as being white and quite tall I could easily be mistaken for an American and therefore potentially at risk. South Vietnam was finally taken over by the Communist North in April 1975 by which time we had returned home, and what happened then has been well documented in previous articles.
6. I'm not sure of the date, but during the early 1990s when the IRA were still carrying out terrorist attacks in the UK, a small bomb, probably a hand grenade, was detonated outside Woolgate House, the Chase London office. I had left the Bank about an hour before, but two colleagues who were working on a big transaction, had just left the building, and were just about to get into a taxi when the device went off and blew them off their feet. Luckily they were not injured, but it was a close shave for them.
7. I had left International Audit when a team went to Monrovia, Liberia to carry out an annual audit. While they were there, there was a rebel attack (I think it was a precursor to the Liberian Civil War) that led to an attack at the hotel where the team was staying. The rebels raided some of the rooms and fired through the walls. One of the team had bullets fired through the walls of his rooms and one hit and smashed his camera.
Posted July 11, 2022
---