Moments in Bank History
Bankers in Danger Part 3 |

Part 1

|

Part 2
The Lockerbie Bombing:
Frank Ciulla, the Chase casualty on Pan Am Flight 103
This is not the kind of danger you ever expect to be a part of.
News of the December 12, 2022 arrest of a Libyan man charged with involvement in the December 21, 1988 bombing of Pan Am Flight 103 over Lockerbie, Scotland reminds us that the Chase Bank family lost one of its own among the 270 passengers who were killed.
Frank Ciulla – a direct report to Chase Manhattan CFO Mike Esposito – was supposed to fly home to New Jersey a day later, but he moved up his flight a day so he could spend more holiday time with his family, who had flown home the day before the bombing, according to former Chase HR executive Ralph Aiello.
Here, from the Frank Ciulla Papers in the Pan Am Flight 103/Lockerbie Air Disaster Archives at Syracuse University (as numerous Syracuse University students were victims of the bombing):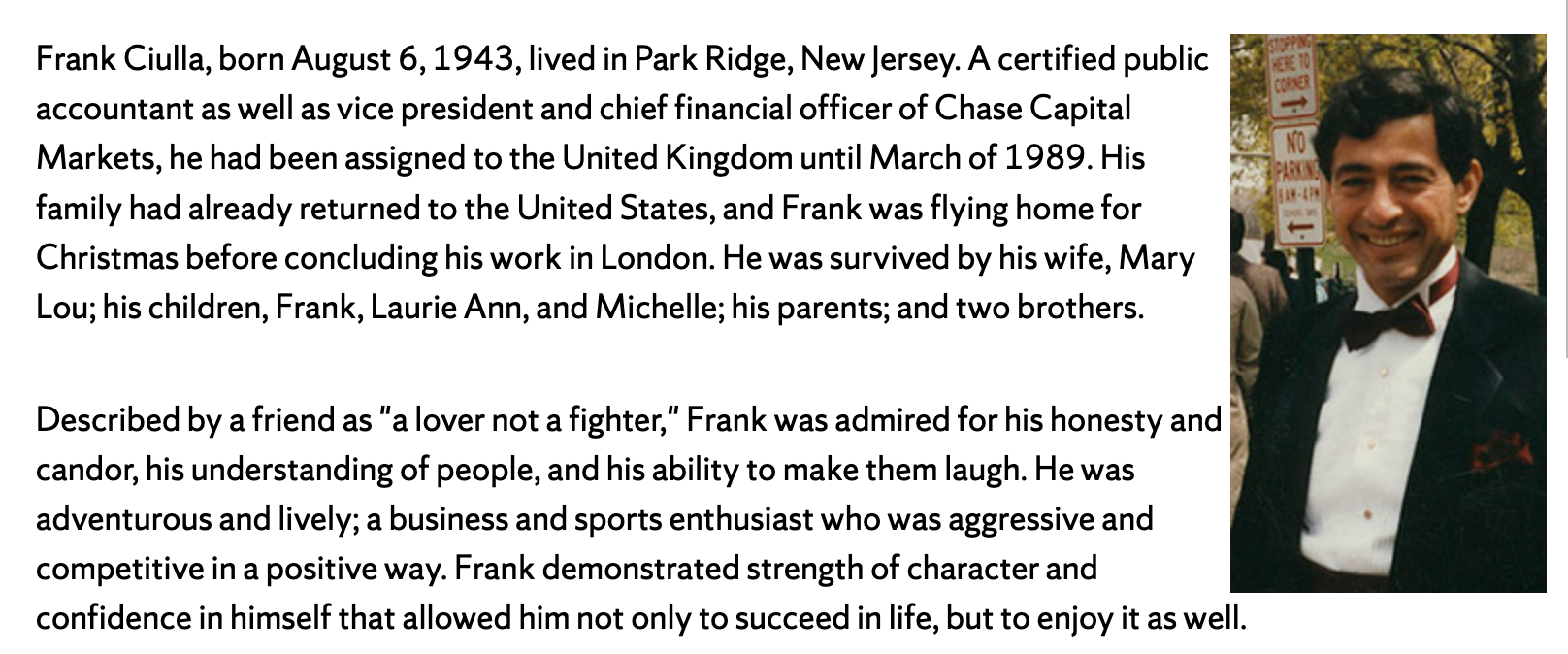 ---
Ciulla's remains were found about eight miles from the crash site, on a sheep farm owned by Margaret and Hugh Connell. The letter that the Connells wrote to Ciulla's family, and the bond that grew between the two families, was explored in a remarkable installment of NPR's Letters of Note, well worth your time.
Posted December 15, 2022
---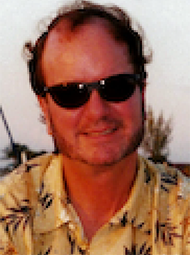 Thomas Lane:
Milan, Italy, 1976:
A Visit from David Rockefeller
Winter 1976: A nugget of concrete snaps off the corner of a pre-WWII building three feet in front of me. I stop walking, wondering how a chip of concrete spontaneously shatters and lands intact. It's 8 am, my route leads through central Milan.
Three quick pops, BANG, BANG, BANG in succession, sounding like slightly shaken bottles of Italian prosecco being uncorked, jolt me. A hundred meters ahead – the red flag of Italy's Marxist Brigate Rosse – Red Brigade – stabs out a 4th floor window.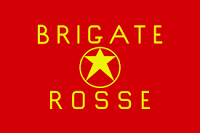 The Marxists are armed and firing defiance at Italian authority across the narrow European street.
The Red Brigade is armed and rejecting democracy. In return, the Italian Carabinieri unleash a barrage. I reroute, amping up my pace.
If I can cross Piazza Duomo (the square in front of Milan's Cathedral), traverse a hasty passage through Galleria Vittorio Emanuele, avoid any disturbance in front of La Scala opera house, there's protection; Chase Manhattan Bank – Milano. My office is less than a half mile; our armed guards keep out bad guys.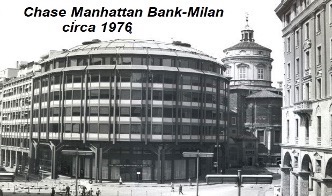 A few weeks later, I'm sitting at my 3rd floor, Chase Manhattan desk next to a ceiling-to-floor exterior glass wall, gazing street-wise, analyzing a credit worthy-or-not Chase customer. On the street below, a black limo jumps the curb and halts silently, barricading Chase's ground floor entrance.
I slink away from the 3rd floor glass, edge behind a concrete panel, crane my neck at an angle exposing only my head, allowing an overhead view of the limo.
Craig Studwell, Chase Manhattan AVP, says, "What are you doing?"
"Black Limo on sidewalk," I say. "Some kind of bodyguards, hands inside coat, looks like they are gripping weapons! Might be Red Brigade?"
"It's not the Red Brigade," Studwell, a two-year veteran at Chase-Milan, says. "They'd already be shooting. That's David Rockefeller. He always drives up on the sidewalk, directly to the front door."
"So Red Brigade can't shoot him between the curb and our front door," Studwell says.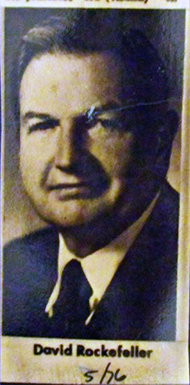 Rockefeller's armored, black, stretch limo motors away from the entrance to Chase Manhattan Bank–Milan, towards Piazza La Scala, 100 meters away.
Three Chase commercial lending colleagues – Giorgio Girardi, native of Italy's Sud Tirol; Alvise Alvara, a son of Venice, and Doug Blair, recently arrived in Milan following an analyst stint in Tokyo – and I walk out of our office, relocating to the perimeter observation walk overlooking Chase's ground floor teller/retail operations. The lobby atrium opens three stories high.
Below us, David Rockefeller enters Chase Manhattan Bank, stopping center point in his lobby. Chatter that ricocheted off the marble floor and walls on the 1st floor halts. Chase Manhattan Bank-Milan falls silent.
Rockefeller's squad of bodyguards have disappeared.
In 1976, every Italian municipality with a population greater than 250,000 was governed by Italy's Communist party, the PCI. Across Italy, the Communists won 34 percent of the 1976 popular vote. The Christian Democrats scored 39%. Amongst the Marxists, the Red Brigade had veered sharply left, embracing anarchy. The Communist Party (PCI) was moving towards the center, prompted by their unions to compromise.
Recently, the Red Brigade instituted knee-capping into Milan's banking community. My Chase cronies and I were all aware that NYC-based Chemical Bank's Milano office had been targeted by the Red Brigade.
Chase officer Eduardo Ciravegna, a sommelier-in-waiting from Piemonte, joined our oversight group looking down on Chase's lobby.
Sergio Di Chiara, GM, Chase Bank-Milan appeared, greeting David dead center in the Chase lobby. They consulted sotto voce, heads bent. Sergio turned to his silent staff and said . . . something in Italian.
"What did Di Chiara say?" I ask Eduardo.
"Officer staff meeting with Rockefeller," Ciravegna explains to me in English. "Conference room, one hour."
In 1976, Milano was home base for Italy's Red Brigade. They were pursuing a Marxist-Lenin revolutionary
state, employing armed
terrorism. Italy's Communist party was gravitating towards social democracy.
David Rockefeller stepped to his podium in Chase Manhattan's presentation room. "When I arrive in Italy, my first appointment is with The Pope."
The Pope has his Swiss Guard,
I think. Besides, the Pope and his Vatican lie 300 miles south.
"Secondly, I meet with the Italian Prime Mister," David said.
Aldo Moro has the Italian Carabinieri, I think. And Italy's Prime Ministers rotate through office so quickly, the Red Brigade would be challenged to time an assault.
David pauses, scans the Chase room, "Thirdly, I come here to update you, the Chase Manhattan team, on what is and will be happening in Italy."
Does the Red Brigade know we are third on David's schedule, I wonder! Slowly, I swivel my head, assessing the counter-terrorism skills of my CMB colleagues.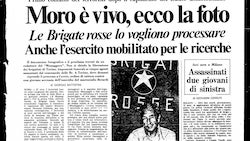 At the time David Rockefeller visited Chase Manhattan-Milan in late winter 1976, Aldo Moro served as Italy's Prime Minister. In 1978 Moro was abducted by the Red Brigade. Five Carabinieri bodyguards died trying and failing to defend Moro. The Red Brigade executed Moro six weeks later.
A. Chase Manhattan Bank USA employees on assignment in Italy in 1976 received a 10% "hardship" salary adjustment.
B. Gay Blair (Hunter), wife of Chase Manhattan banker Doug Blair, taught at the American School in Milan 1975-1977. Gay Blair (Hunter) was a grad of Chase Manhattan Global Credit, posted to Hong Kong 1974-75.
C. Chase Manhattan-Rome in 1976 was staffed by six employees (hearsay). No one in Milan could explain the reason for Chase Manhattan, Rome? I was unaware of any Chase commercial customer south of Orvieto.
D. Chase Manhattan - Bari. Bari was 9-hour drive south from Milan, in Italy's Mezzogiorno. Not only Red Brigade concerns, the Mafia. No Chase expats served in Bari. I was unaware of any U.S. personnel ever visiting Bari. If David Rockefeller ever stopped at Chase Bari, it was under-reported.
Editor's note from 2022: Times change. The Chase Alumni trip to Italy in October 2022 included a safe and enjoyable stop in Bari and surrounding area!
Posted December 2, 2022
---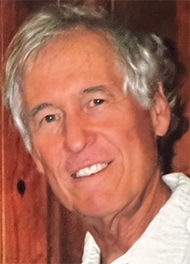 Nick Binkley:
Beirut Has Sunshine,
That's All It Has* ... 1975
(Nick Binkley, CMB, 1973-1975)
* Stephen Sondheim, "But Ah, Paree" from Follies, 1971)
I believe the war started when a gang of Phalangist Christians killed 22 Palestinians on a bus coming back to Beirut from a rally. I and my late wife, Diana, were dancing "the bump" in the bar at the Howard Johnson Hotel in Las Beirut. The Temptations were performing. It was April 14, 1975.
Demetri Comnas and his Pan Am stewardess girl friend were with us. He and I were assigned at the time to David Rockefeller's recommended Middle East Strategy Group. OPEC had just been created - following the Arab-Israeli War of 1973, and the Middle East was in turmoil – both good and bad, and their was opportunity to expand Chase's footprint in the region. DR had just visited Beirut on his way back to New York from Tehran after visiting with the Shah.
When a flash of light from a bomb blast lit up the bar, the manager of the hotel asked that all guests return to their rooms and non-hotel guests depart the hotel.
Demetri, his girlfriend, Diana and I left by the elevator to the ground floor instead of to the parking level. As we exited the elevator, the windows of the entrance of the hotel were shattered by gun fire. There was street fighting going on around the hotel. We then jumped back on to the elevator and went down to the covered garage parking. Demetri and I left the women in the elevator while we scoped out the dark garage. The lights were off, and I was having trouble finding my car, a sport Fiat. All of a sudden, a car came screeching around the floor with two guys hanging out the windows with pistols. They asked us what we were doing there and we explained, "Getting my car and getting out of here!" They were hotel security. As the chain link garage door lifted, the four of us sped away. I dropped Demetri and his Pan Am friend at the Phoenicia Hotel where they were staying, and Diana and I returned to our apartment in Ras Beirut. Our apartment was the penthouse on top of nine stories of empty offices. The building was brand new, and we were the first lessees. From our perch above the skyline, we watched the Port of Beirut burn...
Posted May 22, 2023
---
We have published several stories in the past about our alumni who found themselves in dangerous situations
.
Were you ever asked to continue working–or struggling to get out of town–in another war zone or amidst other types of violence?
Please send your story to Andrea at
news@chasealum.org
.
Re: Frank Ciulla and PanAm 103
From Ludwig Chang (12/18/22): Poignant memories indeed, as I was at Heathrow at 4PM, had the choice of the PanAm flight or the BA flight half an hour later. May Frank and all the victims rest in peace as at least one of the perpetrators is being brought to justice.
Re: Chase Milan
From
Martha Post
(12/4/22): I worked at Chase in Milan in 1986. Was brought over from U.S. to help structure and integrate the acquisition of a UK auto finance company into four city, Italian operations. Would have never known of political strife (hardship pay article reference) of only eight years prior. The carabinieri were visibly scary but not a daily presence.
I remember meeting wonderful, warm colleagues who welcomed me and thrived on passionate global debates, especially World Cup related. Catalyzed by their enthusiasm, I, a neophyte to the sport, surprisingly won the office "pool".
Vividly remember learning the lesson there that no work relationship should properly commence without first having a preliminary meet up over an espresso. Very civil, nice way to establish a personal rapport, then, and certainly now, as we commonly are left to rapidly sequence through our virtual back/back meetings.
From Ernst Tschoeke (12/5/22;
Chase Bank AG,
Frankfurt, Germany,
1968 to 1978
): Chase Italy was at that time organizationally part of the Central European Region, that comprised of Germany, Austria, Switzerland, Italy and Greece.
To receive an Banking License for Milan, Banco di Italia, the Central Bank of Italy, required that Chase also establish offices in the MezzoGiorno. Thus Rome and Bari were opened at a minimum, with limited staffing.
As member of the overseas operation administration, I was assigned to conduct operational reviews
under the Leadership of Norbert G. Eisen. We
were stationed in the Brussels Regional Office.
Country Manager for Italy was Sergio DiChiara, with Arnold Wurdeman as Senior Operations Officer.
Branch Operations Officer in Rome was Rodolfo Rodolfi, and in Bari it was Pasqale Lella, both very fine colleagues who took pride in their assignments with all the frustrations of an outpost.
The Branch Offices catered mainly to local businesses by extending loans or assisting in Foreign Trade Financing.
The 1970s were truly interesting times. As a member of OOA (Overseas Operations Administration, headed by JFK Hemming in New York).
I was a first- hand witness of such remarkable and exciting situations as the
retrieval and evacuation of Chases Military Banking Facility in Saigon (Operations Officer was Ed Myers),
the forced closing of the Chase office in Tehran, Iran (where the Operations Officer was Wilfried Freudenberger).